Adam Levine Reveals How His Friendship With Ellen DeGeneres Totally Changed Her Life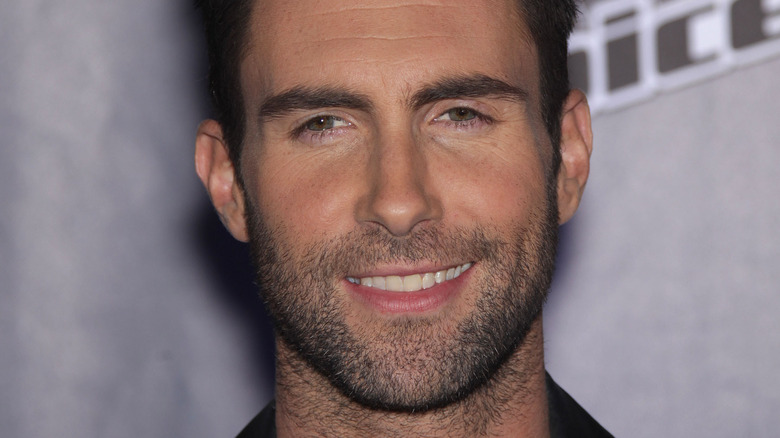 DFree/Shutterstock
Ellen DeGeneres and Maroon 5 frontman Adam Levine have shared some pretty magical moments together on TV. When Levine appeared on "The Ellen DeGeneres Show" in 2015, DeGeneres introduced him to the 3-year-old girl who went viral for crying over his marriage to model Behati Prinsloo. After Levine asked the talk show host to make a cameo in his band's "Girls Like You" music video, DeGeneres showed him how she improved it by having a few costumed clones of herself edited into the footage.
But the singer and comedian don't just act friendly when they're in front of a camera together. In 2016, we learned that they text each other and that Levine frequently sent DeGeneres photos of his oldest daughter, Dusty Rose, after she was born. Levine even revealed that DeGeneres played a role in helping him and Prinsloo choose their daughter's name, and his recollection of what went down proves that he values his pal's opinion. "I think I have a great name, and I texted Ellen, and I was like, 'What do you think?'" he recalled. "And she's like, 'I hate it. I think it's a terrible name.'" DeGeneres offered him a short list of alternative ideas, and Dusty was on it.
Levine appeared on his friend's show again on April 26, and he revealed that DeGeneres was essentially repaying him for playing an integral role in a moment that changed her life: the beginning of her relationship with future wife Portia de Rossi.
Adam Levine took credit for Ellen DeGeneres and Portia de Rossi's relationship
According to Adam Levine, Ellen DeGeneres and Portia de Rossi have him to thank for their marriage. "We won't go into detail because it's private stuff, but I will tell you guys that I'm technically the reason you met Portia," he said during his latest appearance on "The Ellen DeGeneres Show." But DeGeneres corrected him by saying, "Well not why I met her, but why we're together."
The friends didn't elaborate further, but DeGeneres and de Rossi have both talked about their long road to romance. They first met at a Rock the Vote concert, and while de Rossi told People she immediately clicked with DeGeneres, she wasn't open about her sexuality at the time. They crossed paths again three years later in 2004 at a photo shoot. "She took my breath away," de Rossi recalled to the Advocate. "My knees were weak." They both attended VH1's Big in '04 awards ceremony that same night, and that's when de Rossi made her move. "She opened up and said she'd been thinking about me," DeGeneres told People. "And it surprised me. It was a big deal for her to be seen with me."
According to UPI, Maroon 5 performed at the award show, so it's possible that it's where Levine's matchmaking skills came into play. "We're very intertwined in our life," DeGeneres said of the special connection that she and Levine share.