Jim Carrey's Views On Vaccines Have Caused Controversy In The Past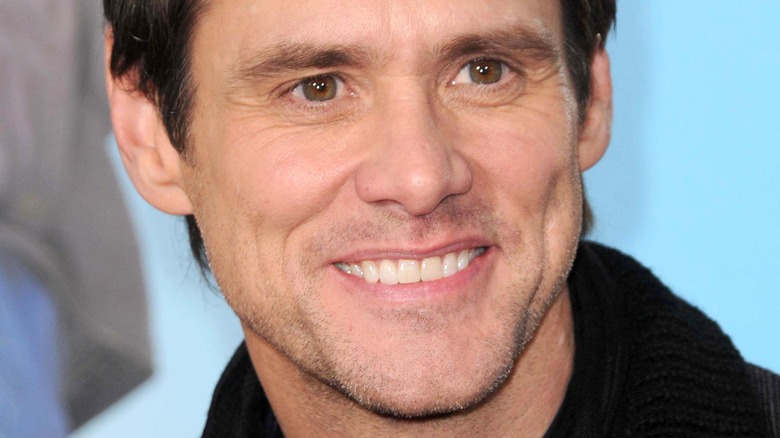 s_bukley/Shutterstock
Canadian comedy legend Jim Carrey has been making us laugh for nearly 40 years, and in that time, he's had some major highs ("Ace Venture: Pet Detective" is a cult classic, and "The Mask" is required viewing), and some serious controversies. In 2015, Carrey became embroiled in a heartbreaking legal battle when his ex-girlfriend, Cathriona White, died from a drug overdose shortly after they broke up. Carrey was  a pallbearer at her funeral, and was visibly upset as he clutched his daughter Jane's hand, as she accompanied him to the service in Ireland. The family launched a wrongful death lawsuit against the "Bruce Almighty" star, alleging that he was responsible for her suicide, but it was eventually dropped. 
After that, he gave a rather curious E! News interview on the 2017 New York Fashion Week red carpet, where he sneered, "There's no meaning to any of this, so I wanted to find the most meaningless thing that I could come to and join and here I am. You've got to admit it's pretty meaningless." Speaking with The Hollywood Reporter while at the Toronto International Film Festival later that year, Carrey explained that the interaction was a result of depression. "When I tried to go back and play Jim Carrey, I got depressed, and now I don't try to do that anymore."
Another Carrey hot take includes his stance on vaccines, and he has never shied away from sharing all the "eternal sunshine" on his "spotless" mind. 
Jim Carrey advocated for safe vaccines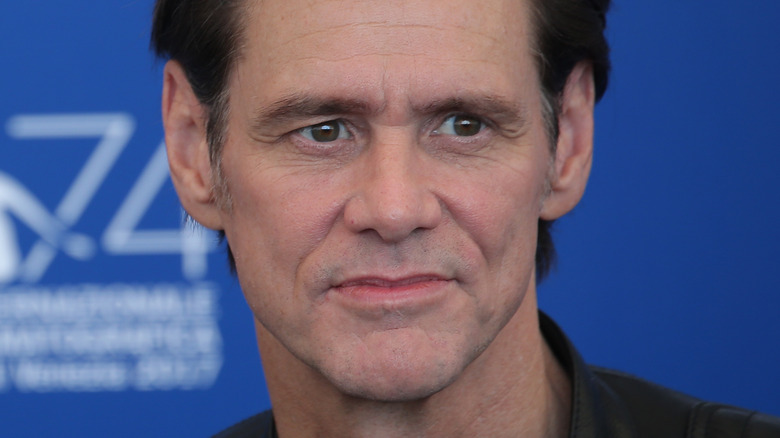 Matteo Chinellato/Shutterstock
On several occasions, "Dumb and Dumber" star Jim Carrey has publicly expressed his disdain for vaccines, especially when it comes to vaccinating children. In 2009, he wrote a HuffPost essay objecting to child vaccines due to perceived links to autism, per Insider. HuffPost has since removed that essay from their platform amid the COVID-19 pandemic, citing interest to the public health, but that hasn't stopped Carrey. 
In 2008, the "Liar Liar" star spearheaded the "Green Our Vaccines" march on Washington D.C., per ABC News, with the stated goal of removing toxins from children's vaccines. What toxins, you ask? In 2015, in a series of tweets, he denounced California Gov. Jerry Brown for signing into law mandatory vaccines, per TIME, writing he was concerned about "mercury and aluminum in manditory [sic] vaccines." Carrey subsequently tweeted, "They say mercury in fish is dangerous but forcing all of our children to be injected with mercury in thimerosol [sic] is no risk." He followed those with, "I am not anti-vaccine. I am anti-thimerosal, anti-mercury. They have taken some of the mercury laden thimerosal out of vaccines. NOT ALL!" A year later, Carrey was still tweeting "save our kids" when it came to vaccines.
The CDC and health practitioners have repeatedly reported on the efficacy of vaccines, how there's no evidence to support the view that vaccines cause autism, and that thimerosal doses in vaccines are so low that health risks are minimal.
Jim Carrey's former partner Jenny McCarthy also criticized vaccines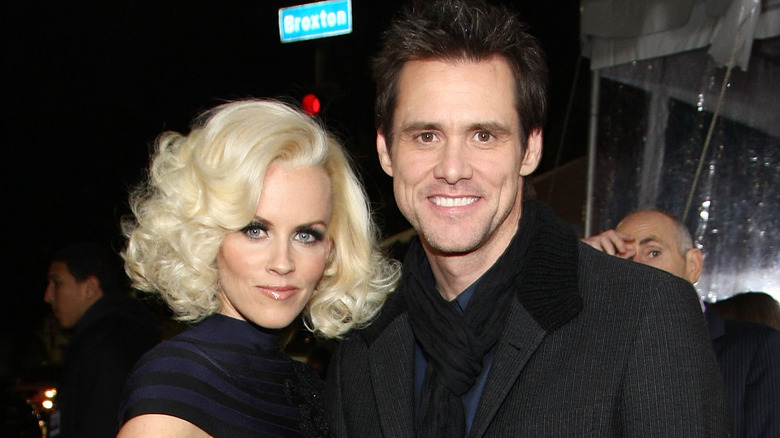 Alberto E. Rodriguez/Getty Images
Jim Carrey wasn't alone with his vaccine-hesitant views. He found a like-mind in his then-girlfriend, actor and model Jenny McCarthy. She was one of the co-organizers of "Green Our Vaccines" with "The Truman Show" star, and "The Masked Singer" judge has often been outspoken about her belief that vaccines cause autism. In an interview with TIME in 2009, the former Playboy Playmate spoke of her belief that the mercury and aluminium in vaccines is linked to rising rates of child autism (despite mercury having been removed from most vaccines). 
She once described rising rates of polio in Africa and Asia as collateral damage. "I do believe sadly it's going to take some diseases coming back to realize that we need to change and develop vaccines that are safe," she said. She did reiterate that she's not "anti-vaccine" but rather demanding "safe" vaccines. Still, she also shockingly said, "If you ask a parent of an autistic child if they want the measles or the autism, we will stand in line for the f***ing measles."
In a 2015 PBS interview, McCarthy reiterated her belief that vaccines cause autism. "We firmly believe the cause of the epidemic of autism is due to a vaccine injury and/or other environmental exposures — pesticides also. But what on this earth we all kind of share the most is vaccines." McCarthy and Carrey subsequently broke up in 2010 after five years of dating.