The Truth About Lisa Rinna And Eileen Davidson's Friendship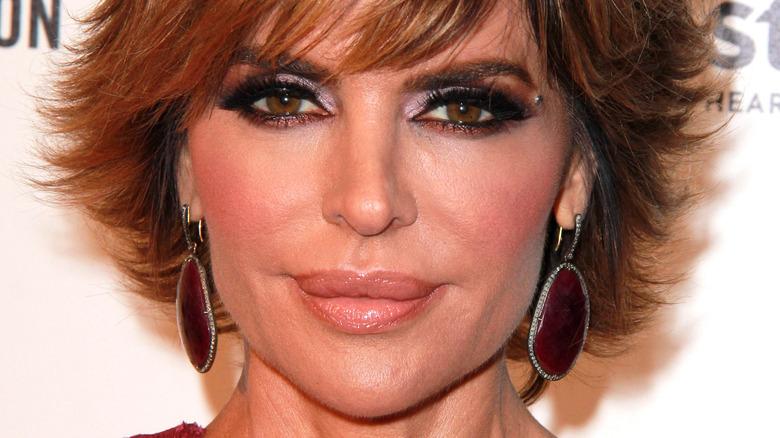 Kathy Hutchins/Shutterstock
When fans were first introduced to Lisa Rinna and Eileen Davidson in Season 5 of "The Real Housewives of Beverly Hills," little did they know that they would go on to give us one of our favorite reality TV friendships. Both very candid with their words, Davidson and Rinna have brought a lot of heat to the show over the years — individually, and as a pair — winning hearts and making enemies simultaneously along the way.
However, while Rinna has remained on the show over the years, Davidson left the show after Season 7. "After a lot of careful thought ... it's best for me and my family if I step away from being a Housewife for now," Davidson wrote in a statement to the Daily Dish. Despite the uncertainty surrounding Davidson's return as a housewife, Rinna has not held back in letting the world know how much she misses having her friend on the show. "Come on, we would love Eileen to come back. I had the most fun of my entire run was when Eileen was there," she told Entertainment Tonight in September 2021.
But, while these two sure give us #friendshipgoals, it apparently runs deeper than just being "Real Housewives" cast mates.
Lisa Rinna and Eileen Davidson are both TV stars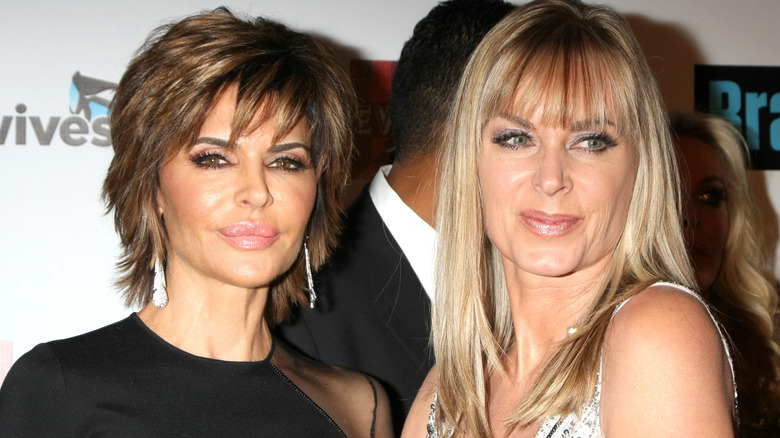 Kathy Hutchins/Shutterstock
These days, it's not uncommon to find cast members from the "Real Housewives" franchise who have their roots in television. More specifically, there are quite a number of housewives who have made appearances on "Days of Our Lives." Per Soap Central, Rinna debuted on the hit daytime TV show in September 1992, taking on the role of Billie Reed. In the years since her debut, Rinna has continued to reprise her role on the series, the most recent being in September 2021, when a spinoff, "Days of Our Lives: Beyond Salem," premiered.
Eileen Davidson also made her "Days" debut in the '90s, first appearing on the sudser in 1993. And like many of its cast members, she also appeared in 2021's spinoff "Days of Our Lives: Beyond Salem" — something she was happy to do because of Rinna.
During an interview with Soap Opera Network, Davidson revealed that her excitement about the spinoff piqued when she learned Rinna would be on it, too. "When I was told Lisa was going to be on board, I started screaming, and then we texted each other, and we were both screaming," Davidson told the outlet. "Then we saw each other in person and then we were really screaming, so it was really, really fun and just fun for me..."
Lisa Rinna and Eileen Davidson have each other's backs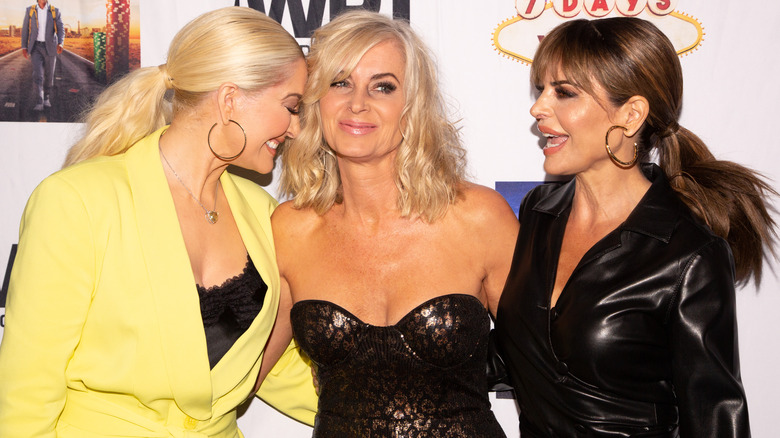 Gabriel Olsen/Getty Images
The "Real Housewives" franchise is a fan-favorite for many reasons, including the many beefs between some of the housewives. Lisa Rinna and Eileen Davidson have, of course, also been caught up in a few feuds over the years, but, despite all of the chaos, fans will most likely find the twosome standing by each other. Following a chaotic 2016 reunion where fans saw Rinna call out Lisa Vanderpump, Davidson swiftly released a blog post defending her friend. "No one can claim Lisa R. is not an open book," she wrote. "No one can claim that she doesn't own up to her words, even when she regrets them. It's just her nature."
Also, in 2017, amid Rinna's feud with Kim Richards, Davidson wrote a blog post, once again showing support to her friend. "I don't feel like I have to back her," Davidson said of Rinna. "I do understand a lot of her point-of-view where Kim is involved because I've been there, I've seen it. I do understand how she got triggered at the game night at Kyle's house when Kim kind of inserted herself into our conversation." Similarly, Rinna never fails to support her darling friend if need be — sometimes, even when she shouldn't. But that's what friendship is all about, right? Guess we can ask Lisa Rinna and Eileen Davidson a thing or two about that!