Here's What Really Caused Johnny Depp And Kate Moss' Split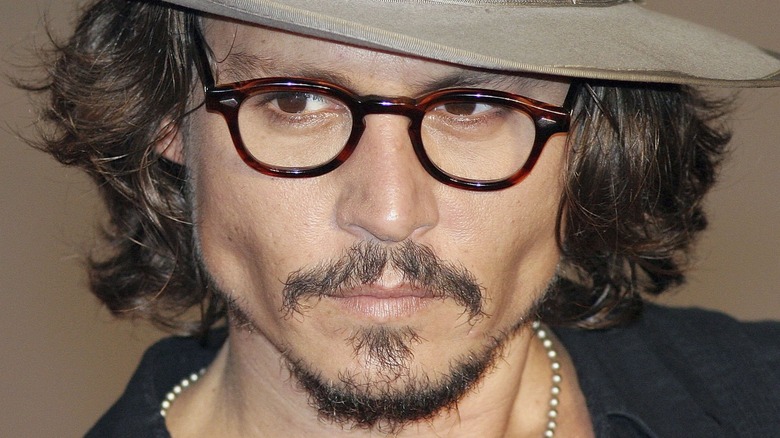 Junko Kimura/Getty Images
Before Amber Heard entered Johnny Depp's life, there was Vanessa Paradis. And before Depp's relationship with Paradis, there was Kate Moss. And just like all of the Hollywood heartthrob's relationships, there were good times and... not so good times, too. Back in 1994, Depp reportedly caused $10,000 worth of damage to a hotel room, per Page Six, yet Moss must not have heard a peep because she slept through it all in the next bedroom. But there were also plenty of memorable, glamorous hotel stays, too, as Moss told Vogue in 2012 that Depp would often whisk her away to the Ritz Paris during the earlier years of their relationship. Even though she was living in the French capitol at the time, Moss said that Depp preferred the hotel life instead. She explained, "I had an apartment in Paris at the time, but he said, 'No, we're staying at the Ritz.' So he came by and swept me up to the Ritz — he didn't want to slum it in my apartment."
Depp and Moss' romance caused a stir because they couldn't "keep their hands, lips, mouths, legs off of each other," a friend told People in 1994. And while there relationship was full of headline-grabbing moments, a lot of people are still surprised by the reason behind their break-up, too.
Johnny Depp admits his break up with Kate Moss was his fault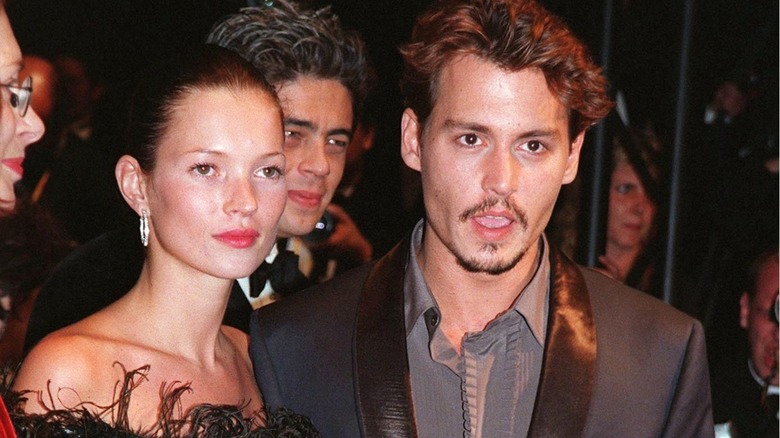 Featureflash Photo Agency/Shutterstock
Kate Moss was the "It" girl of the 1990s, as she was everywhere: on magazine covers, runway shows, and campaigns for Calvin Klein. So, of course, it didn't surprise anyone at the time that one of the biggest supermodels in the fashion world was dating one of the biggest stars in Hollywood, Johnny Depp. And while there were some memorable moments — like when Depp supposedly presented his girlfriend with a necklace from his butt, according to Page Six — the actor admitted he could have done more on his end to make their relationship work. The couple broke things off in 1997 and, in 1998, Depp suggested that their break up might have been his fault. In an interview with Hello!, Depp said he was too caught up in his career at the time. He said (via Newsweek), "I was difficult to get on with, I let my work get in the way and I didn't give her the attention I should have done." Depp added that he was "horrific" to live with and a "total moron" for the way he handled his situation with Moss. 
And while Depp might have felt like he could have done better or at least given his girlfriend more of his time, Moss also had some interesting things to say about their break up, too.
Kate Moss says there were plenty of tears after her breakup with Johnny Depp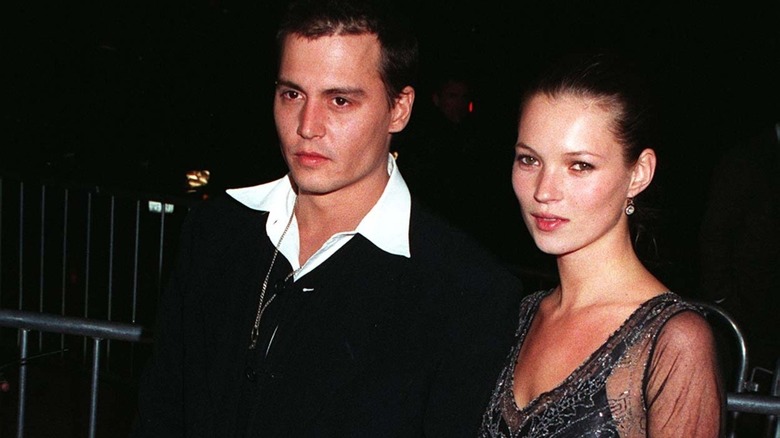 Featureflash Photo Agency/Shutterstock
Even though the couple did pull the plug on their relationship in 1997, People says that Johnny Depp and Kate Moss briefly reunited in 1998 for the Cannes Film Festival. The supermodel apparently got in trouble for wearing a bikini in one of the hallways of the Hotel du Cap during that time. Moss must have then taken a page out of her boyfriend's book as she reportedly trashed her room so much so that she got banned and became persona non grata at the hotel, per Hollywood Reporter. 
And while there perhaps wasn't a hotel room that didn't fear Depp or Moss in the 1990s, their relationship had plenty of memorable moments, too. In an interview with Vanity Fair in 2012, Moss admitted that while their breakup certainly gave her a reason to cry plenty of tears, their union was one that she could look back on fondly. "There's nobody that's ever really been able to take care of me. Johnny did for a bit. I believed what he said. Like if I said, 'What do I do?,' he'd tell me. And that's what I missed when I left," she told the publication. In other words, Depp and Moss were two unique individuals that truly did understand one another.