How Many Times Has Lindsay Lohan Been Arrested?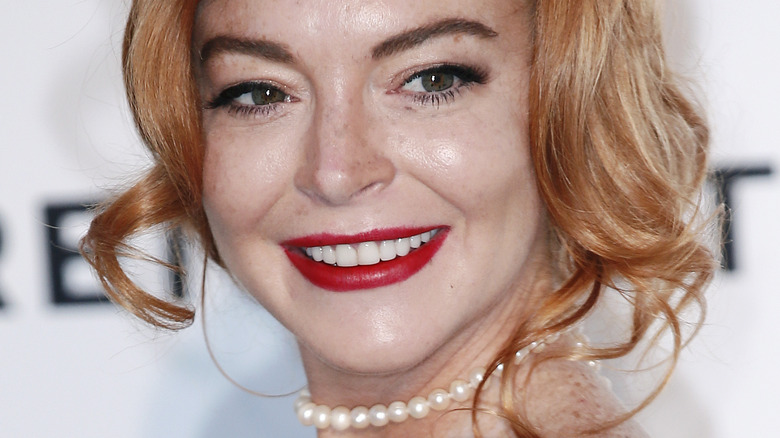 Andrea Raffin/Shutterstock
Forget Les Deux, The Marmont and The Sky Bar. A Los Angeles police station was the hottest place to spot Hollywood starlets in the early to mid-aughts. There was a revolving door at the Lynwood Correctional Center as A-list beauties like Paris Hilton, Nicole Richie, and Lindsay Lohan went from court to jail and back to work. Although it was a tight race between her and Hilton at one point, Lohan racked up the most LAPD loyalty points of the three.
Lohan started out her career as a freckle-faced, wholesome young Disney star. The actor and singer showed off her considerable talents in a variety of movies including, "The Parent Trap," "Freaky Friday," and "Herbie Fully Loaded." Lohan's acting skills won her critical acclaim. "[She has] the same kind of sunny charm [original 'The Parent Trap' star Hayley Mills] projected," Roger Ebert raved, via The Hollywood Reporter. While, Entertainment Weekly praised the then 11-year-old's "natural, pleasurable 1990s hipness."
However, like so many child stars before and after her, fame came with a hefty price tag. When you add together Lohan's parents' divorce, her dad's habit of talking far too much about his daughter to the tabloids, and the pressure of living life in the global spotlight, it quickly became a recipe for disaster. In just a few short years, Lohan managed to rack up mugshots as often as she did magazine covers. So, how many times has Lindsay Lohan been arrested?
Lindsay Lohan's arrest history is long and complex
Sadly, Lindsay Lohan may be as famous for her run-ins with the law as she is for her movie roles. So, how many times has Lindsay Lohan been arrested? It's challenging to keep up, as she's also had a number of legal complications, including arrest warrants and probation revocations. However, the number of "official arrests" is seven.
In May 2007, Lohan was arrested for DUI in Beverly Hills and briefly hospitalized. She was arrested for another DUI, plus felony possession of cocaine and driving on a suspended license two months later. In May 2010, an arrest warrant was issued after Lohan failed to show up for a court hearing and DUI progress hearing, but she posted bail. In 2011 she was arrested for shoplifting a necklace. In 2012 Lohan was arrested for allegedly fleeing the site of an accident, but the charges were ultimately dropped. Later the same year, Lohan was arrested for allegedly assaulting a woman in a club. The DA eventually decided not to proceed with the prosecution. In 2013, Lohan was arrested for reckless driving and lying to law enforcement.
In total, Lohan was sentenced to jail six times, for a total of 332 days. She ultimately served 42 days and 84 minutes of jail time and 35 days on house arrest. In addition, she was either ordered to undergo or voluntarily entered rehab five times. Lohan also spent a total of eight years on probation.
Lindsay Lohan puts her arrest record behind her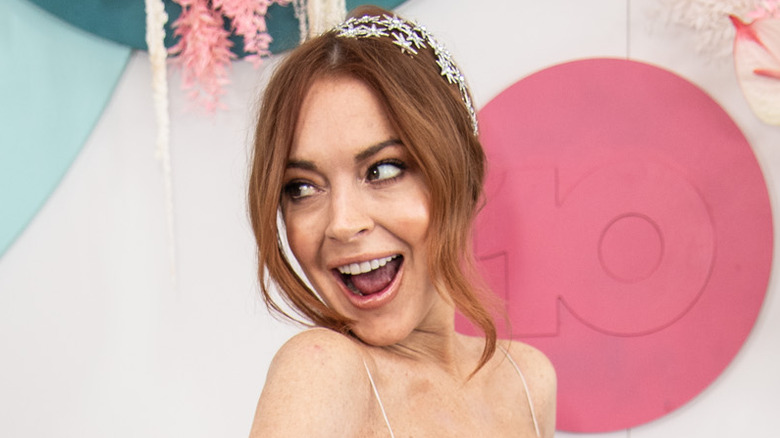 James Gourley/Getty Images
Given the number of times Lindsay Lohan has been arrested, incarcerated, and sent to rehab during her young life, she's managed to make an impressive turnaround in the last decade. In a 2013 interview with Oprah Winfrey, Lohan hesitantly admitted that she was an "addict." The sit-down sparked a closeness between the two women. One year later, Lohan and Winfrey made an eight-episode docu-series titled, "Lindsay," about the actor's attempts at sobriety, which ran on Oprah's OWN channel.
In the series, she often appeared woozy and inebriated. She had previously opened up about struggling with an eating disorder, which she later denied, and mental health issues in an interview with Vanity Fair. "I was sick," Lohan allegedly told the magazine. "I was sick. Everyone was scared. And I was scared, too. I had people sit me down and say, 'You're going to die if you don't take care of yourself.'"
Nowadays, LiLo lives in Dubai. She also spent time in Greece, where she put her name on a beachfront club and starred in a reality series about life there. Maybe this seemed like a surprising choice, given her history of DUIs and substance abuse. However, Lohan says that life outside Hollywood is best for her well-being. "[Living overseas] is the safest place. It's less demanding. America is always like, 'Go go go go go!'" Lohan told The New York Times in 2018. "I don't have to turn on the news and see about the Kardashians. I don't have to see anything anymore. I choose what I want to see and how I want to live."