The Behind-The-Scenes Role Brian Dietzen Got To Play On NCIS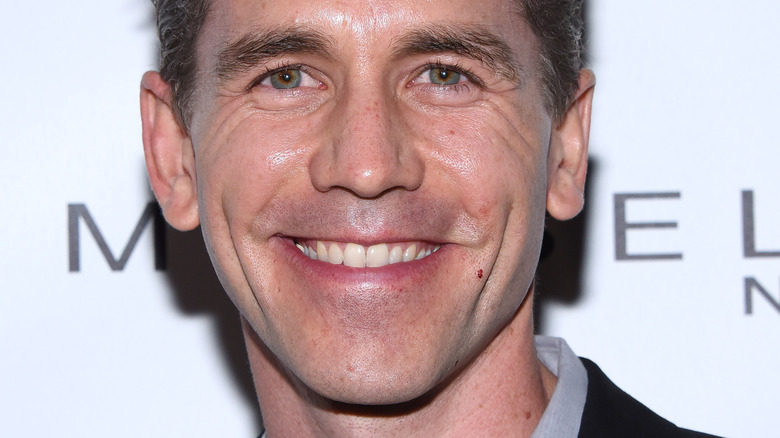 DFree/Shutterstock
It's hard to imagine "NCIS" without Jimmy Palmer. The character played by Brian Dietzen has experienced an incredible arc over the nearly 20 years the popular police procedural has been on the air, going from novice assistant medical examiner to chief medical examiner. "NCIS" has lost plenty of actors over its 19 seasons, but Dietzen has proved he's here to stay. Dietzen's commitment to the show is even more incredible given he was barely supposed to be in it at all. When he auditioned to star in Season 1, Dietzen's part was meant for one episode only, he told Paul Semel.
But Dietzen impressed producers, so David McCallum's Dr.Donald "Ducky" Mallard gained a loyal companion and "NCIS" gained a recurring guest star. Dietzen and McCallum's relationship continued to captivate fans and producers alike, translating into a main cast deal for the young star in 2012, Entertainment Weekly reported. Dietzen couldn't have predicted "NCIS" would end up being his second home when he auditioned to be a one-day guest all those years back, but he sure is grateful that's what was in store for him. "I love the show, and I love the character. I love being able to play a lighthearted character who occasionally experiences drama," he told Semel in 2014.
In 2021, his feelings hadn't changed. Ahead of Season 19, Dietzen took to Instagram to celebrate the opportunity to return. The season also marked another milestone in Dietzen's relationship with "NCIS" — one that will surely broaden the actor's repertoire.
Brian Dietzen co-wrote an NCIS episode
Brian Dietzen has accomplished what no other "NCIS" actor has: he wrote an episode. Attentive fans will see Dietzen's name listed more than once in "The Helpers," which first aired on February 28, according to Entertainment Weekly. Dietzen took the initiative during the COVID-19 pandemic, when the extra time confined at home inspired him to devote more time to his writing, he told Entertainment Tonight. "You see people switching their careers around a little bit or shifting their jobs and I am like, 'I don't want to leave this job, I love it,'" he noted. "'But if I can do something more as well...'" 
He discussed his ambition with showrunner Steven D. Binder, who then took it to CBS execs for approval. From there, Dietzen put his writing skills to work alongside Scott Williams. "This is something different because I have never had my co-stars ... say the words that I wrote before," he said. "So I am sitting there going, 'This is a different kind of pressure.'"
While the pandemic gave him the impetus, Dietzen had contemplated the possibility for years. "We have one of the most talented and under-appreciated writing staffs on television, so I thought that might be seen as hubris and I didn't want to overstep," he told Variety. But his colleagues have been nothing but supportive. "The cool part about being on a show like this that is so long-term is that it is very familial," he told ET.
A health scare prompted Brian Dietzen to pursue writing
In addition to upping his writing game during the pandemic, Brian Dietzen also had another motivation to expand his résumé beyond acting. A few months before COVID-19 sent the world into turmoil, Dietzen suffered an embolic stroke, he told Variety in February. He was alone at home when the onslaught of symptoms overpowered him. "I was on the floor of my bathroom, throwing up, and I pulled out my phone and I was like, 'Oh s**t, I can't use my fingers,'" he detailed. When he tried voice command to call his wife, he noticed his speech was also slurred.
Dietzen was immediately overwhelmed by the all the possible consequences of what was happening to him. "I remember getting rushed to the hospital and thinking, 'Well, I don't have a career anymore," he recalled. "'I guess I'm gonna have to focus on writing, because I can't speak.'" After a few hours under observation, Dietzen's body was able to expel the blood clot from his brain on its own. Fortunately, the actor suffered no long-term damage.
But doctors wanted to investigate why a healthy man with no prior history suffered a stroke. After undergoing several tests, Dietzen was diagnosed with a heart condition that required surgery. While the experience was terrifying, Dietzen is grateful a budding screenwriting career came of it. "It's meant the world to me that I was able to co-write an episode of NCIS," he gushed on Instagram.