Prince William's Latest Appearance Has People Talking About His Rumored Affair All Over Again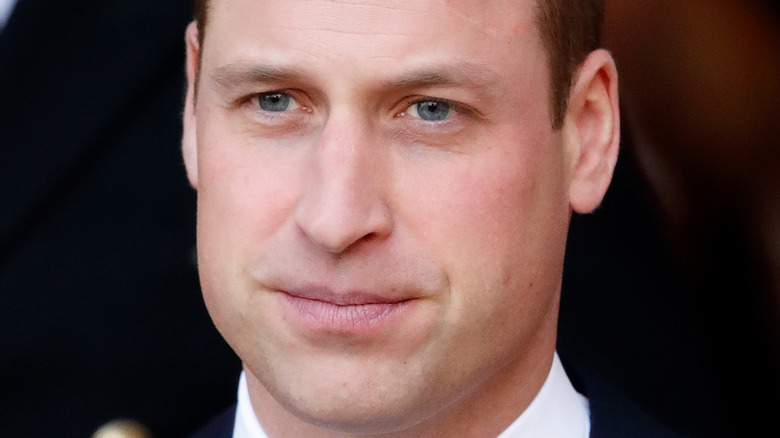 Max Mumby/indigo/Getty Images
If there's one person that both Prince William and Kate Middleton don't want to talk about, it's Rose Hanbury. That's because back in 2019, there was some speculation that the Duke of Cambridge was possibly getting up close and personal with Hanbury, who at the time was considered in Kate's social circle of friends but was also her supposed "rural rival" their hometown of Norfolk, per the Daily Mail. However, one insider close to the situation told Hollywood Life that while the Cambridges try to ignore all of the noise that is written and gossiped about them, "This one has really rocked them. The rumor is ugly and so false, they couldn't just ignore it."
That said, William and Kate have not been photographed near Hanbury since the cheating rumor reared its ugly head, although she was at a state dinner when the royal family hosted former President Donald Trump back in 2019, as detailed by The Cut. Well now it looks like William's latest appearance has everyone talking about the alleged affair again — and for the most awkward reason, too.
Prince William's facial expression says it all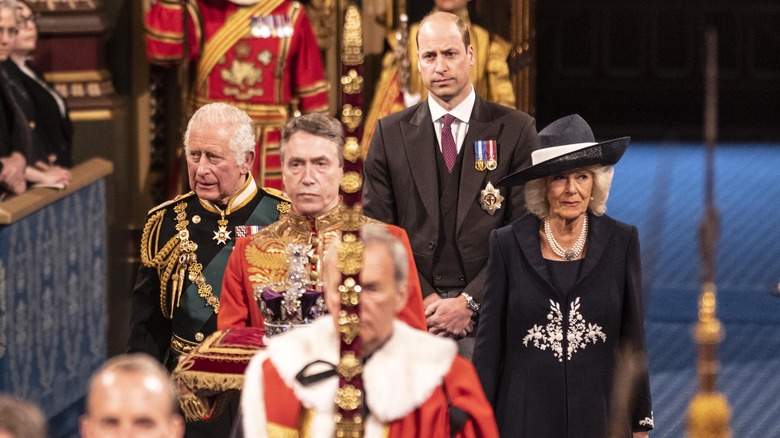 Wpa Pool/Getty Images
While everyone is talking about how Queen Elizabeth was absent for the opening of parliament because of mobility issues, per CNN, it was hard not to notice that another certain person was there: Rose Hanbury's husband, David Cholmondeley. As a matter of fact, there are several photos (like the one above) that show the Duke of Cambridge actually walking behind Cholmondeley before everyone took their seats. A lot of royal fans and critics alike also couldn't help but notice William's facial expressions in the photos. This prompted several comments. One person tweeted, "Y'all think Prince William was mad about being forced to walk behind Rose Hanbury's husband." Another chided, "William has the Windsor mean face going on!"
Now, whether or not the prince and Cholmondeley exchanged pleasantries, no one knows, but judging by the photos, there's just one man that's holding the crown jewels there.
LIke father like son?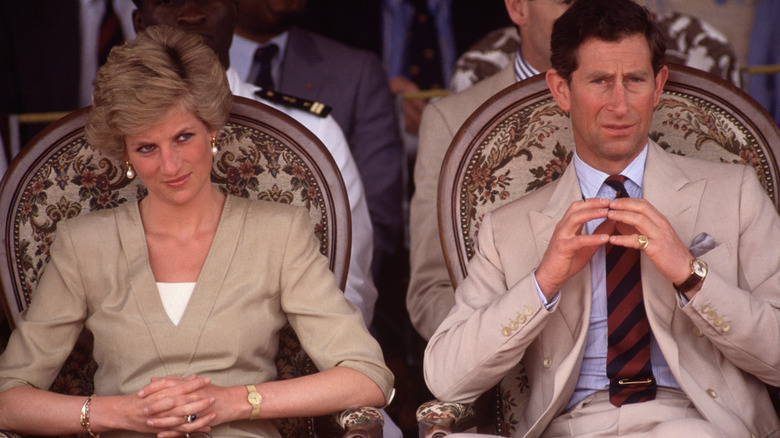 David Levenson/Getty Images
Following the resurgence of rumors regarding Prince William's alleged affair with Rose Hanbury, many might be wondering whether or not history really is doomed to repeat itself.
As you may recall, Prince Charles is no stranger to infidelity as he was embroiled in a high-profile affair all his own with Camilla Parker Bowles. "Well, there were three of us in this marriage, so it was a bit crowded," Diana once famously revealed during a bombshell BBC1 "Panorama" interview when asked whether or not she believed Camilla was a "factor in the breakdown" of their marriage.
It should be noted, however, that Prince Charles did own up to the affair and his role in the demise of the royal union. In 1994, when asked by journalist Jonathan Dimbleby whether or not he had been "faithful and honorable" during his marriage to Diana, Charles shockingly replied, "Yes, until it became irretrievably broken down, us both having tried," (via the New York Times). Surprisingly enough, the move garnered praise from Diana. "I admired the honesty, because it takes a lot to do that," she told Bashir. "To be honest about a relationship with someone else, in his position – that's quite something," she added.
Princess Diana was honest and open with Prince William about his father's affair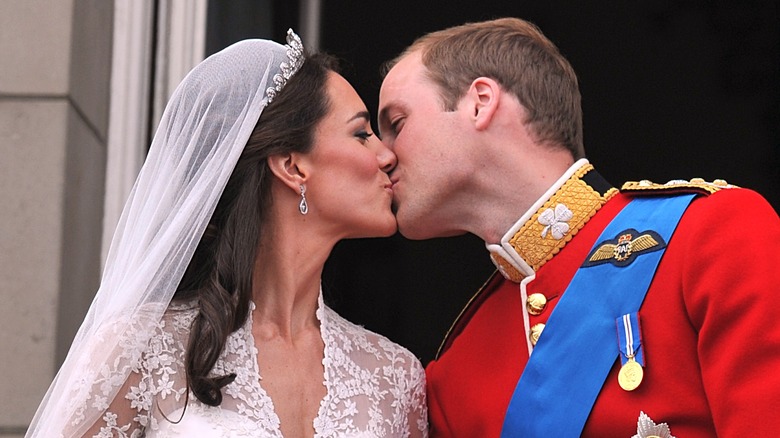 Wpa Pool/Getty Images
Perhaps, however, the buck stops with Prince William.
It's entirely possible that the rumors that the father of three has been unfaithful to his wife, Kate Middleton, are just that — rumors. According to Princess Diana, shortly after Prince Charles' public admission about the affair, she sat William down and had a poignant conversation about what his father had done. "I went to the school and put it to William, particularly, that if you find someone you love in life you must hang on to it and look after it, and if you were lucky enough to find someone who loved you then one must protect it," she recalled to BBC journalist Martin Bashir. Diana went on to reveal that William pointedly asked her if that was the reason why the marriage was breaking up. "And I said, well, there were three of us in this marriage, and the pressure of the media was another factor, so the two together were very difficult. But although I still loved Papa I couldn't live under the same roof as him, and likewise with him," she continued. As for how William handled the news, Diana said "He's a child that's a deep thinker, and we don't know for a few years how it's gone in." She carefully added, "But I put it in gently, without resentment or any anger." Spoken like a true Queen.