How Tall Is Machine Gun Kelly?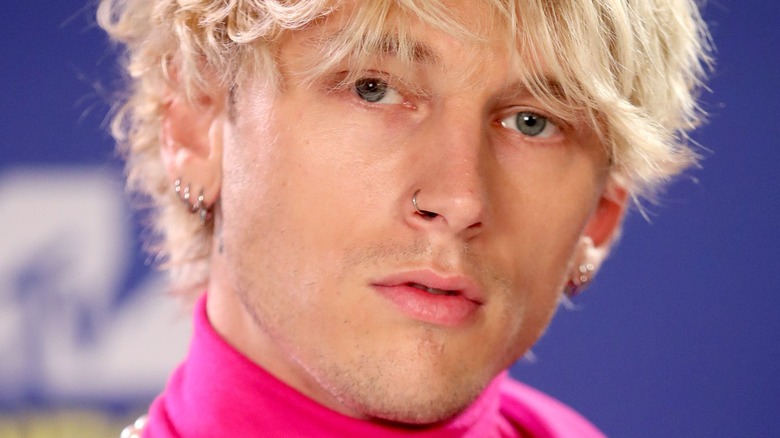 Rich Fury/MTV VMAs 2020/Getty Images
It is impossible to miss Machine Gun Kelly's rise in pop culture over the last few years. In addition to the "My Ex's Best Friend" hitmaker releasing six studio albums, Kelly has collaborated with some of music's biggest stars, including Blink-182 drummer Travis Barker, Lil Wayne, and Bring Me The Horizon.
Outside of music, Kelly has also made headlines surrounding his high-profile relationship with actor Megan Fox. During an interview on "The Howard Stern Show" (via ET Online) in September 2020, Kelly informed views that he felt an instant attraction to the "Jennifer's Body" star. "I didn't know what [love] was until me and her made eye contact," he explained, adding, "After I made the big chunk of the album, I did fall in love for the first time. [...] I definitely wasn't set up to believe that that's something that could ever exist." Both Kelly and Fox have been very open about their relationship on social media and share various photos together on Instagram. In September 2021, Kelly referred to Fox as a "mermaid" after she rocked a see-through dress and wet hair when they attended the MTV Video Music Awards. In August 2020, Fox uploaded a mirror selfie of the two, writing, "Achingly Beautiful Boy... My heart is yours."
Among the many images of the pair together, there is a clear height difference between the duo, something which Fox noticed early on. How tall is Megan Fox's future husband, Machine Gun Kelly?
Machine Gun Kelly is a lot taller than Megan Fox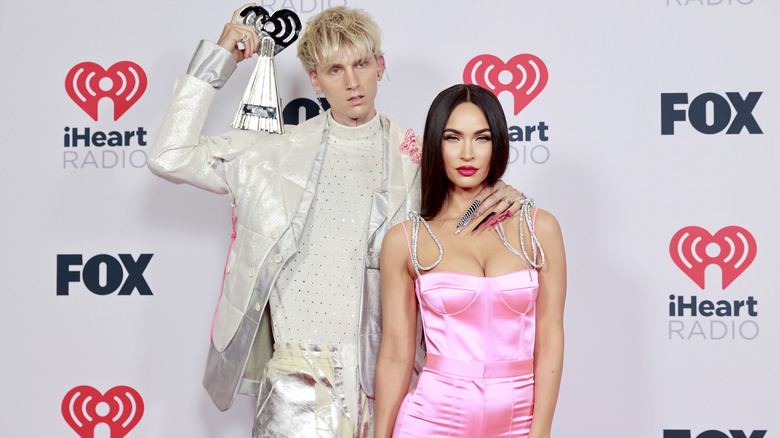 Emma Mcintyre/Getty Images
Machine Gun Kelly and Megan Fox met while working on the set of the 2021 crime thriller movie "Midnight in the Switchgrass." In one scene, Kelly's character pulls out a knife on Fox's character, who then starts to attack and throw him around. Fox admittedly this fight wasn't realistic, given their dramatic height difference. "He's a lot bigger than me," she told USA Today, adding, "He's like seven feet tall and I'm tiny, so this is not something that's going to happen in real life. But it went OK. We didn't know each other yet, so it was just like two actors doing a fight scene, but with a little added sparkle."
Fox is exaggerating when she said Kelly is seven feet tall. However, he is a lot taller than her. As noted by Capital Xtra, he is 6 foot 3 and a half inches tall. Fox, on the other hand, is considerably smaller in height as CelebHeights reports she is 5 foot 4. Even when she wore heels on the 2021 Billboard Music Awards red carpet, per People, there was still a noticeable height difference when posing next to her man.
A fan made a bet that she was taller than Machine Gun Kelly
Machine Gun Kelly is so tall that it gets his fans talking. One made a bet with the musician at one of his concerts in December 2021. As seen in the YouTube video above, the fan in the audience held up a sign that said, "I bet you $10 I'm taller than you." Kelly noticed the sign and decided to take her up on the bet. However, he gave her a better deal, stating, "I won't take $10 from you but I'll give you $100 f***ing dollars if you're taller than me."
The fan ended up getting invited on stage in order to prove that she was taller than Kelly, who is 6 foot 4. "Oh f***, you might actually be taller than me," he said before they went back to back to compare. While Kelly looked a little taller, the fan insisted his boots gave the illusion that he was the taller one. "I think my boots are the reason, you actually might be taller than me. Yeah, I think it's my boots," he admitted, adding, "Someone give me $100 real quick just in case." After taking off his footwear, the fan was proven to be correct when they went back-to-back again as she was definitely a lot taller than Kelly. However, LADbible did note that Kelly appeared to be slouching ever so slightly. With that being said, Kelly stayed true to his word and coughed up the cash. This very tall fan even received $200, as Kelly found another $100 note on the floor.