Amanda Seyfried Opens Up About The Disturbing Comments She Got From Fans After Mean Girls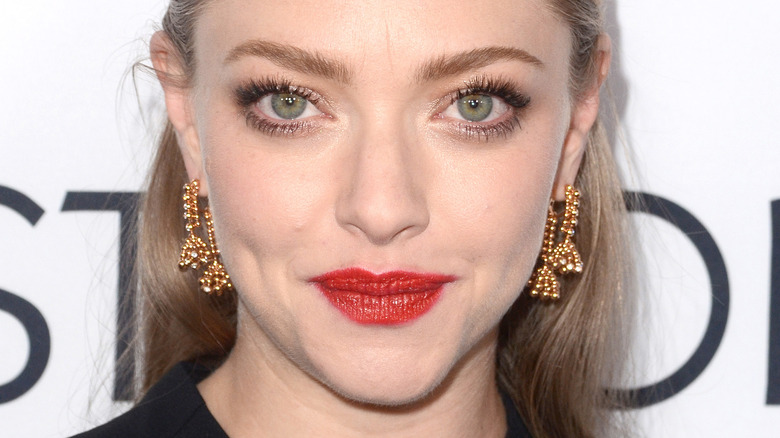 Kathy Hutchins/Shutterstock
Amanda Seyfried achieved global fame as "Mean Girls"' resident airhead Karen Smith, but she also had to actively dodge the "dumb blonde" Hollywood niche because of it. As Seyfried told Variety earlier this year, starring in HBO's 2006-2011 series about a polygamous family, "Big Love," was one of many strategic career choices she made post-"Mean Girls." "Back in 2004, I had to be really careful to not just be 'the pretty blonde.'" Seyfried said. "So at the very beginning of my career, if I hadn't done 'Big Love,' I was going to be Karen Smith." 
The specter of her "Mean Girls" role loomed so that Seyfried claimed, following the film's release, she couldn't get any auditions for lead roles. "All the auditions I had for my first pilot season were just, like, blonde girl friends," she said. Of course, since then, Seyfried has established herself as a versatile Hollywood player with widely diverse roles in films like "Jennifer's Body," "Les Misérables" and "Lovelace." 
Finally stepping up as the lead of a show in Hulu's "The Dropout,"  Seyfried recently reflected on fame and the negative aspects of being known as Karen Smith.
Amanda Seyfried received creepy fan comments after Mean Girls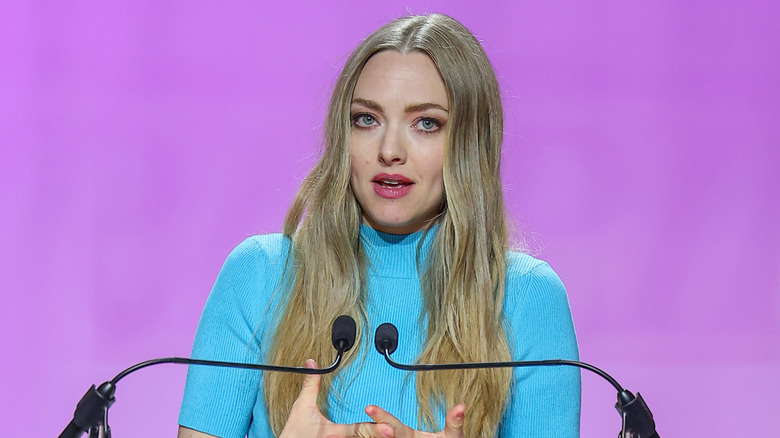 Arturo Holmes/Getty Images
Filming "Mean Girls" almost 20 years ago, Amanda Seyfried probably didn't anticipate this creepy comment she would get from fans after the release. In a May interview with Marie Claire, Seyfried revealed that (mostly male) filmgoers would recognize her and ask if she, like her character Karen Smith, can use her breasts to predict upcoming weather. This was particularly the case if it happened to be raining on that day. "I always felt really grossed out by that," Seyfried said. "I was like 18 years old. It was just gross."
In the same interview, "The Dropout" star characterized fame as "weird" and expressed gratitude for not being "super famous." "I've always been somewhat recognizable," Seyfried described her level of fame. "It's been the healthiest trajectory." 
In a November 2020 profile by The New York Times, Seyfried shared the extra step she and husband Thomas Sadoski took to ensure her family's privacy. Moving to an upstate farm in New York in 2013, Seyfried said the rural life "solidified my need to be out of the game when I'm not working, to be in nature and to refresh." Calling it her "center of gravity," the actor added that farm life really has "put just about everything else into perspective."