Inside The Lives Of The Pitt-Jolie Clan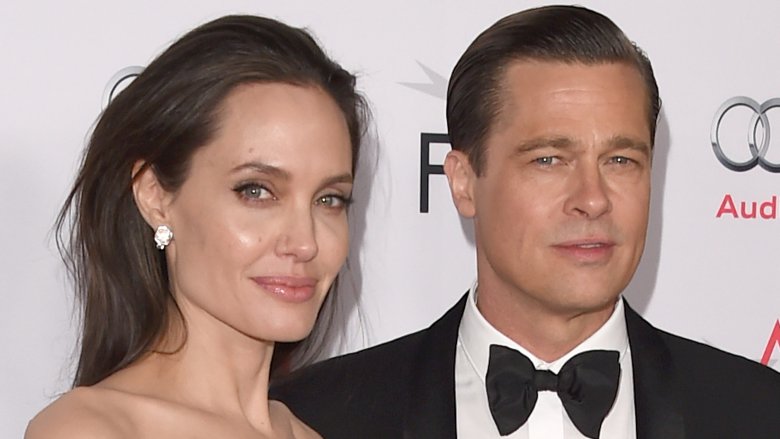 Getty Images
Brad Pitt and Angelina Jolie were a revered Hollywood couple for years. Their jet-setting lifestyle, international adoptions, and seemingly never-ending love for one another fascinated fans. The duo spent 12 years together (and were married for two of them) before abruptly pulling the plug on their union and sending shock waves through Tinseltown in September 2016. 
Since then, this famous family's structure has been completely uprooted. As the exes battled over custody of their six kids, both Jolie and Pitt have discussed their quest to find solid footing for their brood. Let's take a closer look at the lives of the Pitt-Jolie clan.
Jolie is struggling as a single mom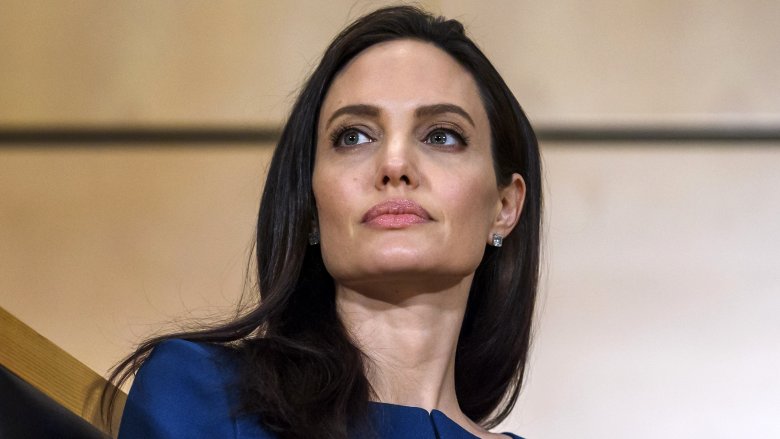 Getty Images
Jolie is struggling to embrace a new normal as a single mom of six. "I have had my ups and downs. I guess I am a little bit stronger," she told People. "We all have our difficult times, but as a mother you also have a responsibility first and foremost towards the kids. They are going through their formative years and everything else comes second to that." 
While her career has been put on hold, Jolie said she hopes to resume acting and directing soon. "Everything will be around the children," she said. "I haven't worked for over a year now because they needed me home. Everything was just stopped. I'm really sitting and talking with them because everything affects them. Every location, every type of project, I'm going to have to adjust it to however much they can handle."
Speaking with The Telegraph, Jolie was candid about her struggles. "I don't enjoy being single. It's not something I wanted. There's nothing nice about it. It's just hard," she said. The Maleficent (2014) star also confessed that stepping back into the spotlight has its challenges. "It's not easy," she said. "I am a little shy this time, because I am not as strong inside as I have been in the past."
Pitt is trying to 'keep the ship afloat'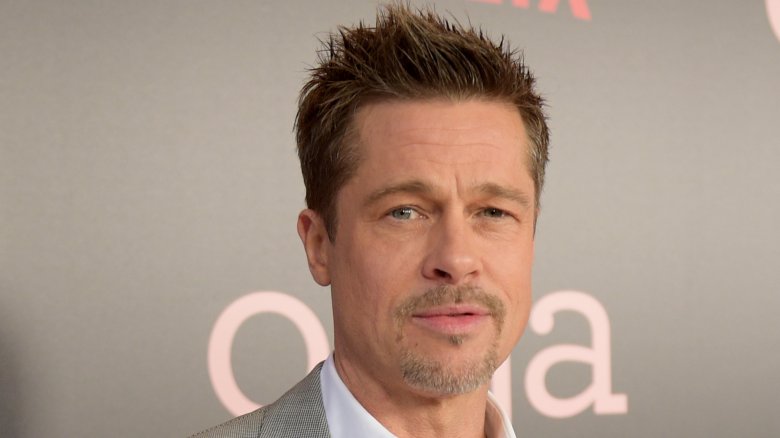 Getty Images
As his marriage crumbled and rumors ran rampant, Pitt told The Associated Press (via People), "I've got no secrets. I've got nothing to hide... We're human and I find the human condition very interesting. If we're not talking about it, then we're not getting better." 
Pitt said he now spends the bulk of his time "keeping the ship afloat" when it comes to their six kids. Living apart from Jolie hasn't been easy. Together, they're constantly "figuring out the new configuration of our family." He said, "Kids are your life. They're taking all the focus, as they should anyway." 
Despite the challenges, Pitt seems to be preserving a positive outlook. "There's still much beauty in the world and a lot of love," he said. "And a lot of love to be given. It's all right. It's just life."
Maddox is flourishing as a film producer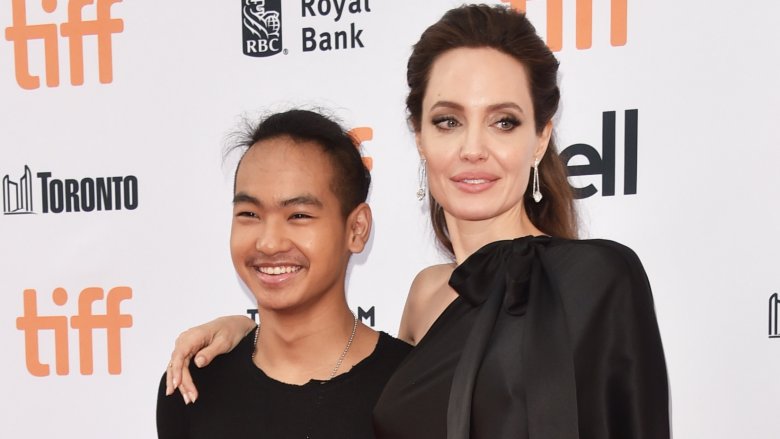 Getty Images
Jolie and Pitt's eldest child, Maddox, who was adopted from Cambodia, makes his parents very proud. He's not flaunting fancy cars and jewelry on Instagram or begging to be on reality TV. Nope, this teen is grounded. 
Maddox is so in tuned to his mother's humanitarian work around the world that he even worked as an executive producer on her film about Cambodian genocide, First They Killed My Father (2017). "I was trying to help wherever I could," the 16-year-old told People. Of working side by side with his mom, Maddox said, "[She's] fun, funny, and easy to work with. She's a wonder."
Jolie told the magazine, "Mad knows himself very well and if he said he was ready, I knew he knew." She added, "He goes back and forth [to Cambodia] a lot, but this would be over four months of just being in the country, really reading, listening, learning and absorbing all things about his culture and country [including] the very, very dark parts."
Jolie has battled numerous health problems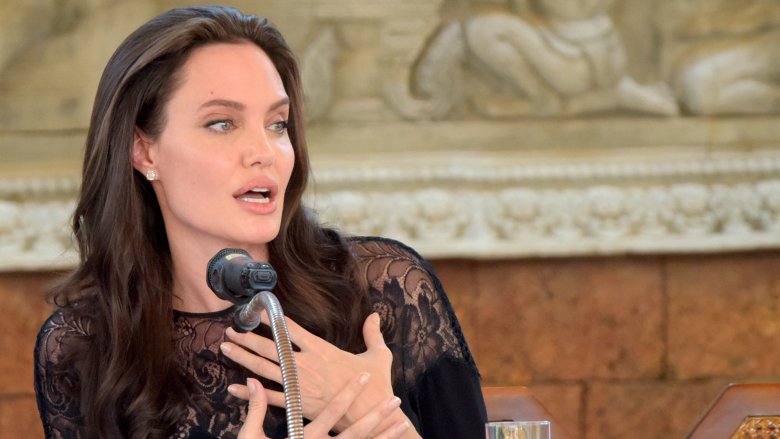 Getty Images
Unfortunately, Jolie is no stranger to health problems. In 2013, she underwent a preventive double mastectomy and reconstructive surgery after discovering she has the breast-cancer linked BRCA1 gene. In 2015, she underwent surgery to have her ovaries and fallopian tubes removed. In 2017, the star revealed that she has two new health issues on her plate—hypertension and Bell's palsy, a condition in which one side of the face droops due to nerve damage. 
"Sometimes women in families put themselves last until it manifests itself in their own health," she told Vanity Fair. In the revealing interview, Jolie also complains of dry skin and gray hair. "I can't tell if it's menopause or if it's just been the year I've had," she said. "I actually feel more of a woman because I feel like I'm being smart about my choices, and I'm putting my family first, and I'm in charge of my life and my health. I think that's what makes a woman complete." 
Pitt quit drinking and smoking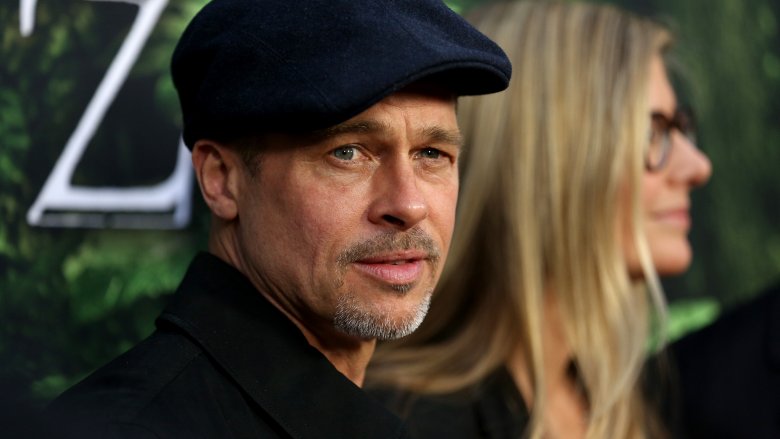 Getty Images
Pitt is also focusing on improving his health. The actor decided to quit drinking and smoking marijuana. When asked if it was difficult to give up pot, Pitt told GQ, "No. Back in my stoner days, I wanted to smoke a joint with Jack and Snoop and Willie. You know, when you're a stoner, you get these really stupid ideas. Well, I don't want to indict the others, but I haven't made it to Willie yet." 
He seemingly doesn't miss the booze either. "I mean, we have a winery. I enjoy wine very, very much, but I just ran it to the ground," he said. "I had to step away for a minute. And truthfully I could drink a Russian under the table with his own vodka. I was a professional. I was good... Don't want to live that way anymore."
After quitting booze and weed, Pitt said he was forced to look at his life a little differently. He described it as a period of renovation. "You strip down to the foundation and break out the mortar," he told GQ. "For me this period has really been about looking at my weaknesses and failures and owning my side of the street," he said. 
The kids are sticking together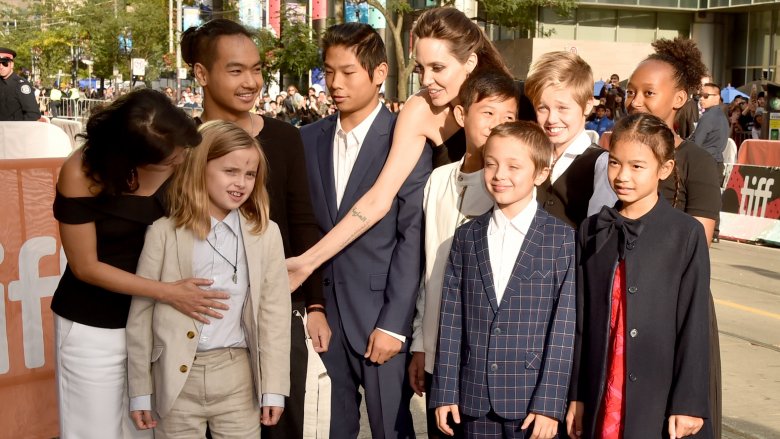 Getty Images
Despite the drama between their parents, the kids—Maddox, Pax, Zahara, Shiloh, and twins Vivienne and Knox—whose ages range from 16 to 9 at the time of this writing, seem to be getting along quite well. They've been photographed by Jolie's side as she promotes First They Killed My Father around the world.
Jolie told Vanity Fair that she wants family to remain the center of her world. "I'm just wanting to make the proper breakfast and keep the house," she said. "That's my passion. At the request of my kids, I'm taking cooking classes. As I go to sleep at night, I think, 'Did I do a great job as a mom or was that an average day?'" 
She said she hopes Zahara, who was adopted from Ethiopia, and Pax, who was adopted from Vietnam, will connect with their homelands the way Maddox has connected with Cambodia.
Jolie said she's encouraging her children to embrace a global mindset. "All the kids are learning different languages," she told Vanity Fair. "I asked them what languages they wanted to learn and Shi is learning Khmai... Pax is focusing on Vietnamese, Mad has taken to German and Russian, Z is speaking French, Vivienne really wanted to learn Arabic, and Knox is learning sign language." 
Pitt couch-surfed to survive the breakup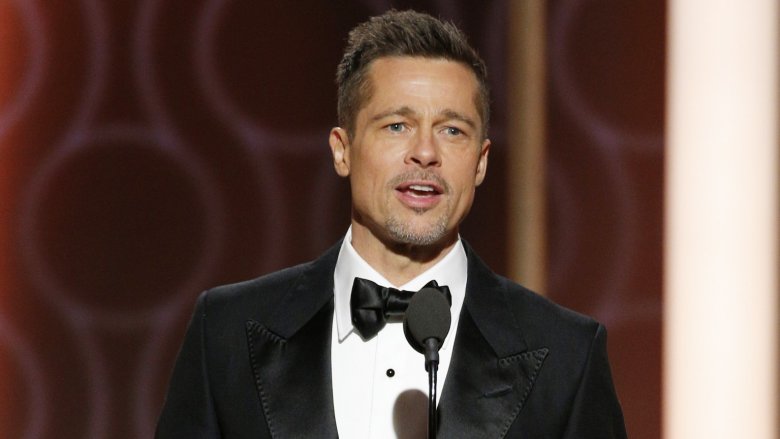 Getty Images
Even for an A-list celebrity, living arrangements post-breakup have been tough. The Jolie-Pitt family has homes around the globe, including pads in New Orleans, New York, and even a chateau in France, but after parting ways, Pitt reportedly retreated to a house in the Hollywood Hills that he's owned since 1994. 
"It was too sad to be here at first, so I went and stayed on a friend's floor, a little bungalow in Santa Monica," he told GQ. "I crashed over here a little bit, my friend [David] Fincher lives right here. He's always going to have an open door for me, and I was doing a lot of stuff on the Westside, so I stayed at my friend's house on the floor for a month and a half."
He also hunkered down for a spell in a pal's art studio. "If I'm not creating something, doing something, putting it out there, then I'll just be creating scenarios of fiery demise in my mind. You know, a horrible end," Pitt said. "And so I've been going to a friend's sculpting studio, spending a lot of time over there. My friend [Thomas Houseago] is a serious sculptor. They've been kind. I've literally been squatting in there for a month now." 
Jolie opened a wildlife sanctuary named after Shiloh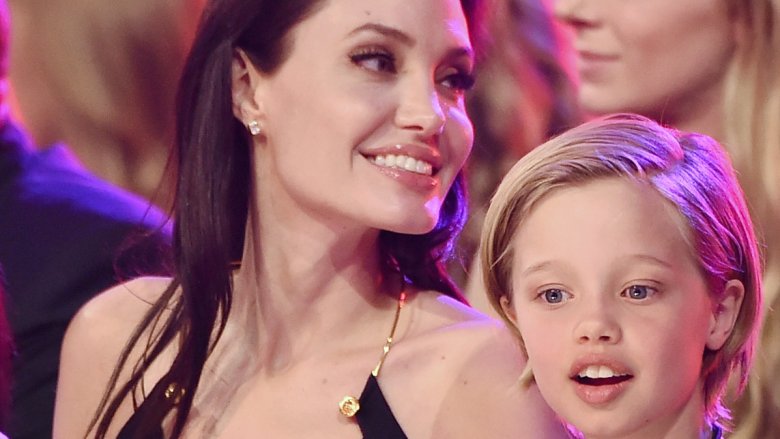 Getty Images
In July 2017, Jolie opened the Shiloh Wildlife Sanctuary in Namibia, reported People. The sanctuary cares for rhinos and elephants who've been victims of poaching and abuse. The organization, located at the N/a'an ku sê Foundation, was named after daughter Shiloh, who was born in the African country. Shiloh's "face lit up when she saw the sanctuary for the first time," an insider told People. "The name was a surprise to her and she was beaming. She and her brothers and sisters moved around very quietly as the newly rescued elephants were still settling in." 
While in Namibia, Jolie reportedly met with the country's president and first lady. "It is a privilege to work with N/a'an ku sê and be able to contribute to conservation in Namibia," the actress said in a statement.
Jolie efforts to incorporate her kids into her global activism is deliberate. "I try to lead by example, being conscious of others and being responsible. And to help them have a broader view of the world," she told French Elle (via People). "But really the only way I know to raise them is to really listen. It's perhaps the most important thing any parent can do."
Pitt is trying to maintain a normal life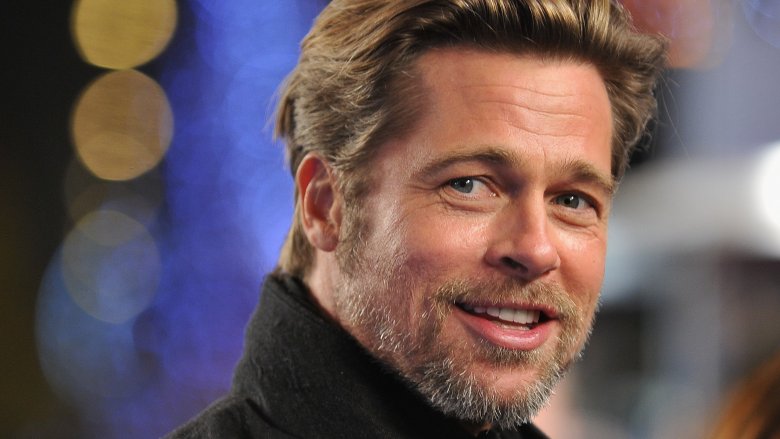 Getty Images
Since breaking up in 2016, Brad has attempted to get his life back on track. Sure, that involves some sculpting and house-hopping, but it also means getting back into the social scene. 
In July 2017, Pitt attended the FYF Festival in Los Angeles and was serenaded by Frank Ocean, who sang a cover of The Jackson 5's "Never Can Say Goodbye" to the actor as he stood in the crowd. Pitt previously expressed his love for Ocean, telling GQ, "I find this young man so special. Talk about getting to the raw truth. He's painfully honest. He's very, very special."
Pitt was spotted getting cozy with actress Sienna Miller over the summer of 2017. Keep in mind, it's been about two decades since the former "Sexiest Man Alive" has been single, so this is big news in tabloid circles. An insider told Us Weekly that Pitt "has been on a couple of dates," with Miller. "He's hanging out with friends and those friends are bringing him out to meet other people." 
Jolie still thinks Pitt is a 'wonderful father'
Getty Images
After the legal and tabloid turmoil initially surrounding their split and custody battle, which included Pitt being investigated and later cleared for alleged child abuse, Jolie now seems to be making an effort to praise Pitt's parenting. "We will always be a family, always," she told Good Morning America in February 2017, calling her ex a "wonderful father." 
As a whole, she said the family "will be stronger when we come out of this, because that's what we've determined to do as a family."