Stephen Colbert Brings Out Sean Spicer At 2017 Emmys, Shocks Everyone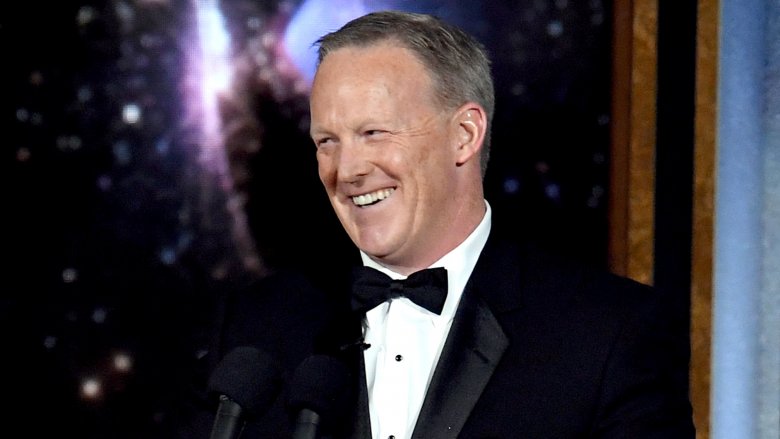 Getty Images
Sean Spicer just crashed the 2017 Emmys and blew everybody's minds.
It didn't come as much of a surprise that Stephen Colbert's opening monologue was politically inclined, but all it took was one look at the audience's reaction at the award show to see that the cameo from the former White House press secretary was extremely unexpected.
The reactions to Sean Spicer were better than Sean Spicer #Emmys pic.twitter.com/KTBZwVwXCM

— Emily Longeretta (@emilylongeretta) September 18, 2017
During his monologue, Colbert asked if someone in the audience could predict how large they thought the viewing audience for the Emmys would be this year—cue Spicer. According to CBS News, the former press secretary rolled onto stage on a wheeled podium and said, "This will be the largest audience to witness an Emmys, period, both in person and around the world."
Spicer's proclamation was in reference to a comment he made following President Donald Trump's inauguration. He had said it "was the largest audience to ever witness an inauguration," which quickly led to widespread backlash and ridicule. 
Hey, at least he can make fun of himself, right? 
"Melissa McCarthy, everybody. Give it up," Colbert joked as Spicer left the stage and the camera panned to the real McCarthy, who impersonated Spicer on Saturday Night Live.
While we wait to see if Colbert has any more surprises up his sleeve during his turn as the 2017 Emmys host, read up on everything you don't know about the "new king of late night."