The Real Reason We Never Hear About Ryan Gosling And Eva Mendes' Kids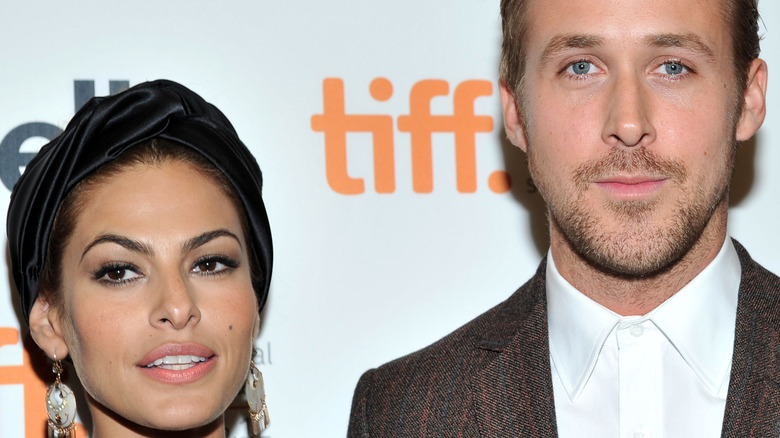 Sonia Recchia/Getty Images
Ryan Gosling and Eva Mendes are two of Hollywood's most private stars. The couple is rarely photographed together and shuns the spotlight as a family. When rumors began circulating that the two were potentially dating, many didn't believe in the hype given their lack of paparazzi run-ins. However, they did share a screen together once — the location of their storybook romance.
According to Glamour, the actors met in August 2011 on the set of "The Place Beyond the Pines," where (coincidentally) they played a couple. The chemistry carried on after the cameras stopped rolling. The following month, they were seen holding hands at Disneyland. An eyewitness told Us Weekly at the time, "They were very playful. Eva was skipping around like a little girl ... She would lean into him and she held his arm the entire time."
The following May, Mendes also coyly hinted they were dating during an interview with Ellen DeGeneres on "The Ellen DeGeneres Show." DeGeneres gifted Mendes a onesie to give to Gosling, to which Mendes giggled and said she would pass it on, adding, "If I happen to see him tonight." And although it's confirmed the long-term couple have two children, Esmeralda Gosling and Amada Gosling, fans don't know much about them — and for good reason. 
The proud parents pride themselves on prioritizing their children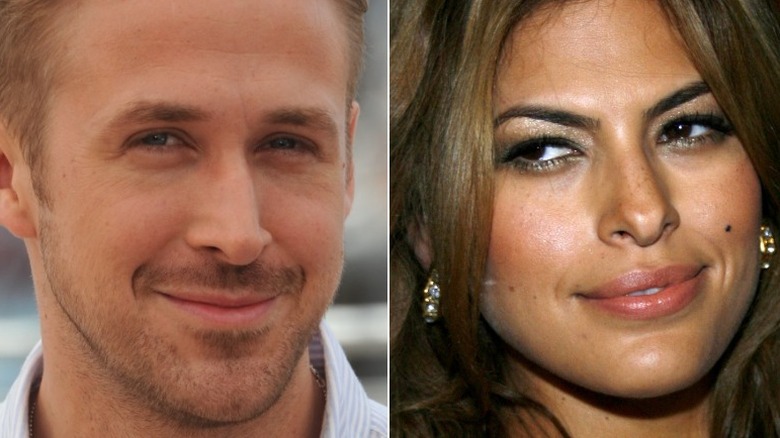 Tinseltown & Featureflash Photo Agency/Shutterstock
We never hear about Ryan Gosling and Eva Mendes' kids because the couple is fiercely protective of them. The two like to keep their everyday lives private and out of the media glare. However, Mendes does have an Instagram account which she mainly uses to promote her "smart sponge" business, Skura Style, and post the occasional modeling pic. We also get rare glimpses of her children's art projects, but we'll get to that. 
Per Entertainment Tonight, the actor sparked speculation in January 2021 when it was rumored that she took a break from Instagram due to a botched plastic surgery procedure. Mendes clapped back at the haters in the comments section of a since-deleted Instagram post. In one response, she wrote, "I'm actually taking time to really be present with my family so posting is not really a priority right now." In a separate comment, she added, "I'm posting less because I really want to be present for my family. My little ones need me and posting takes up too much time ... I personally cannot juggle family and social media. So — big shocker — I choose family."
After returning to Instagram in May 2022, Mendes shared a photo of a cardboard unicorn head peeking over a sofa, to which she captioned, "I think my kids are gonna crush at Art Basel this year." But it makes fans question: Will the kids ever make a social media appearance?
Ryan Gosling and Eva Mendes empower their kids with consent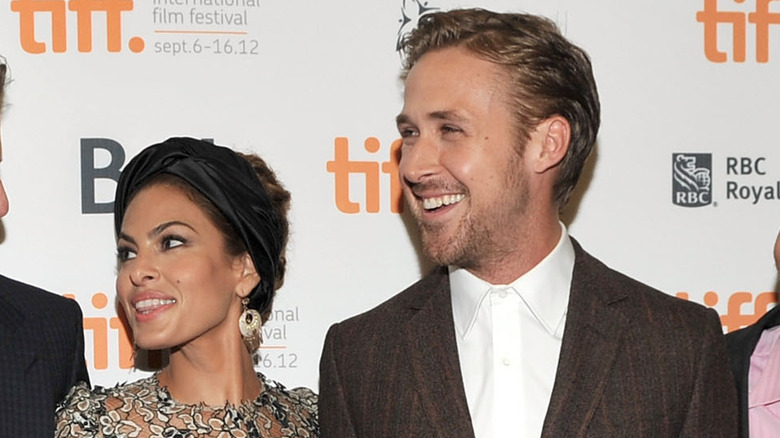 Sonia Recchia/Getty Images
The real reason we never see Ryan Gosling and Eva Mendes' kids is because the parents are firm believers in consent. Mendes admitted she's comfortable talking about her husband and children — to a degree — but refuses to post photos of them. 
"Since my children are still so little and don't understand what posting their image really means, I don't have their consent," she commented in a now-deleted Instagram post, according to POPSUGAR. "And I won't post their image until they're old enough to give me consent. As far as Ryan and I, it just works for us this way, to stay private." As for her and Gosling? She has no intention of posting candid photos of them either, or opening up to the limits that many would consider normal for their level of celebrity. 
And it seems to be the same for Gosling, though there have been exceptions. He name-checked his family at the 2017 Golden Globes; first on the red carpet telling an interviewer that his eldest daughter, Esmeralda Gosling, has "heaven eyes" and then dedicating his acceptance speech — for his role in "La La Land" — to Mendes. He praised her for looking after their oldest child while carrying their second and caring for her brother during his cancer battle with cancer. "If she hadn't taken all that on so that I could have this experience, it would surely be someone else up here other than me to today," Gosling explained. "Sweetheart, thank you."
In a more recent (and rare) interview, Gosling mentioned his children but kept it brief. In part, he shared with GQ, "My kids are growing up so fast I need to keep an eye on the clock in a way I never used to."