What Happened To David Faustino After Married... With Children?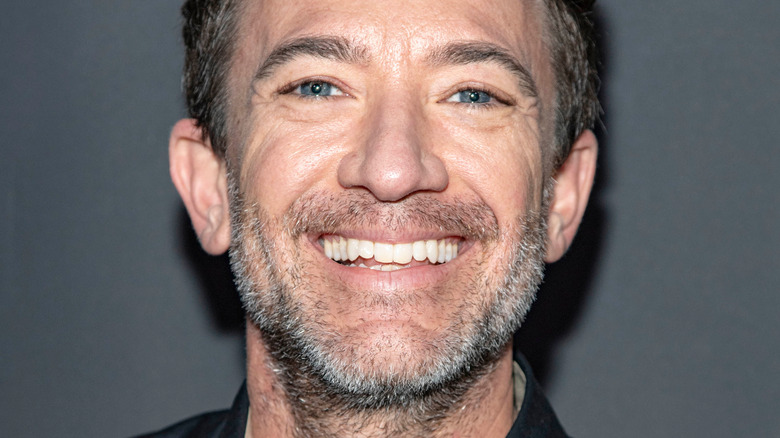 Eugene Powers/Shutterstock
David Faustino, the man who portrayed the iconic Bud Bundy in "Married... with Children," was only 13 when he stepped foot on the show's set, per Entertainment Weekly. The sitcom, which debuted in 1987, was about often disgruntled shoe salesman Al Bundy (played by Ed O'Neill) and his family, which included his wife Peggy (Katey Sagal), and their two children, Kelly (Christina Applegate) and Bud (Faustino).
Even though Faustino has kept busy since the end of the show, he did hint to HipHopDX in 2012 that he wouldn't mind revisiting his old "Married... with Children" days by bringing Bud back for a reboot or even a reunion. And while he's kept in touch with some of his co-stars, including Applegate, Faustino said in an interview at Comic-Con Baltics in 2019 that a 30-something-year-old "trust fund kid" might be the reason why the reboot hasn't happened, even though the entire cast is open to the idea of coming back together.
That said, a lot of fans of the show can't help but wonder what Faustino has been up to since the end of "Married With Children." And from the sounds of it, Faustino has a lot going on.
David Faustino has kept busy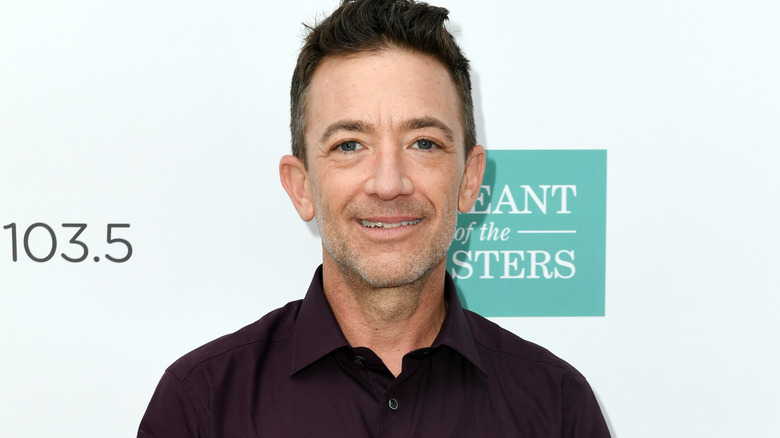 JC Olivera/Getty Images
David Faustino has certainly been getting steady paychecks throughout the years. That's because he's done voiceover work for animations such as "The Legend of Korra" and the "Winx Club," per his IMDb page, and also had a web series called "Star-Ving." In an interview with Nick Lamagna for "The A Game" podcast, Faustino even said that doing voiceover work allows him to work from home and spend more time with his family. He also had a "blink and you'll miss it" moment when he guest-starred on "Modern Family" in 2013 and in a handful of episodes on "The Young and the Restless" in 2017.
What's more, Faustino has also tapped into his passion for hip-hop and hosted music parties at Hollywood hot spots in the 1990s, according to LA Weekly. He even hosted rap battles (think Eminem's character in the 2002 film "Lose Yourself") and was perhaps one of the first people to discover will.i.am's talent. He said, "We'd have the freestyle battle around 11 o'clock. I would host, and we'd have some acts who were talented, and some who got booed off the stage, which is a part of hip-hop." And while it might sound like Faustino has managed to keep his head above water throughout the years, he did encounter a few bumps along the way in his personal life, too.
The Married... with Children reunion has been on hold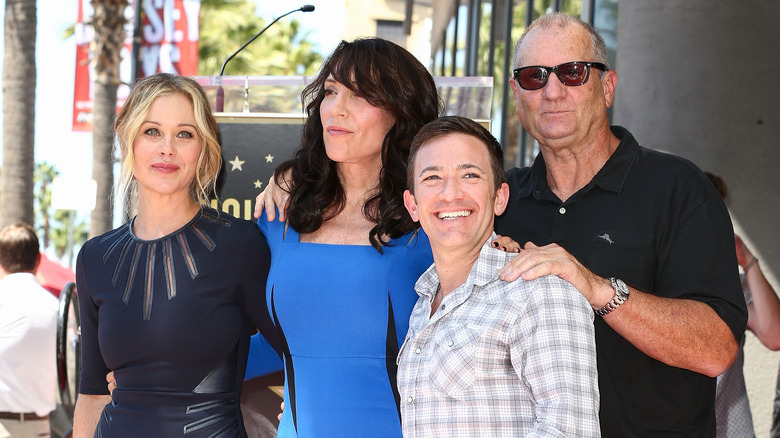 Imeh Akpanudosen/Getty Images
While speaking to Nick Lamagna for "The A Game" podcast, David Faustino revealed that his parents kept his paychecks from "Married... with Children" on lock from him. He also admitted that he didn't get any residuals from the show "because Fox at the time ... was a cable network, and so it was under a cable contract," per NBC Washington. If that weren't enough, he also got arrested at a club in Florida in 2007. He told LA Weekly, "I had about a gram of marijuana on me. Because I was intoxicated and was being an a*****e after hours outside the club, the police decided to search me."
On the personal front, Faustino has made plenty of headlines, too. According to People, Faustino pulled the plug on his marriage with his ex Andrea Elmer after three years together in 2007. However, he did welcome his daughter Ava Marie Faustino in 2015 with Lindsay Brosnan, per the "Today" show. 
When asked if he finds it annoying that people still think of him as Bud Bundy, he said during the Comic Con Baltics, "I don't anymore. I used to when I was a young man, I was angry as crap." Faustino also added that he became less defensive after realizing that Bud Bundy was "such a fun character in a non-threatening, loving way." We'd say that Bud himself would agree with that, too.