The Truth About Kara Killmer's Marriage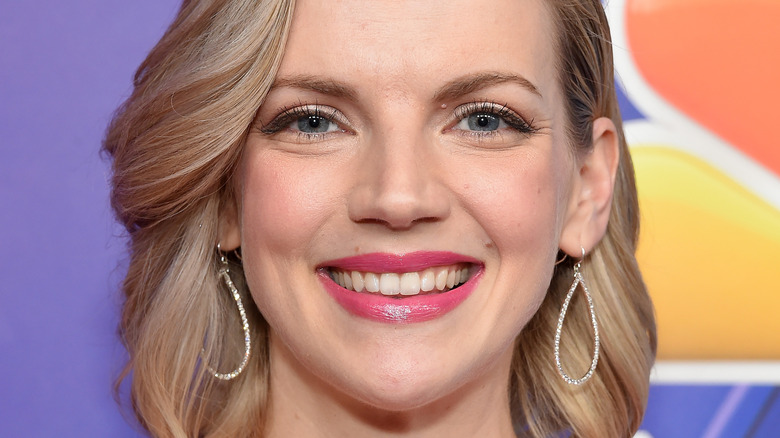 DFree/Shutterstock
Kara Killmer joined the "Chicago Fire" cast during Season 3 of the NBC series in 2014, and she's come to love her job so much that she's afraid her time on the show might have spoiled her just a bit. "We just have a really good group, and we're very fortunate," she told Stage Right Secrets in 2021. "Probably any other project that I work on, I don't know if we'll be able to recreate what we have here, and that scares me."
But while she's a big fan of everyone who plays her Firehouse 51 family, Killmer isn't always thrilled with the decisions that her character, Sylvie Brett, makes. When the actor learned that Brett would start pursuing coworker Matthew Casey (Jesse Spencer) romantically, she was uneasy about the storyline because Casey had previously been married to Gabby Dawson (Monica Raymund), and Killmer was actually a fan of the former couple. "I think at first, I was like, BLEH! Not because of [Jesse], just because I felt really invested in the Dawson/Casey relationship. I felt like, 'This is so wrong!'" she told CinemaBlend in February 2021.
But sometimes workplace romances can feel oh-so-right, as Killmer discovered when she met her future husband while filming a movie with him. Their love story is the stuff that rom-coms are made of, so if she wants to recreate that "Chicago Fire" magic with someone she's close to, she and her spouse need to get busy writing an autobiographical screenplay, stat!
Kara Killmer fled from her husband before they met
It's not uncommon for celebrities to meet on set and fall in love, but Kara Killmer developed a crush on the fellow actor she would marry long before they exchanged lines with one another. The production blog for "Beyond the Mask," a faith-based film set during the American Revolution, announced in September 2012 that Andrew Cheney would be playing the movie's dashing lead character: an ex-assassin with a romantic redemption arc. Killmer was soon cast as his love interest.
Cheney spoke fondly of Killmer in an August 2015 interview with Scene Creek. "Kara and I spent most of the time together, getting to know each other. Extremely talented girl, very generous," he said. He didn't mention their blossoming romance, but by May 2016, he and Killmer were married. They created a wedding website on The Knot and shared their love story there.
It all started when Cheney caught Killmer's eye at the Reality LA church in Los Angeles. She didn't know who he was and could never work up the courage to approach the handsome stranger whenever she saw him. She even missed out on the perfect opportunity to strike up a conversation with Cheney when he witnessed her celebrating after she'd successfully tossed a coffee cup into a trash basket (presumably from a distance). "There behind her was mystery man! She ran away ... actually ran away in a blur of blond hair and nervous giggles," the couple's website recounts.
Kara Killmer and Andrew Cheney have a lot in common
Kara Killmer was finally forced to talk to her crush when she went in to meet her "Beyond the Mask" co-lead for the first time and saw him standing there in the flesh. According to the movie's blog, Andrew Cheney had to beat out 1,200 actors to secure the role that would introduce him to his admirer from afar.
Killmer and Cheney started going out on dates when they weren't busy filming, and they learned that they share a fondness for Starbucks coffee, long walks, and arcade games. Their movie was being shot in Michigan, but they soon made a serendipitous discovery about their residences. "They actually lived less than a quarter of a mile away on the same street in Los Angeles," the couple's love story reads. After returning home, the adventurous pair continued dating. During a cross-country road trip, they visited the Grand Canyon, which is where Cheney popped the question.
Cheney has appeared in a number of faith-based projects, including the Pure Flix series "Vindication." Faith is also an important part of Killmer's life. She grew up in a tightknit Christian community near the Dallas-Fort Worth area, and she and Cheney both dream of having a support system similar to her church family. As she told Fort Worth magazine, "That's something my husband and I continue to look for wherever it is that we live or wherever we end up or wind up filming."