The Real Reason These Celebs Gained A Ton Of Weight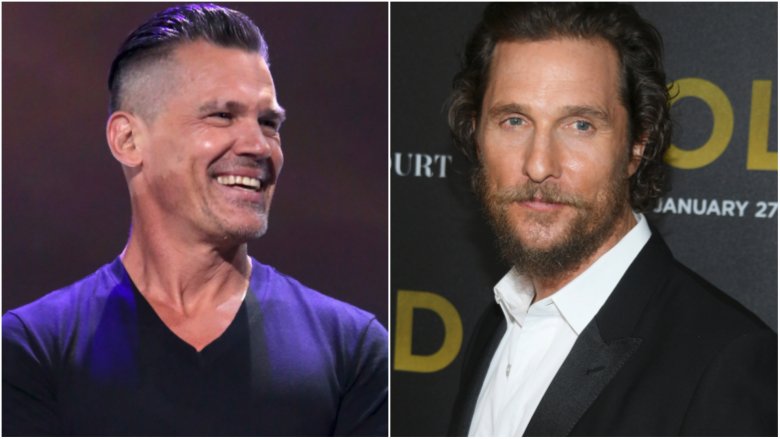 Getty Images
In Hollywood, certain actors treat their bodies like temples or finely tuned instruments. Others are willing to transform it for the sake of art — even if that even means packing on the pounds for a film roles. From Josh Brolin putting on a whopping 73 pounds for The Legacy of a Whitetail Deer Hunter to Matthew McConaughey chowing down on cheeseburgers to gain more than 40 big ones for Gold, here are the real reasons yours favorite stars got a little pudgy. 
Renee Zellweger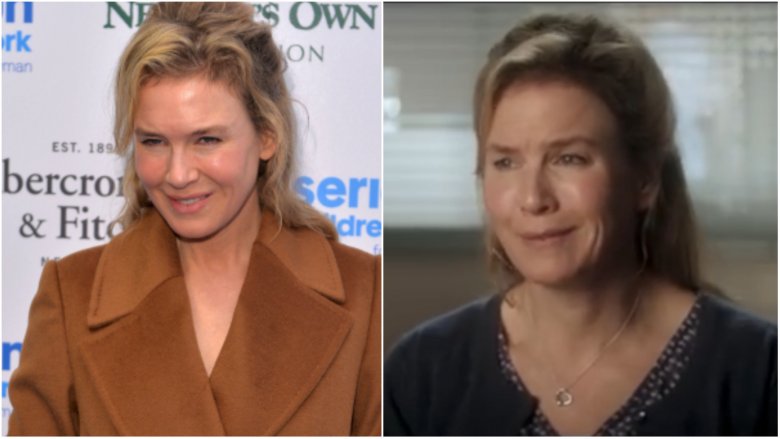 Getty Images/ YouTube
After years out of the spotlight, Renee Zellweger made her long-awaited return to Hollywood in 2016 with the third installment of the Bridget Jones series, Bridget Jones' Baby. The role of the beloved romantic-comedy character required Zellweger to pack on the pounds.
"I put on a few pounds," the star told British Vogue (via The New York Daily News). "I also put on some breasts and a baby bump. Bridget is a perfectly normal weight and I've never understood why it matters so much. No male actor would get such scrutiny if he did the same things for a role."
Back in 2007, after completing the first two films, Zellweger had lots to say about gaining weight and quickly dropping the pounds. "Can I just tell you my body is whacked by the time we finish one of those," she complained, according to The Daily Mail. "It doesn't know what has happened because it thinks there's supposed to be a baby and there's no christening. Did you see that movie about fast food, Supersize Me? I had a panic attack with all the specialists talking about how bad this is for you, long term, putting on that much weight in short periods of time and they're all saying, 'You must stop this now or you're going to die.'"
Christian Bale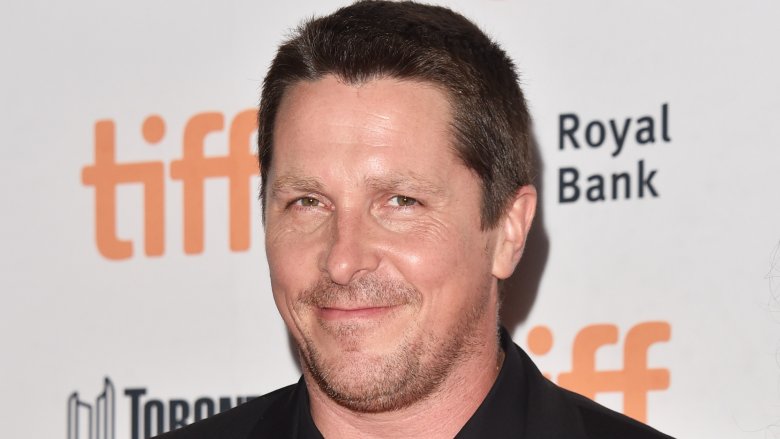 Getty Images
Christian Bale is no stranger to body transformations for acting roles. For his upcoming biopic, Backseat, about Dick Cheney, Bale packed on the pounds to play the controversial political figure. When Variety asked how he went about gaining weight, being that he once played a very muscular Batman, Bale said, "I've just been eating a lot of pies." Simple as that!
Bale previously lost a stunning 60 pounds for The Machinist in 2004 and put on a pot-belly of sorts for 2013's American Hustle. For that role, he took a similar root with food telling People, "I ate lots of doughnuts, a whole lot of cheeseburgers and whatever I could get my hands on. I literally ate anything that came my way. I was about 185 and went up to 228."
Jennifer Aniston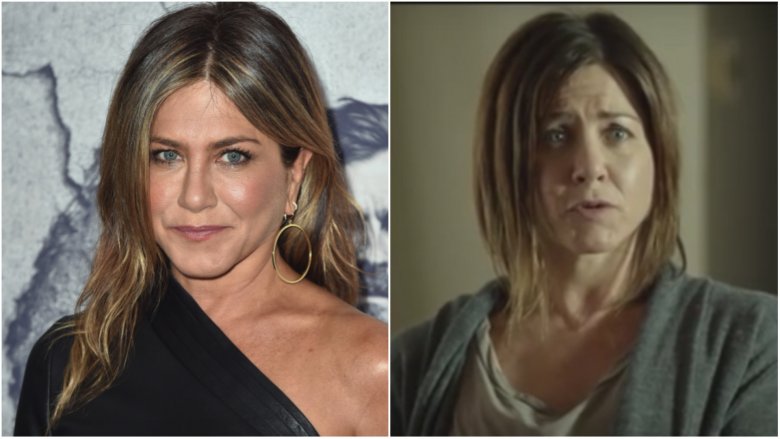 Getty Images/ YouTube
Most people in Hollywood and around the world who pay attention to stars are envious of Jennifer Aniston's glow, perfect hair and gosh-darn perfect body. Aniston, perhaps the most famous Friends star of them all, put that perfect body in jeopardy by gaining weight for her dramatic role in Cake.
"[I didn't exercise] for a couple months and it helped with your mood, the physical and all of that," the star said revealing her method to gain weight. Although it's initially fun to be a couch potato, the lifestyle has its drawbacks. "At first I was thrilled, because I said this will be so great I don't have to work out," she said. "After a few weeks it really does start to affect your sleep, your stamina throughout the day, your mood."
Although she was nominated for a host of awards, Aniston's transformation didn't land her any big trophies — including the 2015 Golden Globe for Best Actress, for which she was nominated.
Matthew McConaughey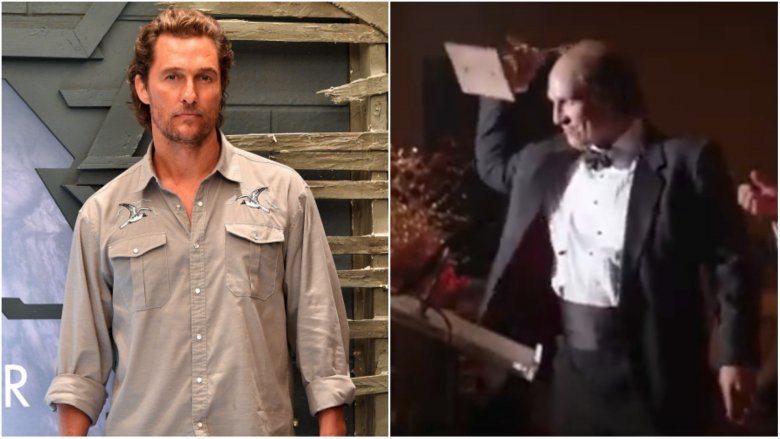 Getty Images/ YouTube
Much like Christian Bale, Matthew McConaughey is famous for his body transformations in his films. For his 2017 film, Gold, he grew quite the tummy to play gold-hungry businessman Kenny Wells. In all, he gained more than 40 pounds for the role, McConaughey told Us Weekly. Despite the tire, the critically acclaimed actor says his family liked the "fat" version of him.
"I mean, putting on the weight is more fun," McConaughey told the magazine. "I was probably more fun at home because I [said] 'yes' to everything. I was cooking a lot and we were going out a lot. [My family] probably would prefer fat ... I was a real 'yes' guy at the time."
He explained more to E! News of the happy period in his life. "I haven't ever done that," he said. "I said, 'McConaughey, you have six months to say yes to whatever you want to eat and whatever you want to drink. Whenever.' That was fun. The only thing that gets tiring is the thought of quitting. It was fortunate that I was like, 'Oh, this is also my job, so let's go — all green lights.'" Fortunately for him, he was allowed to eat as much of his favorite food as he wanted. "My favorite food is cheeseburgers, so I was eating cheeseburgers all the time," McConaughey said. "I was making cheeseburgers. I was trying out all these fast food restaurants that I've never had... Cheeseburgers and beer will do the trick."
Charlize Theron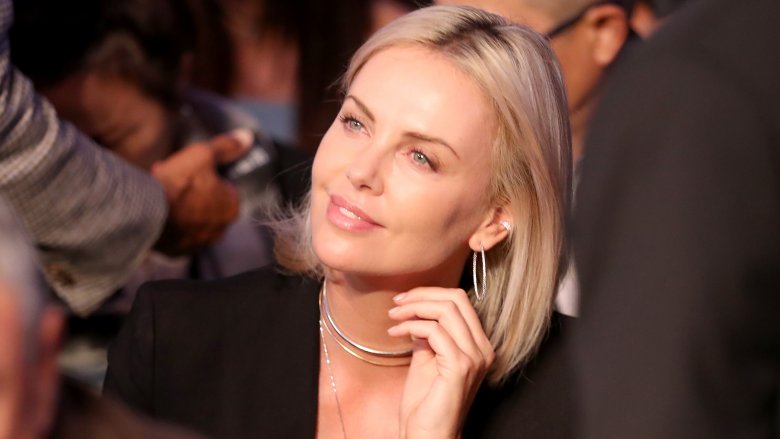 Getty Images
Charlize Theron famously gave up her model body to star in Monster's Ball. And once again sacrificed herself for her upcoming film, Tully, which will be released in 2018. However, the big difference is Theron is now 15 years older and putting on 35 pounds in your 40s can have real consequences.
In Tully, Theron plays a mom of three young kids and needed her body to reflect that. "It was brutal in every sense," Theron told Variety of gaining weight. "This time around, I really felt it in my health. The sugar put me in a massive depression. I was sick. I couldn't lose the weight. I called my doctor and I said, 'I think I'm dying!' And he's like, 'No, you're 41. Calm down.'"
Despite the onset drama of gaining weight, looking back Theron thought of the process as fun. "Every time I've had to do it, I have thoroughly enjoyed it," she shared on Sirius XM's Howard Stern Show, according to People. "Walking into a place with food and not having any restrictions. No thinking, 'this is not good for me.' It's a f*cking free for all. It's amazing." And of her favorite food choices? "I love pasta and bread and potato chips. Heaven would be just potato chips for me," she quipped.
Denzel Washington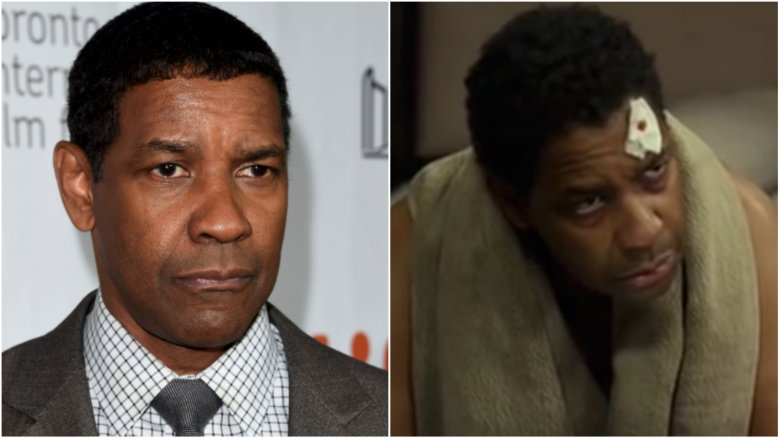 Getty Images/ YouTube
Denzel Washington is one of the best actors in Hollywood and will do seemingly anything to prepare for a role. Although he's devilishly handsome, Washington risked it all for the role of Whip Whitaker in the drama Flight. Washington's character is an alcoholic and drug-addicted pilot battling some pretty dark demons. His body needed to reflect that abuse, obviously.
"I can put on weight real easy. In fact for the movie what I did was eat really big meals at midnight. I loved it!," he quipped to on The Graham Norton Show in 2013.
Speaking with USA Today, Washington said he never had a particular weight number in mind, he just wanted to get heavy. In fact, he says he never got on a scale and stuck to a diet of late-night meals of milkshakes, burgers and of course avoiding the gym at all costs. "It's real easy to do. Just let it go and let it show," Washington quipped. "I just came up with that. I'm going to run with that now. Let it go and let it show."
Robert De Niro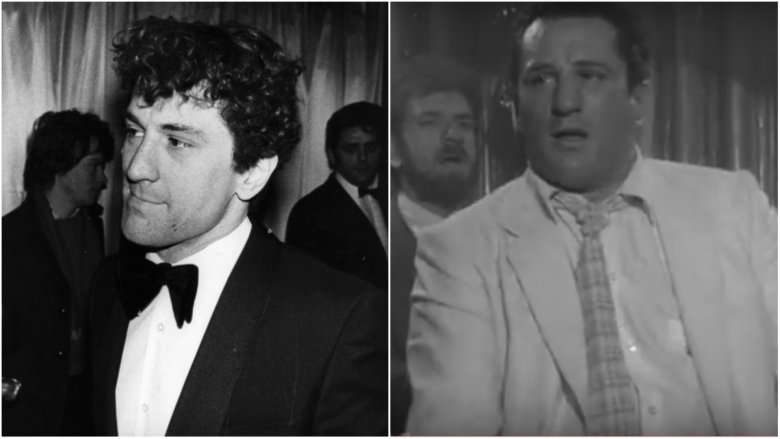 Getty Images/ YouTube
Raging Bull is widely considered one of the best movies of the '80s. It's about a boxer's destructive life outside the ring and his crusade to win inside the ring. It stars Robert De Niro as Jake La Motta. For the role, De Niro had the difficult task of being in fighting shape and then letting himself go in the later sequences of the film.
According to an ESPN break down, De Niro went from 160 pounds to 215 pounds. He packed on the weight during a short four-month break from filming. To put on the pounds, De Niro ate at the some of the best restaurants in France. "I began to realize what a fat man goes through," said De Niro. "You get rashes on your legs. Your legs scrape together."
Director Martin Scorsese even expressed concern over De Niro's weight gain for the film saying, "His breathing was like mine when I have an asthma attack."
Luckily, De Niro won an Oscar for Best Actor for his work in Raging Bull.
Jill Scott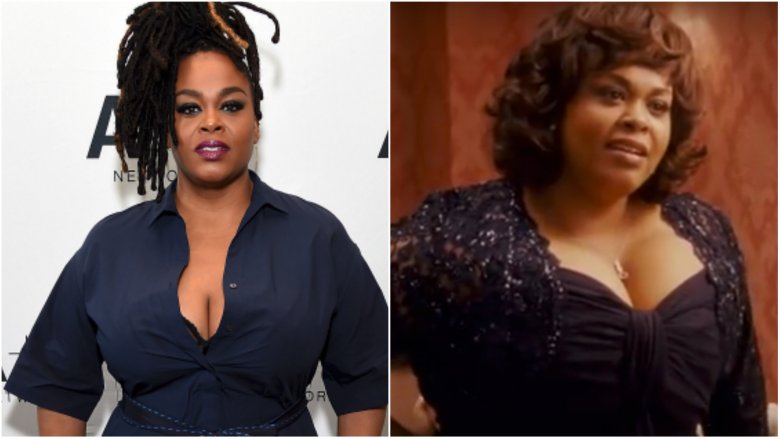 Getty Images/ YouTube
Actress and soul singer Jill Scott has a naturally curvy frame. But she decided to put on a solid 30 pounds for a Tyler Perry's Why Did I Get Married? film, she told People in 2007.
"I gained 30 for this role," she told the magazine. "I wore a fat suit, and if my face didn't match the suit, then it wouldn't be believable. And then I got the lead role in Anthony Minghella's The No. 1 Ladies' Detective Agency, and I was meant to gain weight for that, as well."
Since packing on the pounds is always easy, taking it off is the hard work. "I'm taking walks," she said at the time. "I don't put a lot of stress on myself to lose weight. But I will, because I didn't want to gain this weight in the first place." 
Jared Leto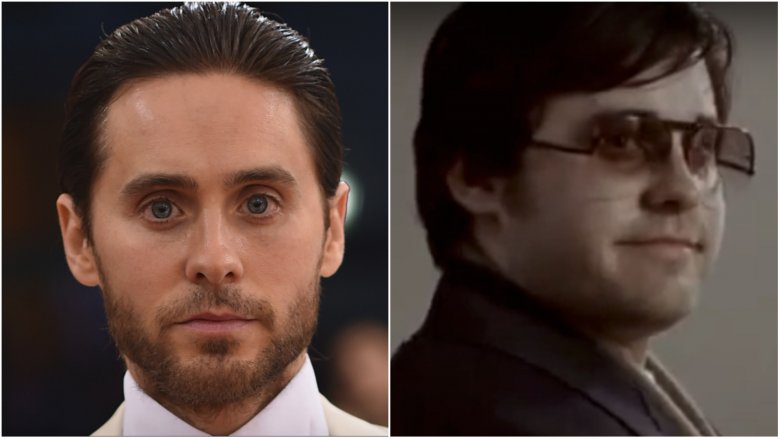 Getty Images/ YouTube
Jared Leto is usually pretty thin whenever photographed by the paparazzi or on red carpets. But he traded in his super slim frame for a husky build for the 2007 biopic Chapter 27. And worse, his extreme weight gain led him to develop gout. In the haunting film, Leto played John Lennon's killer Mark Chapman.
"Really, it's a stupid thing to do," he told The Guardian. "I got gout, and my cholesterol went up so fast in such a short time that my doctors wanted to put me on Lipitor, which is for much, much older people. Again, though, a fascinating journey. I had some reservations because I love everything John Lennon ever did. But in the end I wanted to explore a specimen embodying the total failure of humanity, just walk down this brutal path."
Taking off the weight came a bit easier for Leto, as he's a singer in the band 30 Seconds to Mars. "I lost a lot of it by going on tour; not straight away, but I was still kinda waddling around onstage for the first few dates, and eventually it came back off, thank God," he quipped.
Russell Crowe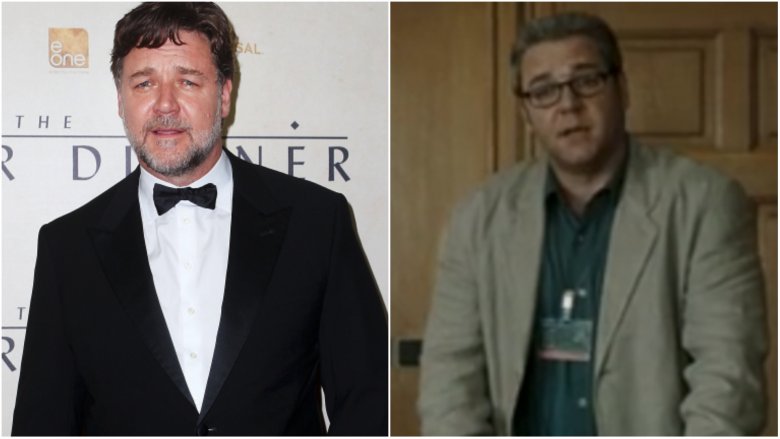 Getty Images/ YouTube
For the 2008 spy thriller Body of Lies, Russell Crowe went through a whopping transformation. He turned his Aussie hot body into a giant chunk of fat. Crowe played CIA veteran Ed Hoffman in the film and increased his weight to a stunning 257 pounds.
"It just felt right for the character and it's what Ridley [Scott] wanted as well," Russell told Access Hollywood. "He wanted the image of Ed to feel like a retired football player whose knees didn't allow him to train anymore or something like that. He wanted him to have, even though he did feel that there should be some grace about him, he just wanted him to be heavy. And he wanted to show that this is a guy that actually spends most of his time sitting down." For the most part, Crowe was on a high-fat diet, which he raged, "Bring on the burgers, baby!"
"If you want to put on weight, you just elect to live a sedentary lifestyle," he said. "Just as soon as you stop actually being active and decide to eat whatever you want, then these two things will combine very quickly."
Josh Brolin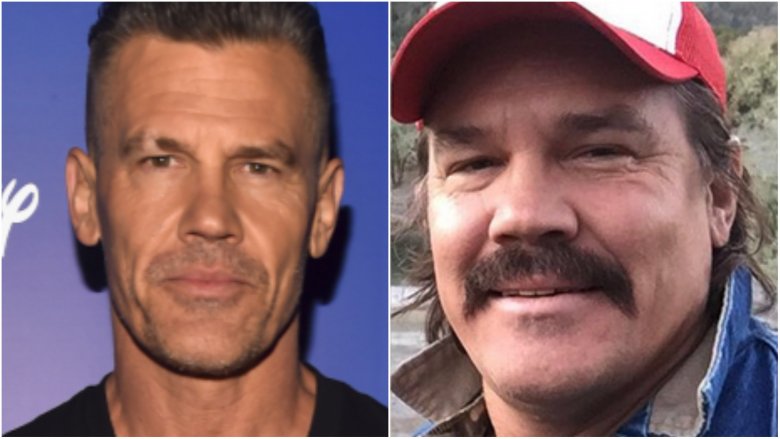 Getty Images/ Instagram
For Josh Brolin's upcoming film, The Legacy of a Whitetail Deer Hunter, he packed on a shocking 73 pounds and spent some three and a half months filming in the woods. He even took to Instagram to show off the transformation with a picture of him from 2007 and one during filming. Brolin captioned it, "167/240 #WTF." Fans could certainly tell he poured on the pounds as he was previously gaunt looking.
Right after filming, he appeared on The Tonight Show Starring Jimmy Fallon to complain, "I have to get rid of this weight." And he also needed to ditch his '70s porn mustache, which Fallon gladly assisted in shaving off. But it didn't take him long to get back in tip-top shape. By May 2017, Brolin was back in the gym flexing his Hulk-like muscles.