Here's What Sofia Vergara Looks Like Without Makeup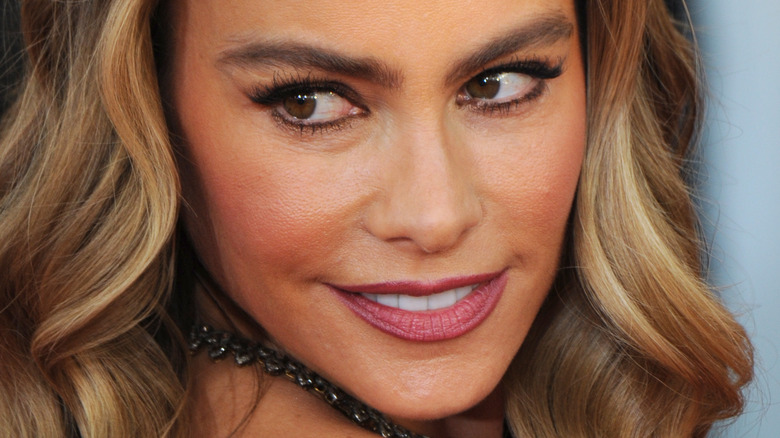 Featureflash Photo Agency/Shutterstock
Sofia Vergara is stunning. That's just a fact. The "Modern Family" star turned "America's Got Talent" judge has appeared on pretty much every compilation of beautiful people going — including People's infamous "Most Beautiful" list multiple times — so you might be surprised to hear that the Colombian star doesn't necessarily think she deserves to have an honorable mention on all these prestigious countdowns. "Sometimes I look in the mirror and think I look like a drag queen. I'm a woman, but I'm very exaggerated with my boobs, my [butt], how I do my make-up, and my accent, of course," she joked to Mirror in 2015. As for who she thinks does deserve to have the title of most beautiful? Kim Kardashian, of course! "I've met her at red carpet things and she is just the most beautiful women anywhere... so somebody is going crazy to put me on these lists," Vergara confessed.
But, obviously, Vergara more than deserves her place, though she's admitted that much her beauty comes down to just being confident in her own skin. "Confident people have a way of carrying themselves that makes others more attracted to them. Latin women are very comfortable with their bodies and their sexuality. We aren't afraid to show that off a little bit more," she explained to Shape (via People).
Of course, though, we know Vergara has constantly perfect hair and makeup on the red carpet, but what does she look like without some time in the makeup chair?
Sofia Vergara even glows when she's ill
In a revelation that will probably surprise precisely no one, Sofia Vergara still looks gorgeous even when she's ill with a fever. She went makeup-free on Instagram back in 2017 when she snapped a bed selfie with a 102 fever, proving that even when she's not feeling her best, she's still looking her best. The star even joked that feeling hot had given her the "perfect" blush shade on her cheeks. Gorgeous!
We know the star knows all about the best makeup shades too, as she actually likes to do her own makeup despite having access to some of the best makeup artists in the world. The star is good friends with makeup mogul Charlotte Tilbury and chatted all things beauty with her during a 2020 Instagram Live stream, where Vergara admitted she used to do her own makeup while filming "Modern Family." "It was like therapy. I would go there at 5 am, start my makeup, I'd do it faster than anybody, and it was really fun," she shared.
Vergara also revealed she pretty much always has a little makeup on, and getting a little glam helped made her feel better while at home during the coronavirus pandemic. "I realized it's getting me depressed. I have to start my normal thing of waking up, showering, and I feel better, start working, do things from home. I needed makeup just for myself and to not feel like I am sick," she said.
Sofia Vergara's makeup no no
But just because she likes to have at least a little makeup on to keep her spirits lifted, that doesn't mean Sofia Vergara will be sleeping in her cosmetics. That's a big no no. "I'm very religious about taking my makeup off every night. No sun. I mean, it's no mystery. The typical things that everyone has always told you to do for your skin — those things work. Sleeping enough. Don't drink too much. Don't be in the sun without sunblock. Take your makeup off," she told Who What Wear in 2019.
Taking off her makeup at night to let her skin breath is clearly working for the star too, as she showed off her glowing complexion while makeup free in a gorgeous poolside selfie back in 2017. "A little sun before heading to Mexico lindooooo today," she captioned that Instagram snap as she showed off her golden glow before jetting off to Mexico with Reese Witherspoon.
But, during the day when Vergara — who's uber rich, by the way — is all made up, she usually keeps her look pretty similar. "For 40 years, I've been doing the same makeup! I have warm skin, so I look good with browns, and golds, and bronze; I don't look good with grays or pinks," she told Health (via Women's Health) in 2018 (though we're pretty sure this superstar would literally look good in any color!).