Below Deck: Are Captain Lee And Kate Chastain Still Friends?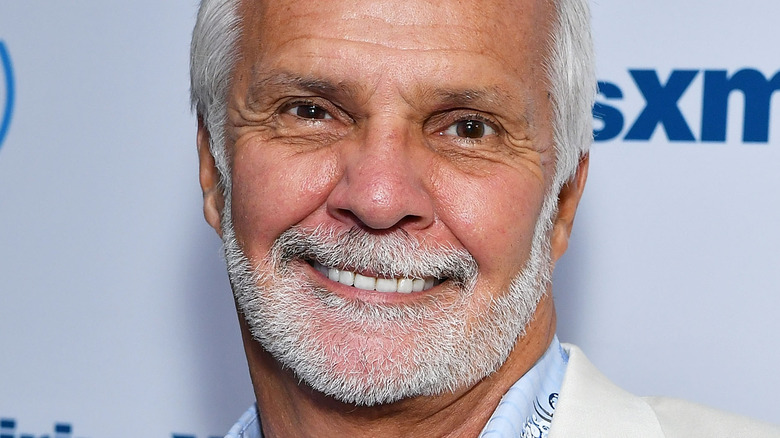 Slaven Vlasic/Getty Images
When former "Below Deck" co-stars Kate Chastain and Captain Lee Rosbach embarked on their new reality show careers in 2013, the saucy yachtie and the "stud of the sea" couldn't have known that their professional relationship would evolve into a friendship that seemed deeper than the depths of their watery workplace. But it wasn't smooth sailing for the pair at first; when Rosbach first laid eyes on Chastain, he didn't think she looked like she was capable of keeping his superyacht in ship-shape condition.
"Kate, when she strutted down the dock, I totally missed her completely. Seriously ... missed her," the gruff captain admitted in a 2014 blog post on the Bravo website. "I was looking for a chief stew and what came down the dock was an attractive, well-coiffed, confident lady that no one would mistake for a chief stew." Viewers certainly didn't overlook Chastain, and by the time she made the decision to leave "Below Deck" in 2020, she'd become one of Bravo's biggest stars. She'd also proved that she was extremely adept at her job, earning Rosbach's respect.
"She's a really, really caring person. She's also that kind of employee," Rosbach said on the "Below Deck After Show" in 2019. "She's the best there is." The captain wasn't prepared for Chastain's departure, telling Hollywood Life, "I did not see that coming at all. I was totally blown away." So did their friendship survive after she rocked the boat by leaving Rosbach without a chief stew?
Kate Chastain and Captain Lee Rosbach still spend time together
Kate Chastain admitted that she was growing tired of the yachtie lifestyle while speaking to ET in 2017. "I'm phasing it out. I mean, I've got a dog now ... it was so exciting for me to travel. But now what's exciting for me is, like, potted plants. And throw pillows," she said. But she didn't lose her relationship with Captain Lee Rosbach when she lost her sea legs.
In August 2021, the landlubber's former boss took to Instagram to reveal that he and Chastain had reunited. Rosbach posted a picture of himself, his wife Mary Anne, and Chastain sharing a laugh during a night out in Florida. In his caption, the captain said that the group had enjoyed dinner together at Eddie V's restaurant. He described Chastain as "one of our very best friends," adding, "Times like these should never be wasted."
Rosbach's bond with Chastain was so strong during their "Below Deck" days that he openly admitted to showing favoritism toward his chief stew. "Kate deserves preferential treatment because she's earned it. It's simple," he said on the Season 7 "Below Deck After Show." He made Chastain tear up while praising her for being such a great friend, and he opened up about how she was there for him when he lost his son to an accidental overdose in 2019. At the time, Chastain told People, "I speak to Captain Lee probably once a week at least."
Kate Chastain is open to returning to Below Deck
After leaving "Below Deck," Kate Chastain put her organizational skills to use on land. "My first chief stew ever, she happens to live down here [in Florida], she has a destination wedding and event business. And so that's what I do. I do throw parties and I just love it," the ex-yachtie told Showbiz CheatSheet in 2021. Her new gig requires pleasing clients on a much larger scale than she did on the show; instead of making sure that charter guests have spotless rooms, she's presented with far tougher tasks, including procuring pirate ships for weddings.
While it sounds like Chastain's new life is worthy of its own reality show, she's open to taking a break from running her successful business to appear on "Below Deck" again. "It would take a lot of money. I would take a page out of Ben [Robinson]'s book," she told Us Weekly in August 2021. "There was a couple of seasons where he would come in as the save the day guy for, like, one, maybe two [episodes]. That's the only way I would ever consider it."
Captain Lee Rosbach seems to be supportive of all of Chastain's endeavors. When she revealed that she was in Yemen in an April 2022 Instagram post, he wrote in the comments section, "Catch you on the flip side kiddo, crush it." There just has to be a future Bravo special about Chastain planning her pal's retirement party, right?