Who Is American Idol Winner, Noah Thompson?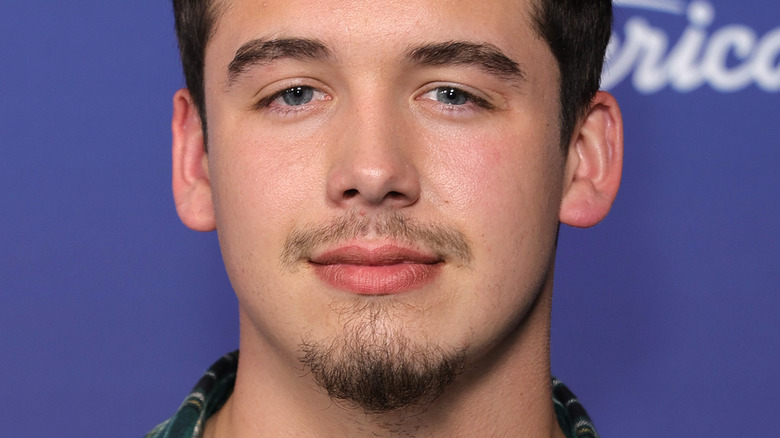 Momodu Mansaray/Getty Images
The votes are in, and America has spoken. The hit music competition "American Idol" has crowned its newest champion (cue Queen's "We Are the Champions"). In a bit of a shocker, at least for judge Luke Bryan, Noah Thompson prevailed over fan-favorite HunterGirl to win the competition. "This is my fifth year doing this, and that is my favorite female country voice I've heard in five years. This is the year of the girl country singer, right?" Bryan previously said, according to The Washington Post.
None of that is to take away from Thompson's accomplishments on "Idol," though, Since his first audition — a cover of "Giving You Up" — Thompson has continued to wow audiences with his vocal performances. "You are the American Dream," judge Katy Perry told him during his audition. And audiences were not ready to give up on Thompson.
Noah Thompson hails from Kentucky
Noah Thompson first joined "American Idol" because a co-worker had signed him up for the competition. In this early appearance, Thompson hadn't quite found his confidence, a pale shadow of the later performer he would become on the show. "We [were] actually hanging up sheetrock at work and he told me he was going to sign me up for it," Thompson recalled ahead of his audition. "I say, 'No, you're not.' But he did it anyway." He added, "As a kid, all I thought about was just playing music, being famous. But where I'm from, you don't really get much opportunities ... I would have never signed myself up for nothing like this. I've never had that confidence. It's pretty cool to know that somebody believes in you more than you believe in yourself."
According to Lex 18, Thompson is the first native Kentuckian to win the competition, having been born and raised in Louisa. According to Good Housekeeping, Thompson worked a day job in construction, but got his musical start posting TikTok videos before joining the competition. He's covered both Morgan Wallen's "Cover Me Up" and Cody Johnson's "Nothin' on You."
As for his personal life, Thompson is also a father. Thompson has been with his girlfriend Angel Dixon for several years, and the two share a young son together. "My little boy, he's my strive for all this," he said during the competition. "Blows my mind that I'm even here. This could give me the opportunity to give my son an entire new life, a better life."
Noah Thompson is still in shock
As for Noah Thompson's future, that's entirely in his hands. Now that he's won "American Idol," he has all of the tools and recognition to take his musical ambitions to new heights. But the former construction worker couldn't believe that he took home the grand prize. In the moments after, Thompson expressed his immense shock, revealing his nerves. "Oh my God ... my heart is beating out of my chest, this is crazy," Thompson said, according to People. 
Later, during an interview with "Good Morning America," Thompson admitted he was still processing his win. "Truthfully, I came into the competition not even thinking I would get a golden ticket, so to hear my name at the end, that was amazing," he said. And what does the winner plan to do in the immediate aftermath of his success? "I want to see my family and just kind of let this settle in, you know what I mean? It's going to be wild. I'm going to try to just stick to, you know, staying in the house for a little bit."
Thompson now has plenty of opportunities at his feet — and a legion of dedicated fans, too. There's no doubt the 19-year-old has a bright future ahead.