Coco Austin Is Finding Herself In Hot Water Over A Photo Of Her Daughter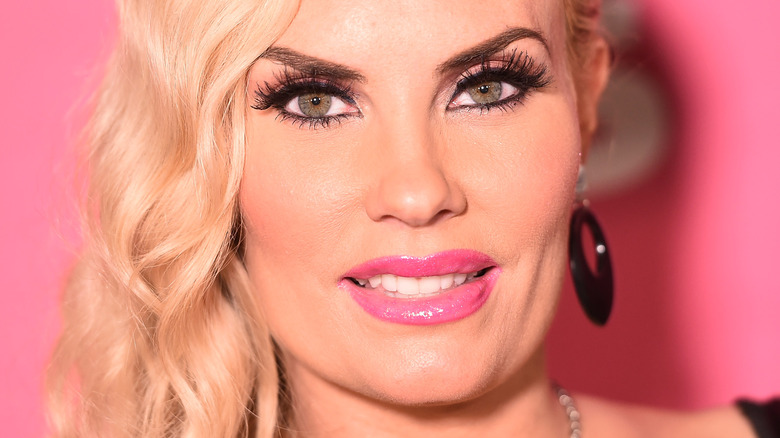 Steven Ferdman/Getty Images
Model and Mama bear Coco Austin is no stranger when it comes to the double-edged sword that is talking openly about parenting on the internet.
As you may recall, Austin has been very open and forthcoming about her breastfeeding journey with her only daughter, Chanel. "I know the moms out there will appreciate this pic!" she gushed in an Instagram post in March 2020 along with a photo of her nursing Chanel. "Ive been getting alot of props in the breastfeeding community and get tons of emails from woman/moms appreciating me bringing light to the subject," she continued. "At this point in nursing its just for comfort and believe me the girl loves meat so its not like she isnt eating real food...," she carefully added. "Thank you to all that understand my view.. i see most of you are so eager to side with me and I too root for you in your journey as well.. Us moms are connected," she concluded.
Alas, now it appears she's found herself in some hot water over a photo with her daughter...
Coco Austin is being shamed for pushing her daughter in a stroller
Shop 'til you drop? 
On May 22, Coco Austin took to her Instagram to showcase a family moment. "A stroll through the @atlantisbahamas shops..." she penned in the post along with a photo of herself, husband Ice-T, and their six-year-old daughter Chanel lounging in a stroller while looking visibly annoyed. "Chanel is so over it unless there's something cool to see... Her face transitions instantly" she added.
As one can imagine, as soon as the Mama-of-one hit "post" many critics flooded the comments section in an effort to give her their unsolicited parenting advice. "She looks like she's over being in a baby stroller," one user commented. Meanwhile, another wrote "A stroller really? Let that girl grow up." Fortunately for Austin, not everyone was willing to pile on. "For the people b******* about the carriage, it is much easier to push a child in a stroller than to carry them around when they get tired. Especially when they are her age, it is harder to carry them alllll over the place. She is not having a melt down because she is too tired & that is a very good thing," the user wrote. To be fair, Ice-T didn't look too thrilled in the photo either. Perhaps he could've benefited from an afternoon stroll as well.