Harry Styles Sent Fans In A Tizzy With A Nod To Taylor Swift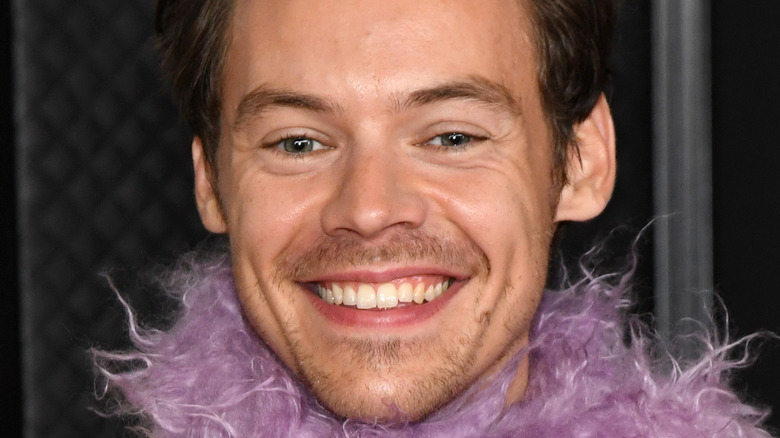 Kevin Mazur/Getty Images
Much has been said about Taylor Swift and Harry Styles' relationship over the years, whether it's from fans or tabloids. While the pair haven't been a couple for nearly a decade, their romance still remains a topic of discussion many years later.
Swift is no stranger to writing songs about her ex-boyfriends, therefore, it wasn't a huge surprise when listeners believed she penned a couple about Styles. During a 2020 radio interview on "The Howard Stern Show," the former One Direction member admitted it doesn't "upset" him when exes write songs about him, explaining, "I think about what it means to me to write a song about somebody else and for somebody else to do that, it's like flattering, even if the song isn't that flattering, you still spent time on it." Even though Howard Stern brought up Swift's name, Styles didn't specify what songs she may have written about him but did credit her as a "great songwriter." As noted by Glamour magazine, it has been said that Swift's songs "Style" and "Out of the Woods" are about Styles.
While we don't know the real reason for Swift and Styles' split back in 2013, it appears they are still on friendly terms. At the 2021 Grammy Awards, the duo were captured having a chat with one another and looked happy to be in each other's company. At a 2022 concert, Styles sent fans into a frenzy after giving one of Swift's hits a nod.
Haylor fans are totally here for Harry Styles singing Taylor Swift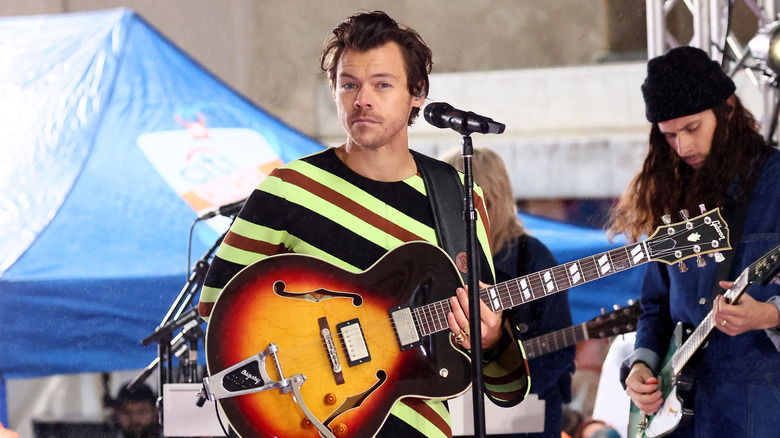 Dia Dipasupil/Getty Images
Harry Styles is currently a hot topic. Listen to his new album, "Harry's House," and you will know why! In promotion for the record, the "Lights Up" hitmaker performed an intimate show on May 24 at O2 Brixton Academy in London. As previously reported by E!, Styles interacted with fans in the crowd and found out it was someone's 22nd birthday. As documented in a Twitter video upload, Styles responded with "22!" before mumbling lyrics to Taylor Swift's song of the same name while performing a mini dance move. Unsurprisingly, fans went wild, screaming and cheering him on.
"If u told me this would happen in 2013 I wouldn't believe u," one user tweeted in shock. "How is this real ... am I hallucinating," another passionate fan shared. "Dude you know what ... style ft. harry styles (taylor's version) — taylor swift is coming SOOON bye world I need rest," a third user remarked, hoping for a collaboration between the two. Taylor Swift and Harry Styles on one song? How will the world cope?!