The Bizarre Kylie Jenner Conspiracy Theory Explained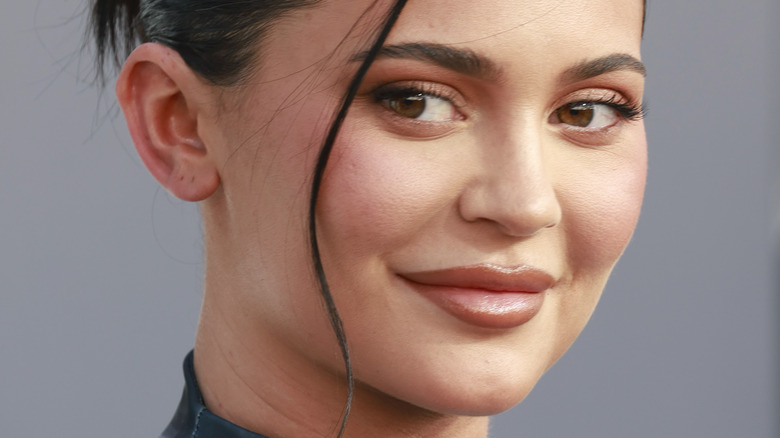 Frazer Harrison/Getty Images
It's true that the Kylie Jenner now looks nothing like the young Kylie Jenner. In reality, most of the Kardashian-Jenners don't look like their old selves, with Kim, Kourtney and Khloé Kardashian making incredible transformations since they first burst onto the reality TV scene.
However, the three oldest Kardashian sisters were already adults when they became household names, whereas Kendall and Kylie Jenner were just 11 and 9 years old when "Keeping Up With the Kardashians" premiered in October 2007. So, it's inevitable that Kylie would physically change a lot as she went through puberty and her teenage years. Add to that some crafty face contouring, hairstyling, giving birth twice, and maybe one or two other cosmetic procedures than the lip fillers she finally copped to, and 24-year-old Kylie will look entirely different from 9-year-old Kylie.
But, in these days of conspiracy theories gone wild, where a slice of pizza is no longer simply a slice of pizza, some people have much more bizarre ideas about why Kylie appears so different. Because why go for the obvious answer when there's a way crazier and far-fetched one to grab on to and run with? And, of course, there is. The bizarre Kylie Jenner conspiracy theory needs to be explained because it's crazier than a reality show.
Kylie Jenner was replaced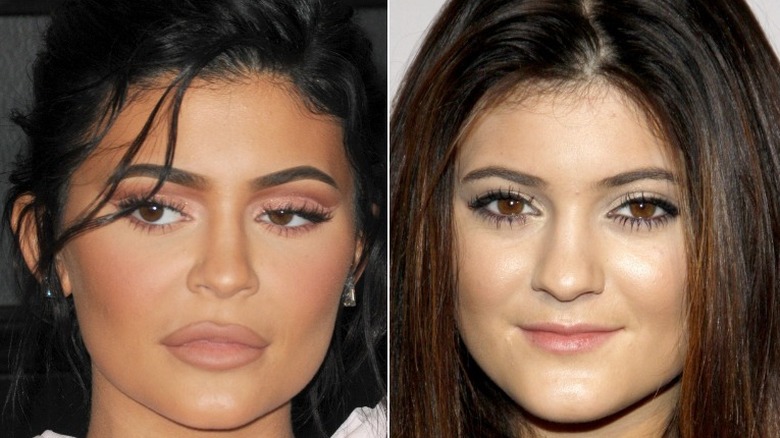 Tinseltown & Kathy Hutchins/Shutterstock
A bizarre conspiracy theory stems from Kylie Jenner's dramatic transformation. As several other conspiracy theories have started, it had been a satirical joke. Similar to numerous other conspiracies, it involved a famous person dying and being replaced by a clone, robot, or lizard reptilian shapeshifter.
The Jenner conspiracy can be traced back to a viral tweet from May 2017. "New conspiracy theory: Kylie Jenner died in 2013 and was replaced with a clone who looks nothing like her," the caption reads along with a split pic of a young Jenner next to grown-up Jenner. The majority of commenters got the joke — but others? Not so much. "I've been thinking this for a while now. Totally different person, not just physically. Her whole personality, voice, everything is just different," one believer wrote. "How is it a clone [if] it looks nothing like her??" asked a puzzled user.
The original poster said her tweet was a satirical take on the Avril Lavigne dead clone conspiracy that was circulating at the time. "It was just funnier to use Kylie because of the notable differences in her face pre and post surgery that make her look like a whole other Jenner sister," she told UNILAD. However, there are also plenty of other bizarre Kylie Jenner conspiracy theories floating around out there.
The conspiracies don't stop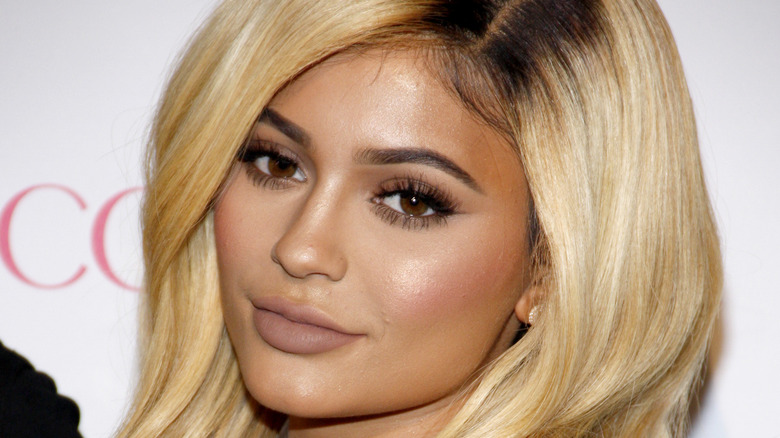 Tinseltown/Shutterstock
Bizarre Kylie Jenner conspiracy theories are abundant. Aside from fans believing that she died and was replaced by a clone in 2013, conspiracy theorists circulated that Kylie wasn't really pregnant by Travis Scott in 2018. According to the rumor, Kylie was actually a surrogate for Kim Kardashian and Kanye "Ye" West. That myth seemed to get debunked after Kylie gave birth to her daughter Stormi.
Another theory sprang up in 2018. Kylie, Kim, and Khloé Kardashian were all pregnant, so conspiracists speculated that mother Kris Jenner had orchestrated the pregnancies for publicity, three years prior. The logistics of how are a little hazy. In 2020 it was also theorized that Kylie didn't live in the $35.6 million estate that she'd bought and was instead just using it for Instagram photos. The evidence? No kids toys were spotted laying around.
The most recent conspiracy theory is that Kylie didn't attend "The Kardashians" premiere; she just photoshopped herself into pics she posted. "From the 137 images uploaded to Getty images [from the event], Kylie is in none of them. Absolutely none. Not even in the background or videos taken from the event," tweeted a conspiracist. Kim explained why on the "Not Skinny Not Fat" podcast (via Yahoo!), sharing, "Kylie didn't show up to the red carpet, but she came into the premiere when we were watching the actual show." Kim said she thought Kylie was still suffering postpartum blues and didn't want to be photographed.