What Hayden Christensen And Rachel Bilson's Relationship Is Like Today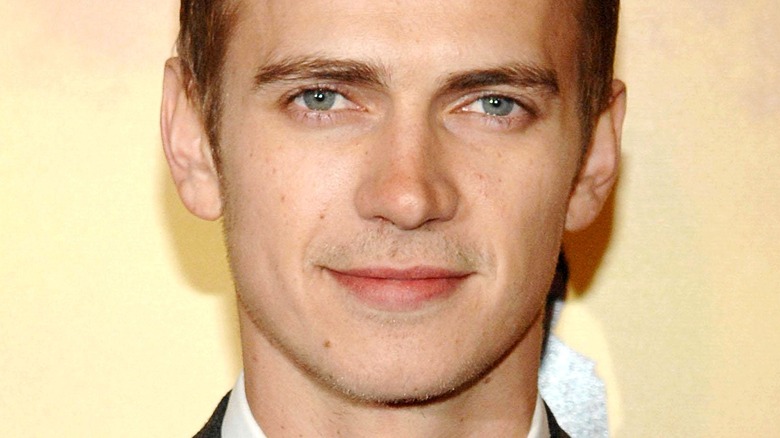 Everett Collection/Shutterstock
Hayden Christensen and Rachel Bilson's relationship began two years after Christensen bid farewell to a galaxy far, far away. In 2007, the "Star Wars: Episode III — Revenge of the Sith" star traded his Jedi powers for the ability to teleport in the sci-fi flick "Jumper." His love interest was played by Bilson, who had split from her "The O.C." co-star Adam Brody one year prior, per Us Weekly.
Bilson and Christensen soon began dating, and at first, their relationship moved faster than Anakin Skywalker's podracer. When they got engaged in late 2008, a source told People, "Rachel seems thrilled beyond belief." But, in June 2010, she showed off her ring-free left hand at a red carpet event and said the wedding was off, per Us Weekly. The couple was back on by November of that same year, and while they kept their relationship private for the most part, Bilson was seemingly so smitten that she couldn't resist talking about Christensen during a 2013 interview with Cosmopolitan. She revealed that she loved cooking for him, so their ideal date night consisted of staying in and watching a movie while enjoying one of her culinary creations. "I'm a really good girlfriend," she boasted. 
Bilson also said that she was ready to start a family, and she Christensen became parents the following year on October 29, 2014, per Us Weekly. Sadly, they split in 2017, and learning how to co-parent their daughter, Briar Rose, proved to be a challenge for the exes.
Rachel Bilson saw the plus side to co-parenting during the pandemic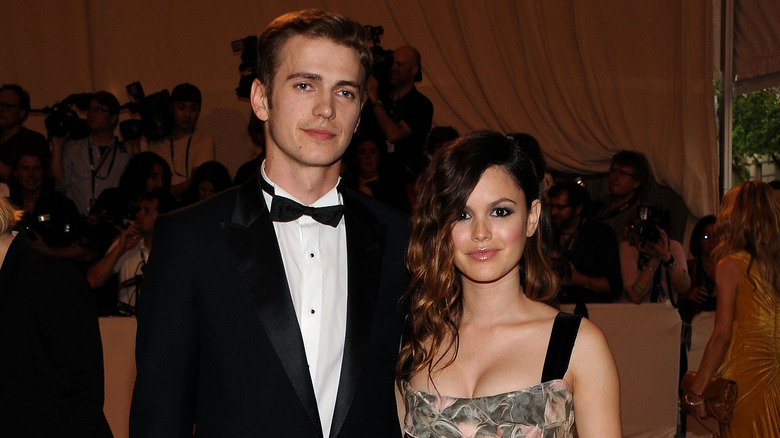 Larry Busacca/Getty Images
In 2018, Rachel Bilson confessed it wasn't easy navigating life as a working actor while sharing custody of a toddler with her ex. "We're still kind of trying to figure it out. It's a tricky one," she told People. One big challenge was explaining to Briar Rose that her parents would now have separate houses. Bilson also hinted that the situation was somewhat tense, saying, "Most important for me is that Briar is okay and secure and stable. No matter what I'm dealing with or how much it hurts or how much anger there is, it's just about her."
While sources told The Blast that Bilson dumped Hayden Christensen over texts he received from Emma Roberts, another insider told E! News that a number of other factors contributed to their relationship's demise. "Rachel is very social and likes to hang out with friends. Hayden is reclusive and off the grid," the source dished. But being comfortable being cloistered proved to be beneficial when the pandemic hit.
On the "Betches Moms" podcast, Bilson revealed that she was grateful for Christensen's adherence to COVID-19 preventative measures when their daughter was staying with him. "Luckily, her dad is pretty hardcore with it all," she said. Bilson also pointed out how Briar Rose benefitted from her parents living apart, saying, "She's had the opportunity to have another house to go to and not just be stuck in our house the entire time."
Rachel Bilson and Hayden Christensen treated their daughter to some Disney magic
In October 2019, Rachel Bilson and Hayden Christensen made Briar Rose's fifth birthday magical by taking her to Disneyland, per Us Weekly. Christensen was photographed helping his daughter hold a lightsaber about as tall as she was, and in a rare photo of Briar Rose that Bilson posted on Instagram, she looked ready to party in her festive Mickey Mouse ears.
In a 2015 appearance on Hallmark's "Home & Family," Christensen revealed that Briar Rose's name is actually inspired by a Disney character. Her moniker is the alias that Princess Aurora is given while hiding from the evil fairy Maleficent in the movie "Sleeping Beauty." The actor said, "We both love all things Disney, but Rachel especially was very keen on the name."
Two years before his daughter was born, Christensen actually joined the Disney family when the entertainment conglomerate acquired Lucasfilm. However, in 2020, Bilson told Us Weekly that Briar Rose hadn't watched her father play Darth Vader yet. "Luckily, she's not aware that her dad is one of the biggest villains of all time," Bilson said. "When that [time] comes, I don't know how that'll probably fare in school because nobody will mess with her!" In a May 2022 interview with The Guardian, Christensen said his daughter still hadn't seen his "Star Wars" movies, so she has a lot of catching up to do before she could check out his new Disney+ series, "Obi-Wan Kenobi."