Steven Seagal Quietly Works A Regular Job Today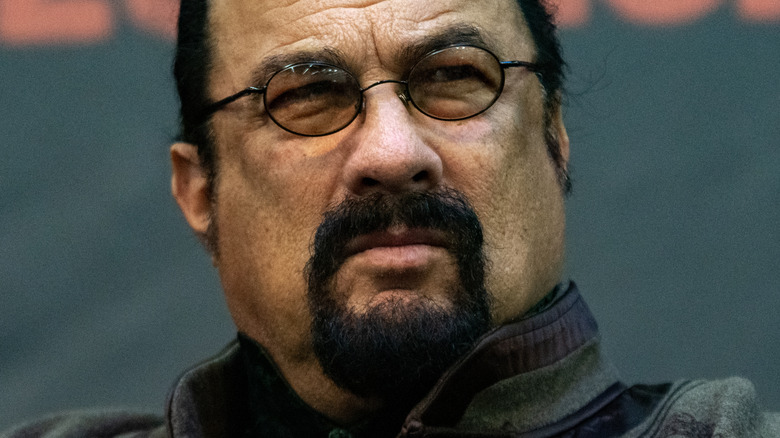 Markus Wissmann/Shutterstock
If you have ever rented one of those old school direct-to-video thrillers from the late '90s, then you've probably heard of Steven Seagal. Seagal was once a big movie star drawing in the crowds, but things began to change after he released "Exit Wounds" in 2001. The actor's career has floundered with direct-to-video releasesever since. 
Hollywood and Seagal have different opinions on why Seagal's movie career went sideways. Seagal blames a 2002 FBI affidavit into an alleged attempt by the actor to intimidate two journalists for why his acting career went downward. "False FBI accusations fueled thousands of articles saying that I terrorize journalists and associate with the mafia," he told the Los Angeles Times in August 2007. "These kinds of inflammatory allegations scare studio heads and independent producers — and kill careers."
Meanwhile, several celebrities have reported Seagal to be difficult to work with. For instance, actor John Leguizamo described a hostile encounter with Seagal on-set in a 2022 New York Post interview. "Yeah, I did not have a good time with Steven Seagal. No one has. Gene LeBell, the most famous stuntman in Hollywood, was in a movie with him and [Seagal] kept hitting the stuntmen on purpose." But, as his movie career wound down, Seagal found new career opportunities. He claims to have been working a normal job quietly on the side for decades.
Steven Seagal turned his part-time job into a reality show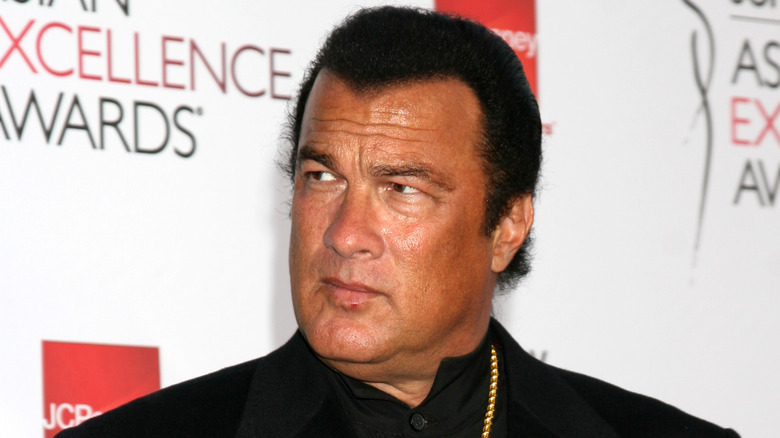 carrie-nelson/Shutterstock
When he's not starring in his next flick, Steven Seagal claims to work part-time as a cop. In an interview with the Los Angeles Times from December 2009, Seagal said he's been working quietly as a cop for the Jefferson Parish Sheriff's Office in his time off. According to the actor, it all began after he taught some of the local officers martial arts at the request of then-Sheriff Harry Lee. "He was so pleased with what I was doing he asked me to come onto the force and be one of his cops," Seagal said.
Of course, Steven Seagal decided that two decades was long enough before he decided to cash in on his side hustle. In 2009, he launched the reality TV series "Steven Seagal: Lawman," which promised to blow the lid on what the actor had been up to. The show had plenty of detractors, including The Guardian, which wrote a scathing introspection of whether Seagal's stint as a police officer was fact or fiction. 
For his part, Seagal claimed in an interview with The Washington Post in 2015 that he arrested "hundreds" of individuals. "The thing I like best is forming a team where we go after high-risk warrants, for people who are armed and dangerous. Murderers, bank robbers, rapists, kidnappers. Those are the guys I like to get," Seagal said. "(I've apprehended) hundreds of them. Many, many hundreds. I don't know how many hundreds."
Steven Seagal resigned and found employment elsewhere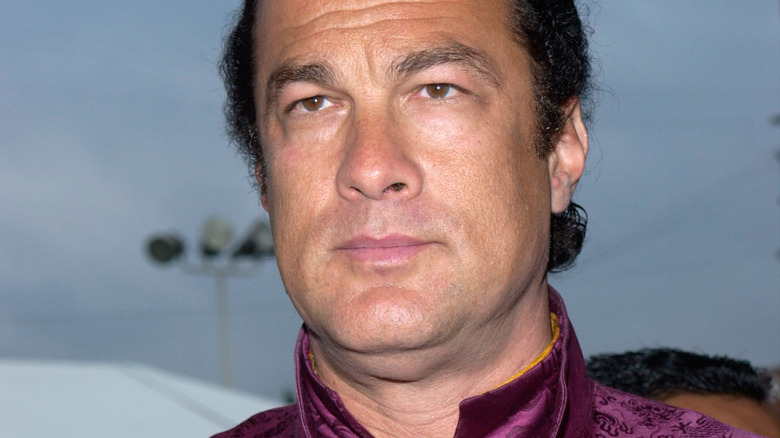 Featureflash Photo Agency/Shutterstock
"Steven Seagal: Lawman" only ran for three seasons before it was canceled. As for the real Steven Seagal, the actor reportedly found himself facing legal trouble of his own. According to the Phoenix New Times, a former assistant accused him of "sex trafficking and creating a hostile work environment."
As a result, Seagal resigned from the force he reportedly spent 20 years with, but the star wasn't ready to hang up his law enforcement badge just yet. Seagal relocated to Arizona, becoming deputized in Maricopa County, as well. But Seagal again found himself in legal trouble over his policing. A homeowner sued Seagal for driving a tank into his home and reportedly killing his puppy during an alleged cockfighting raid back in 2011. "I came in on the 150 [tank] and we broke down the gate," Seagal told Phoenix's KNXV (via Insider). "I deployed out on the side of the house, and guarded one side of the house, to see if anyone would run out."
Rather than slow down, Seagal continued to operate in the state and briefly considered a run for Arizona state governor. According to UPI, Seagal also hopped state lines and joined the Dona Ana County Sheriff's Department in New Mexico as a reserve police officer in 2013. Seagal continues to be a controversial figure in the law enforcement community.