Who Is Bad Bunny's Girlfriend, Gabriela Berlingeri?
Bad Bunny, born Benito Antonio Martínez Ocasio, is not only flourishing in his career, but his love life is on top, too. Fans first got a glimpse of the Puerto Rican reggaeton artist in 2016 after he started sharing his songs on SoundCloud, per Biography. At the time, his song "Diles" was just heating up and Bad Bunny went from bagging groceries to a viral sensation overnight. In 2018, he dropped his first studio album "X 100PRE," and according to Billboard, it debuted at No. 1 on the Top Latin Albums chart.
"My life has changed a lot," Bad Bunny said during an interview with SPIN. "I'm pleased that we are in a time where I don't need to change anything about myself — not my musical style, not my language, not my culture — to go far."
The "Vete" artist has broken so many barriers in Latin music and has represented Latin artists across the world in a major way. From winning Grammys to creating record-breaking hits, he's accomplished so much in his career that it's almost hard to think of Bad Bunny's personal life as being anything but humble. But, despite being one of the hottest sensations in music, there's one person in his life that he's had by his side through a lot of his biggest moments in his career: his girlfriend Gabriela Berlingeri. Here's what we know about her.
Gabriela Berlingeri is a jewelry designer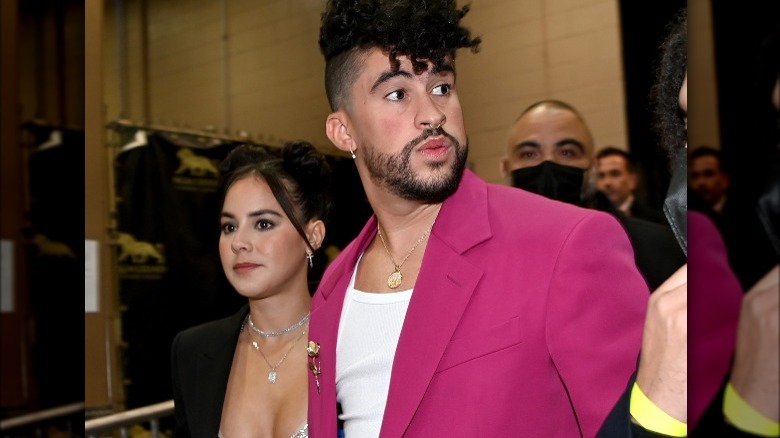 Denise Truscello/Getty Images
According to Oprah Daily, Gabriela Berlingeri is a jewelry designer who hails from the island of Puerto Rico. The rising entrepreneur launched her very own online boutique DiciembreVeintinueve in November 2020. Berlingeri lives a very private life but aside from working as a designer. She also models for several companies and has a passion for singing, per TV Azteca. Fans got a glimpse of her vocal ability on Bad Bunny's song "En Casita," a collaborative track off of his 2020 album "LAS QUE NO IBAN A SALIR." 
The "Dakiti" rapper praised Berlingeri during an interview with Rolling Stone for not only hopping on "En Casita" with him, but for also helping him land a major feature in his career. "Nobody knows this, but when I did ['Te Gusté'], the song with J. Lo, Gabriela recorded references for J. Lo's vocals," he said.
Bad Bunny met Gabriela Berlingeri in 2017 at a restaurant in Puerto Rico and the two have been inseparable ever since. The "Moscow Mule" singer described his significant other as "very special in my life" and being that the couple spent most of 2020 cooped up in the house together, Bad Bunny found himself appreciating Berlingeri even more. "This quarantine has made me understand that she is the best companion I could have," he added. After five years with Berlingeri, the artist is still very much in love. 
Fans thought Bad Bunny and Gabriela Berlingeri were engaged
Bad Bunny may have been dating Gabriela Berlingeri since 2017, but he didn't break the news to his fans until a few years into the relationship. According to Cosmopolitan, the couple was first spotted in February 2020 attending a Miami Heat game. A few days later, they were seen going to another NBA game in Los Angeles. Being that Bad Bunny is such a public figure and taking his die-hard fan base into account, the Puerto Rican artist knew he had some explaining to do. 
During a March 2020 interview with Entertainment Tonight, he admitted he was "in love" with Berlingeri. "The important thing is to always be yourself, be open and honest," he said. "When you pretend to be someone you're not, the relationship will not work." 
While fans had to cope with the fact that Bad Bunny was no longer on the market, in August 2020, many started to speculate the artist was engaged after Berlingeri posted a video on Instagram rocking a diamond on her ring finger. However, during a November 2020 Entertainment Tonight interview, Bad Bunny made it clear he was not married. "Maybe it can be that," he said. "But I think that weddings and get[ing] married scare me. A lot."