The Real Reason Zendaya Turned Down Playing Aaliyah In A Biopic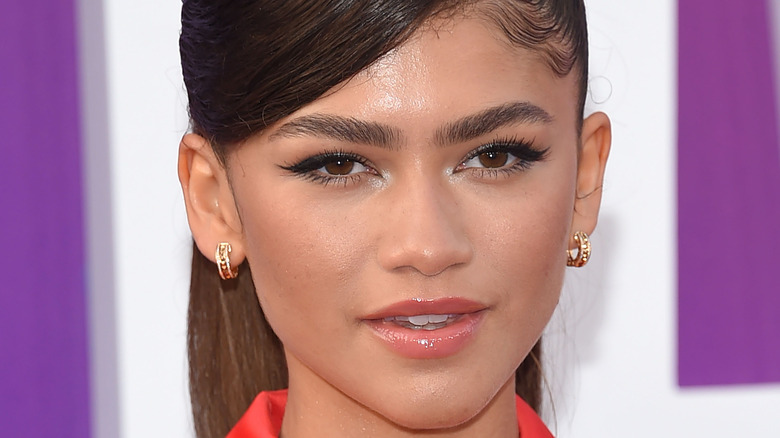 DFree/Shutterstock
Zendaya's A-list status has a lot to do with the roles she has taken on as an actor. Her debut role as Rocky Blue in the Disney Channel hit show "Shake It Up" got the "Replay" hitmaker off to a good start and kept the then-teenager booked and busy for three years, per IMDb.
In the following years, Zendaya has continued to stay on our television screens with "Euphoria" while venturing out onto the big screen. In recent years, she has starred in "Spider-Man," "Dune," and "The Greatest Showman," to name a few. In a 2021 interview with The Irish Times, Zendaya revealed she discovered her love for acting at a young age from the stage. "My mom worked at the California Shakespeare Theater since I was a kid. So I really fell in love with acting because of actors I got to see on stage every day since I was two," she said, adding, "It was my life. And I just was obsessed with what they were doing." During a conversation with Interview magazine, Zendaya insisted in order to be a great actor, "You can't be afraid to look stupid, you can't be afraid to mess up, you can't be afraid of anything."
Her career has proven to be in demand for many years, which is why she was asked to play the iconic singer Aaliyah in the "Aaliyah: Princess of R&B" biopic in 2014, per The Blast. However, she made the big decision to not go through with it.
Zendaya said the production value was missing from the Aaliyah project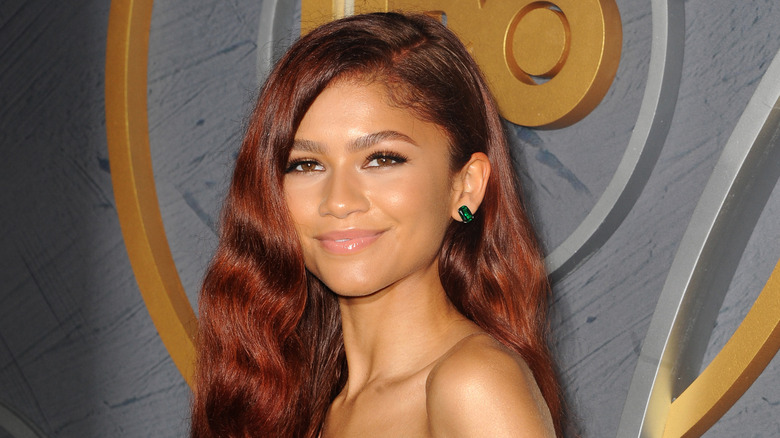 Tinseltown/Shutterstock
In 2014, it was announced that Zendaya would be playing Aaliyah in the Lifetime biopic, "Aaliyah: Princess of R&B," about the late singer's life. As noted by The Blast, the script for the film was going to be based on Christopher Farley's book about the deceased icon, "Aaliyah: More Than a Woman." However, soon after the announcement, it was revealed that Zendaya would no longer be taking the role.
In a since-deleted Instagram video upload (per The Blast), the "Something New" hitmaker informed fans as to why she was not participating anymore. "The reason why I chose not to do the Aaliyah movie had nothing to do with the haters or people telling me I couldn't do it, I wasn't talented enough or I wasn't black enough. It had absolutely nothing to do with that," she said. "The main reasons were the production value wasn't there." Zendaya stated she tried to reach out to Aaliyah's family in hope of getting their approval and even mentioned there were complications with the music rights as her family wasn't happy with her music being used or of the idea of the movie as a whole, per The Hollywood Reporter. As previously reported by Rolling Stone, Zendaya was expected to record four of Aaliyah's songs for the movie.
After Zendaya pulled out, Alexandra Shipp stepped in to portray Aaliyah, who she congratulated.
It seems Zendaya got a lucky escape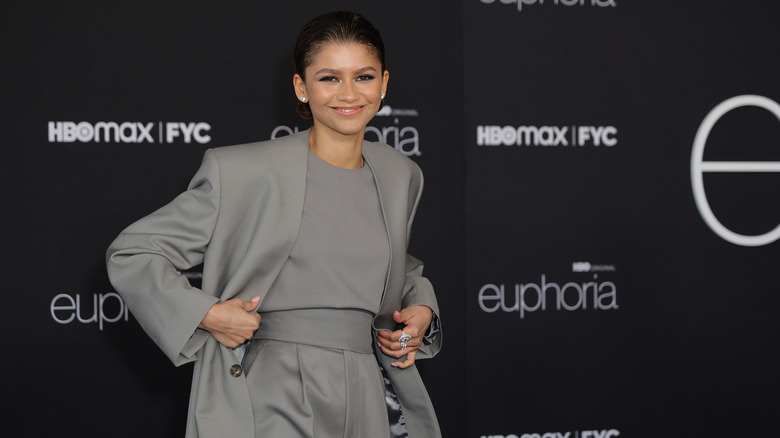 Momodu Mansaray/Getty Images
With main roles in "Spider-Man" and "Euphoria," we're pretty sure Zendaya doesn't reflect on the Aaliyah role she gave up. Especially since the reception the movie received from the public was poor. As noted by The Blast, the Lifetime biopic was a success, becoming their highest-rated TV movie that year. However, that didn't distract the film from receiving negative attention. As of this writing, it has a low audience score of 13% on Rotten Tomatoes.
Even though the film debuted on Lifetime in 2014, it appears people still give their two cents all these years later. "Zendaya turning down that Aaliyah biopic might've been the best decision she's ever made," one user tweeted. "I just remembered how bad the Aaliyah biopic was and now I'm fuming," another person shared. "I will never forgive Lifetime for that Aaliyah biopic," remarked a third user.
Rapper Missy Elliott, who was a close friend of Aaliyah's, told Sway Calloway in a discussion on Sway's Universe in 2019 that she has considered doing her own biopic on the singer, explaining that when her family is ready to do one, she's happy to be involved.