This Is Who Chicago P.D. Star Patrick Flueger Is Dating In Real Life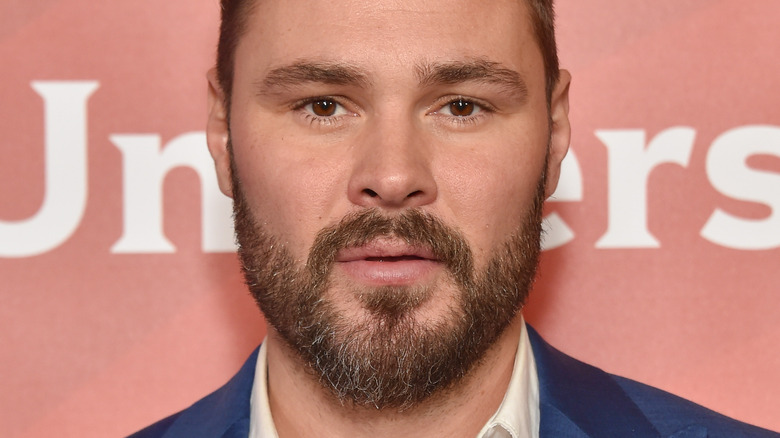 DFree/Shutterstock
"Chicago P.D." star Patrick Flueger is no stranger to complicated relationships... at least on camera, anyway. 
As you may recall, Flueger's character Adam Ruzek shares a rocky, on-again-off-again relationship with Officer Kim Burgess, played by Marina Squerciati. "It's a relationship without being intensely intimate," Flueger explained during an October 2021 interview with Us Weekly ahead of Season 9. "But, again, I dig it. I love that they've kind of taken us to this place. I think it's weird, you know. I don't think you see relationships like this on TV all the time. They care about each other unendingly they're just trying to figure themselves out. I don't know. It's a fun journey to be on, I'm not gonna lie," he added. "Things go a little south and I kind of get my heart broken because, you know, things just aren't what they seem," he teased.
But what is Flueger's off-camera love life like? The answer just might surprise you.
Patrick Flueger is smitten with Reem Amara
It's all love for Patrick Flueger and fellow actor and model Reem Amara.
According to Distractify, the pair were first publicly spotted in July 2019 while attending a party at The Art Institute of Chicago. Prior to that, however, Flueger had already been singing Amara's praises on his Instagram account. "Sooooo.....This is legit my gal just straight chillin with a book on a train...This is what that looks like!!!!!! Anyone else a lil annoyed? I'm a lil annoyed the person taking this picture (me) looks like a 1930s HoBo and I was putting in effort Hahahaha #OuttaMyLeague #LuckyMe #shesnoteventrying" he gushed in an Instagram post in January 2019 along with a photo of Amara seemingly reading and doing a difficult yoga pose at the same time. 
Fortunately for Flueger, Amara also seems smitten. "Habibi," Amara penned in the caption of a May 2019 Instagram post along with a photo of Flueger. For reference: Habibi is an Arabic word for "my love," "my darling," or "beloved." And in June, she posted yet another photo of Flueger with a short and sweet caption that read, "my mansauce." Something tells us these two have chemistry for days.
The couple that works together stays together...?
Patrick Flueger might be the "Chicago P.D." star but girlfriend Reem Amara is pretty successful in her own right. 
Per IMDb, Amara starred in country music group Midland's 2017 music video for their song "Drinking Problem." Aside from her foray into the music video world, she also snagged acting credits in short films "Modulation Nowhere" and "Written By." But that's not all. Amara also made a cameo on "Chicago P.D." in 2020. Shortly after she made her debut on the television series, Flueger took to his Instagram to relish his girlfriend's success. "Does anybody know who played the hot nurse on last nights episode of @nbcchicagopd ...I need to know. Cause I'm pretty sure I need to take her out on a date #OuttaMyleague," he playfully penned in an Instagram post along with three clapping emojis.
Here's to hoping Flueger's real-life romance is much luckier than his "Chicago P.D." romance and for more Amara cameos on the hit series in the near future!