Heath Ledger Turned Down A Different Batman Role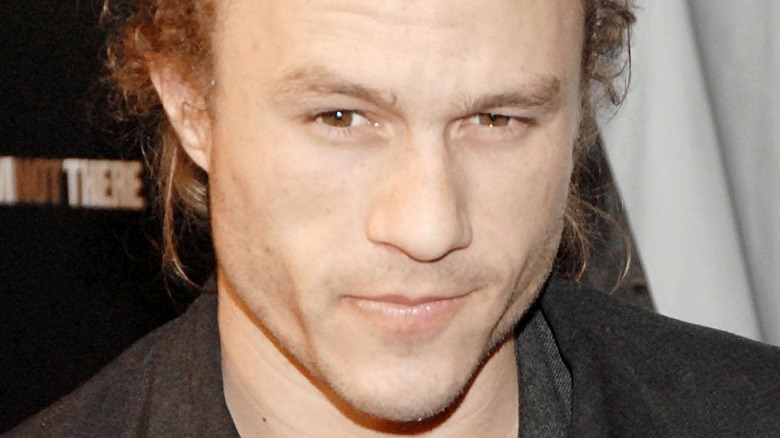 Everett Collection/Shutterstock
Hollywood still mourns the loss of one of its amazing and heartbreaking young, bright stars. Heath Ledger passed away on January 22, 2008 at the age of 28. His body was discovered in his Soho apartment in Manhattan, according to History. His death was ruled as an accidental drug overdose of prescription pills.
Shortly before his death, Ledger was filming Terry Gilliam's movie "The Imaginarium of Doctor Parnassus," however, most people know him from his earlier works, including "10 Things I Hate About You" (the '90s adaption of William Shakespeare's "The Taming of the Shrew"); the Bob Dylan docudrama titled "I'm Not There;" the beautiful Ang Lee-directed LGBTQ romance "Brokeback Mountain;" and of course, the role he's perhaps best known for, the Joker in Christopher Nolan's 2008 Batman film, "The Dark Knight." The latter earned him a posthumous Oscar for Best Supporting Actor in 2009.
Recasting decisions are certainly nothing new in Hollywood, as directors frequently change their minds and there's many a tale of actors losing roles to other actors. But with Nolan's "The Dark Night" trilogy, it was Ledger, not Nolan, who changed his mind about the casting.
Heath Ledger didn't want to be in a comic book movie
While it's now almost impossible to imagine anyone other than Christian Bale as Batman in Christopher Nolan's "The Dark Knight" trilogy, it seems Nolan considered Heath Ledger for the role. Nolan admitted in a 2012 interview at the Film Society of Lincoln Center, via Indiewire, that he met Ledger among many actors while searching for the ideal Bruce Wayne, however, Ledger refused to participate.
"He was quite gracious about it, but he said, 'I would never take a part in a superhero film,'" Nolan recalled. Since his breakout role in "10 Things I Hate About You," Ledger had been trying to escape typecasting as the romantic hunk, per Daily Mail, and instead was taking on more dramatic roles in films, such as his work in "The Patriot," "Monster's Ball," and "Brokeback Mountain." He felt the superhero genre at the time — not quite the juggernaut that it is now — would damage his acting reputation. The final 1990s "Batman" films, "Batman Forever" and "Batman and Robin," became increasingly campy and performed poorly with critics and fans. Other attempted franchises like "Daredevil" and "Elektra" were box office flops.
Ledger also explained in 2007, via The Hollywood Reporter, that he's not a comic book fan. "I grew up in a household of girls," he explained. "So there were very few 'Batman' comic books lying around. There [was] mainly 'Archie.' So that's probably the only reason why I never grew up reading 'Batman.'"
Heath Ledger had plenty of time to obsess over the role
in 2005, "Batman Begins" not only changed the landscape of the superhero movie, kicking off the cinematic universe as we know it (Marvel's "Iron Man" premiered in 2008), it also changed Heath Ledger's mind. In fact, he was so impressed with "Batman Begins" that he actively lobbied to play the Joker. "I explained to [Ledger] what I wanted to do with 'Batman Begins' and I think maybe he felt I achieved it," Christopher Nolan told the crowd at Lincoln Center, via Indiewire. 
"I really loved 'Batman Begins;' and the character of the Joker was just too good to turn down," Ledger said in 2007, via The Hollywood Reporter, explaining that he wouldn't have done Tim Burton's version of the Joker, out of respect for Jack Nicholson's interpretation. "[But] when Chris [Nolan] came to me, and ... I knew how Chris was. He had already set up the world for me. I'd seen what world it was that I would be playing in. So I knew it was open for a fresh interpretation."
In fact, Ledger had plenty of time to work on the role. "We cast him even before the script was written, so he had a very long time to obsess about it," Nolan explained, "think about what he was going to do, to really figure it out." It seems that time paid off.