Marilyn Manson Hospitalized After New York Concert Performance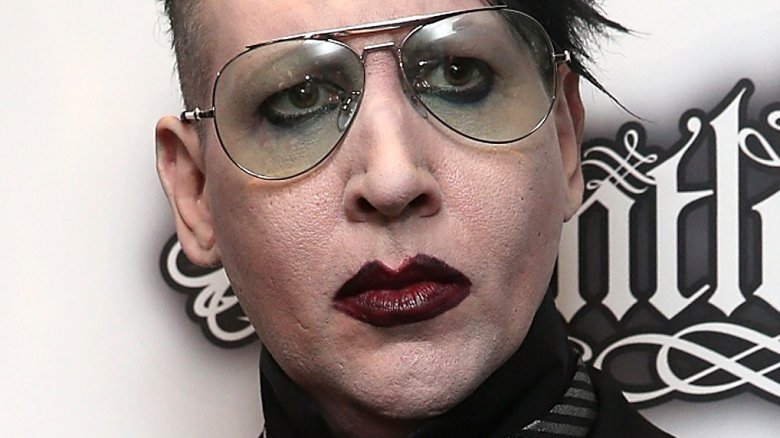 Getty Images
The artist had a scary accident during a recent concert.
E! News reports that Marilyn Manson was hurt during a concert performance at New York City's Hammerstein Ballroom on Saturday, Sept. 30, 2017. While singing his cover of The Eurythmics' "Sweet Dreams (Are Made of This)," Manson was unexpectedly hit by two large stage props of guns, which collapsed on top of him.
An Instagram video posted by a concert attendee shows Manson, 48, singing and grabbing the frame on which the guns were attached. The props then fall over on top of Manson, prompting the venue's crew to hurry over to move the large set piece and help the singer.
"#ACCIDENT @ #Manson concert footage here. Pistol set piece falls right on him," the Instagram user wrote in the caption. "Crew rushed stage to lift it off him during #sweetdreams , he's unresponsive and they pull a sheet to cover stage and carry him off. Show cancelled. Craziest and saddest concert I've ever seen. #getwellsoon Manson, we love you."
According to E! News, Manson was transported to a hospital after the accident. "On Saturday night, the legendary performer suffered an injury on stage towards the end of his set at NYC's Hammerstein Ballroom causing him to cut the show short," Manson's rep said in a statement on Sunday, Oct. 1. "He was treated for the injury at a local hospital and will be recuperating at home in Los Angeles."
"Manson hopes to return to the stage soon, more details on upcoming shows to follow," the singer's rep continued. "Manson's 10th album Heaven Upside Down will be released this Friday, October 6 via Loma Vista."
First picture of Marilyn Manson on his way to the hospital. pic.twitter.com/wBHMmKUJsC

— Pop Crave (@PopCrave) October 1, 2017
Pop Crave later shared a photo of Manson being taken to a hospital on a stretcher on Twitter.
As Billboard noted, nine of Manson's shows—from Oct. 2 in Boston to Oct. 14 in Houston—have been canceled. No word yet on the extent of Manson's injuries.