Jennifer Lopez Once DM'ed This RuPaul's Drag Race Contestant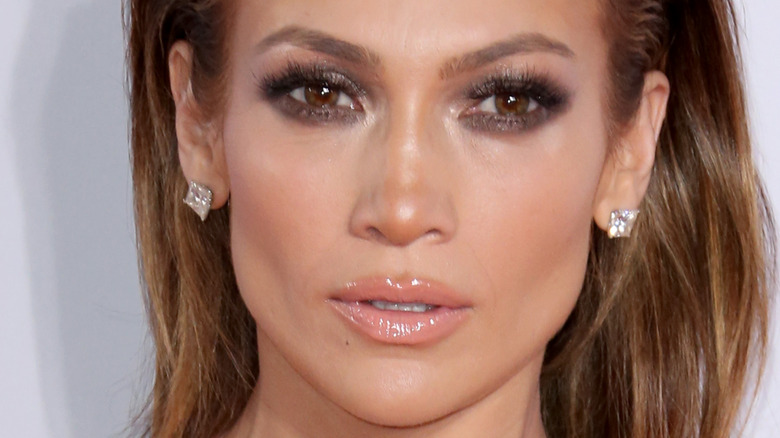 Kathy Hutchins/Shutterstock
Imagine the excitement of opening up your Instagram account and seeing a message from Jennifer Lopez. Yes, the actual JLo. Well, that's exactly what happened to one lucky "RuPaul's Drag Race" contestant after the hugely popular competition show played tribute to the iconic star.
This all went down during Season 14 of the series, which aired in January, and saw the fabulous queens pay tribute to the "On The Floor" hitmaker by recreating some of her most iconic looks on the runway for what was dubbed "The Night of 1000 JLos." They were even lucky enough to get a pre-recorded video message from the superstar as well, which left the contestants squealing in glee (and, seriously, who could blame them?) "Don't be afraid to get loud, be proud, and shake it!" Lopez told the drag superstars in the video shared on Twitter, adding with a wink, "So go out there and be fierce, but not too fierce, there can only be one Jenny from the Block."
And fierce they were. So fierce, in fact, that one star earned themselves a very special personal message from the "Marry Me" star — and they have the screenshots to prove it.
Jennifer Lopez's message to Kerri Colby
"RuPaul's Drag Race" contestant Kerri Colby was the lucky recipient of a DM from Jennifer Lopez, as the star had nothing but praise after she donned one of her most iconic looks of all time. "The Night of 1000 JLos" saw Colby rock Lopez's iconic plunging Versace dress (you know the one, it literally invented Google Images, per GQ), which caught the attention of the mom of two herself. In fact, it pretty much caught everyone's attention, as the video of her sashaying down the runway has nabbed more than 4,400 likes on Twitter!
Colby later shared snaps of herself in the dress to Instagram Stories and Lopez re-posted them, which prompted the contestant to tell Lopez in a direct message, "Thank you so much my Leo queen you are such an inspiration." Lopez liked the message and responded, "Good job baby[.] Killed it." Colby posted a screenshot of the interaction to her Twitter account, sharing it alongside a Leo, lion and prayer hands emoji. But while Lopez was a fan, Colby failed to impress the judges in the same way. She ended up lip-syncing for her life alongside Alyssa Hunter to JLo's 2001 hit "Play." Thankfully, she made it through, but later left the competition in ninth place.
But that wasn't the end of the iconic homage. Colby was amongst a slew of drag queens who supported Lopez at the iHeartRadio Music Awards in March, where she donned the look once again.
That iconic Jennifer Lopez dress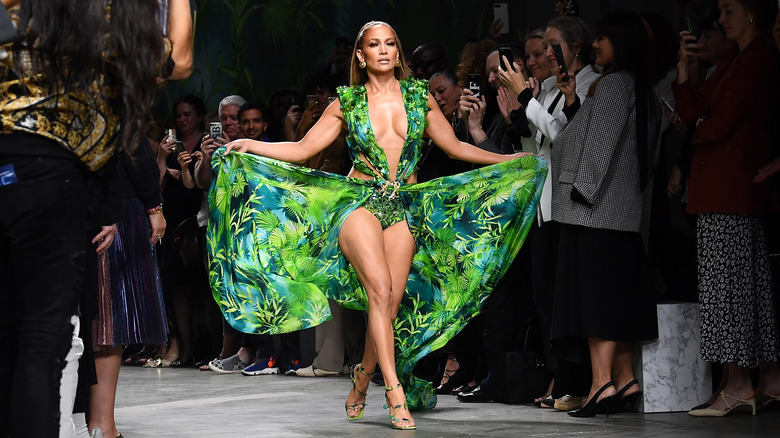 Jacopo Raule/Getty Images
Think Kerri Colby's Jennifer Lopez dress looks spot on? Well, that's because it is. Speaking to Entertainment Weekly, Colby explained she managed to get her hands on the exact same design JLo wore all those years ago, despite it being so exclusive. "It is the same dress, so it was a feature moment that was a very limited quantity made for Versace that year. I happened to be able to get my hands on the same exact garment," she revealed. "Honey, you just gotta make sure you get the right type of friends so when these crazy moments come around, you've got to hit them up!"
Colby rocking the gown and then getting a private DM from the star is made even more special by how much Lopez has admitted she loved that dress. In fact, she loves it so much she actually re-wore a version of it in 2020, which, natually, caused yet another media firestorm. "The first time I wore it, I actually didn't have another dress. Usually I have choices," Lopez explained to Vanity Fair in 2020. "It was a last-minute thing that caused a sensation that was unexpected. The second time was very planned-out," she added.