Todd And Julie Chrisley Aren't Backing Down After Their Guilty Verdict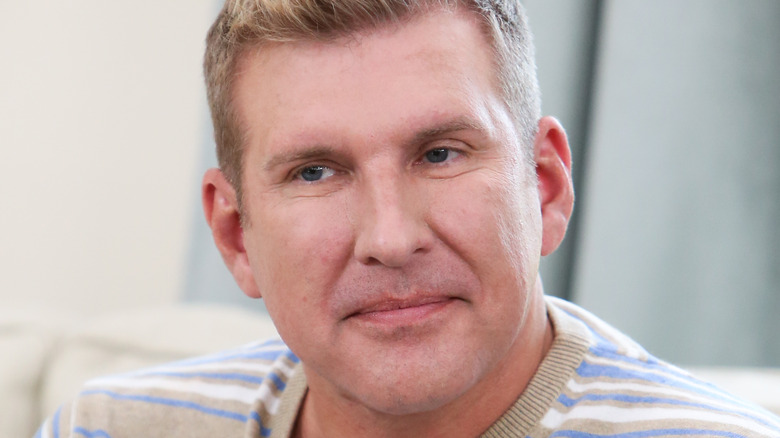 Paul Archuleta/Getty Images
"Chrisley Knows Best" debuted in 2014 and from that point on, reality TV watchers observed millionaires Todd and Julie Chrisley's life. But don't think this show would embody a Kardashian level of separation from the regular world. After all, according to USA Network, they watch NASCAR and go on family vacations to Florida just like regular people! With the success of their television series, Todd and Julie then launched a podcast called "Chrisley Confessions" in 2018 (per Us Weekly). Plus there is the spinoff show "Growing Up Chrisley" and "Love Limo," a dating series to be hosted by Todd, according to Variety.
But as reality shows have often shown us, things are not always as they seem. There have been claims of daughter Lindsie being extorted by her father Todd over a sex tape, a gay cheating scandal between Todd and a former business partner, and now significant charges of fraud. In 2019, Todd and Julie were indicted for tax evasion and bank fraud. The three-week trial concluded on June 7, finding the couple guilty on all counts. Per The New York Times, the Chrisleys were convicted on "eight counts of financial fraud, two counts of tax evasion," and Julie was additionally convicted "on counts of wire fraud and obstruction of justice".
In light of the verdict, the Chrisleys are not backing down on their claims of innocence.
The couple is 'devastated' by the verdict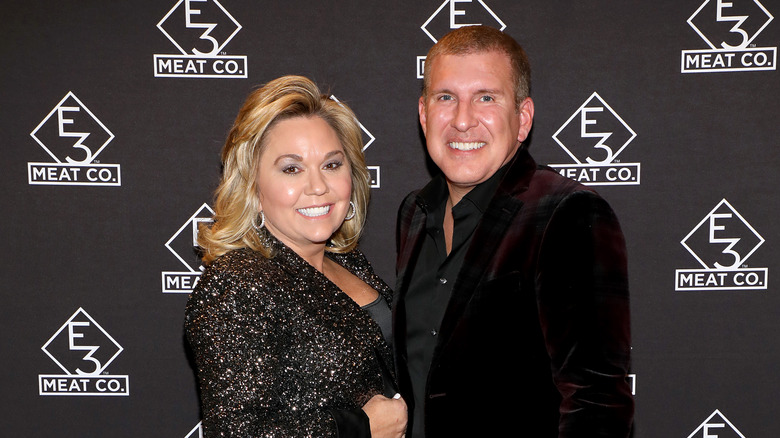 Danielle Del Valle/Getty Images
After being found guilty of defrauding banks of over $30 million in fake loans and myriad tax crimes, Todd and Julie Chrisley are not giving up. Julie's lawyer Steve Friedberg has stated that the couple is "devastated and disappointed with the verdict and will be pursuing an appeal" (per ET). Although the couple is known for being "self-made" millionaires, the indictment explains that much of that wealth was fraudulent, according to The New York Times. FBI Special Agent Keri Farley said of the verdict, "As today's outcome shows, when you lie, cheat and steal, justice is blind as to your fame, your fortune, and your position."
"Todd Chrisley, Julie Chrisley, and their Certified Public Accountant, Peter Tarantino, conspired to evade the assessment and payment of the Chrisley's income taxes," said James E. Dorsey, special agent in charge, IRS-Criminal Investigation, according to ET. "The Chrisleys and Tarantino knew the law was clear on taxable income and who is required to file and pay taxes. These convictions should send a clear message regardless of your fame or notoriety, everyone will be held accountable for paying their fair share of taxes." It should be noted that the wealthiest Americans are also the most "egregious" tax evaders, according to a 2021 report (via The New York Times).
Sentencing for the Chrisleys will take place on October 6. NYT notes that the couple could be sentenced to up to 30 years in prison.
The show must go on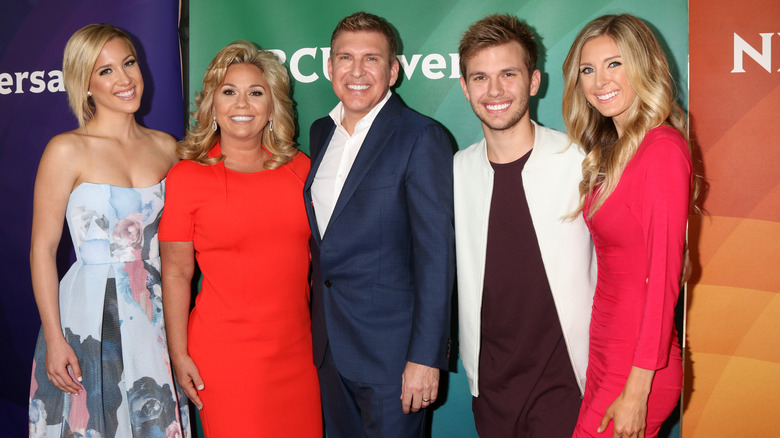 Kathy Hutchins/Shutterstock
Despite the conviction, the second half of the ninth season of "Chrisley Knows Best" will premiere on USA Network on June 23 as planned, according to The Hollywood Reporter. The outlet further noted that the network's parent company, NBCUniversal, announced that they would continue doing business with the Chrisley family just a week before the trial began. Sources confirmed to THR that the forthcoming episodes were filmed ahead of the trial. Further, "Growing Up Chrisley" and "Love Limo," along with the family's original show, had renewal announcements a week before the trial as well.
USA Network has not announced whether or not they will be filming new episodes for the renewed tenth season of the show, according to Deadline. Deadline also reported that the Chrisley's show is currently USA's most-watched original series. Even though the show will remain on the air in the coming months leading up to the sentencing, only time will tell whether new episodes get made or not.