Janet Jackson And Missy Elliott's Unexpected Reunion Has Fans Over The Moon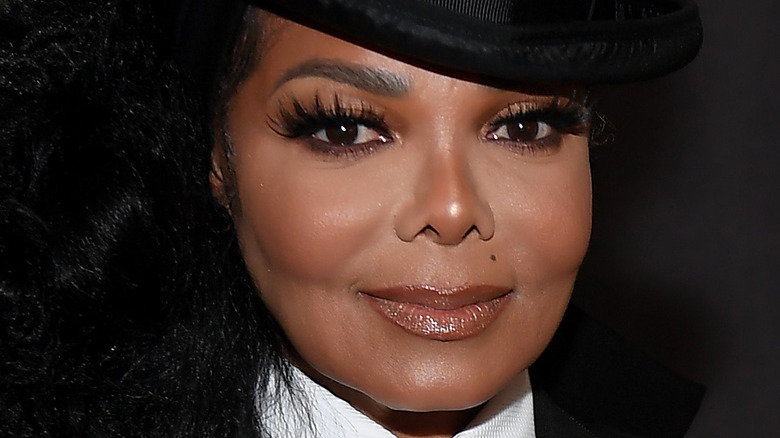 Bryan Steffy/Getty Images
Among the many iconic duos that exist, there is no denying that superstars Janet Jackson and Missy Elliott are one of them. Jackson and Elliott have had both a friendship and working relationship since the late '90s. As noted by Inquisitr, Elliott first featured on a remix of Jackson's song "Go Deep" in 1998 with producer Timbaland. In 2001, Elliott and Jackson starred in a music video for their single "Son of a Gun" and even performed the track together at the Hawaiian stop on Jackson's All For You Tour. Other songs they have dropped include "The 1" and "BURNITUP!"
In 2019, Elliott was awarded the Video Vanguard Award at the MTV Video Music Awards. Taking to Instagram, Jackson expressed in a video how happy and deserving she thought the rap mogul was. "You are brilliant, you are fabulous," she said, adding, "I've been a fan of yours forever, you know all of this." This isn't the first time Jackson has honored Elliott's career, however. After being inducted into the Hollywood Walk of Fame last year, Jackson shared another video clip on Instagram after she couldn't make Elliott's big day. "It's about time. I wish I was there. Welcome to the walk of fame. I am so proud of u and I luv u so much!" she wrote in her caption.
It had been a minute since Jackson and Elliott had spent some time together. However, their recent reunion was more than worth the wait.
Janet Jackson flew from London especially to visit Missy Elliott
It's the reunion we've all been waiting for! On June 8, Missy Elliott took to Instagram to share a video of her and Janet Jackson's recent get-together. "Y'all don't have a friend like I got," Elliott expressed, before explaining Jackson hopped on a plane to visit her specifically. The rest of the clip showed off a number of photos and video clips from their reunion while Cynthia Fee's cover of "Thank You For Being A Friend" played over the top. Elliott's caption, however, gave more context to the adorable upload.
Elliott explained that the past two years have been "emotionally draining" for her. After talking on the phone to Jackson recently, she revealed that the "Together Again" hitmaker said she would come to visit her on June 5. However, due to her busy schedule, Elliott didn't actually expect her to fly over from another country. "I began to tear up because she flew all the way from LONDON & spent two days with me & we cut up & laughed for 2 days straight! I sure needed that just to laugh & feel at peace," Elliott said after stating they have been close friends for 24 years.
In just 17 hours, Elliott's video has been watched more than 462,000 times and gathered over 170,000 likes and 6,700 comments. "Flawless legends. We love to see it!" one user wrote. "The friendship we never knew we needed," another person shared. "This is beautiful and dope! TWO living legends!" a third fan remarked.