Pink Announces 2018 World Tour, New Single, And More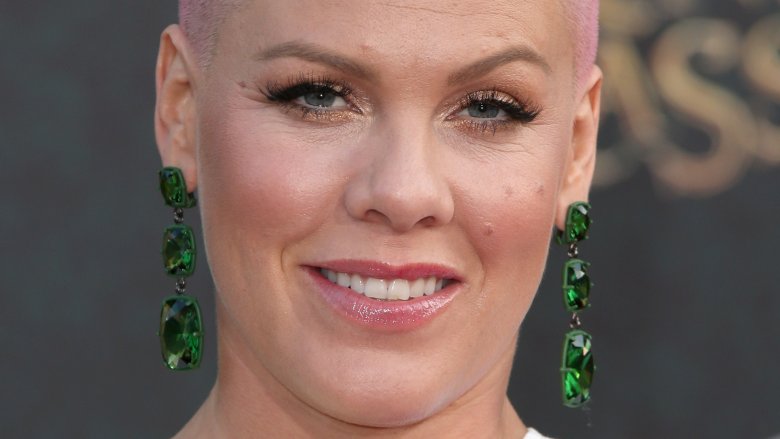 Getty Images
The "Try" singer has been very busy.
On Thursday, Oct. 5, 2017, Pink revealed that she'll be embarking on the Beautiful Trauma World Tour in 2018. According to a press release obtained by E! News, Pink's 40-date tour will kick off on March 1 in Phoenix, Ariz., ending on June 2 in Los Angeles. Tickets for the tour go on sale on Tuesday, Oct. 10 at 10 a.m. for American Express card members. The general public, however, has to wait until Friday, Oct. 13 to snag tickets to a show.
Perhaps in celebration of the just-announced tour, Pink, 38, also dropped a brand new single from her upcoming album, Beautiful Trauma. The song, "Whatever You Want," is now available on iTunes, Spotify, Apple Music, Google Play, and Amazon. So get listening.
And while that'd be enough news for one day, Pink still had more to tell her fans. Tweeting a surprise trailer for a secret project she'd been working on, Pink announced that she made a documentary about the making of Beautiful Trauma with Apple Music. The film is set for release on Oct. 13, 2017.
"Making an album," Pink says in the trailer, "it's so many moving pieces. It's a lot of parts. The studio sessions, and you write the songs, and then you have to finish the songs. Someone's in New York and someone's in Philadelphia, and maybe there's a choir in Philadelphia. Then, it's photo shoots. Video shoots. You're in dance rehearsals and maybe you're on a festival tour at the same time over here, and you're getting ready for your regular tour so it's rehearsals and it's putting on shows. Then, your six-year-old has surf camp, and your eight-year-old has a vaccination. And then, your album is out."
After a cameraman corrects on her child's age, Pink replies, "I said eight-year-old? Ah, s***."
Clearly, making an album is a chaotic process.
I made a thing with @AppleMusic! It's a documentary about #BeautifulTrauma – Check out this trailer pic.twitter.com/NfQeRwG7Sa

— P!nk (@Pink) October 5, 2017
Pink dropped some major hints that big news was coming on social media just one day earlier. Sharing a black and white mirror selfie on Instagram, Pink wrote, "Today was fun. Got to get all glammy and shoot some fun stuff. Exciting surprises coming tomorrow."
"Another surprise coming tomorrow 💕 #beautifultrauma," Pink also tweeted.
As Nicki Swift previously reported, Pink released her first single from Beautiful Trauma, "What About Us," in early August, simultaneously announcing that her next album would be available on Oct. 13, 2017. In late September, Pink dropped her second single, "Beautiful Trauma."
While we wait for Pink's new record, learn everything you need to know about her relationship with Carey Hart.