Where Do Harry Styles And Zayn Malik Stand Today?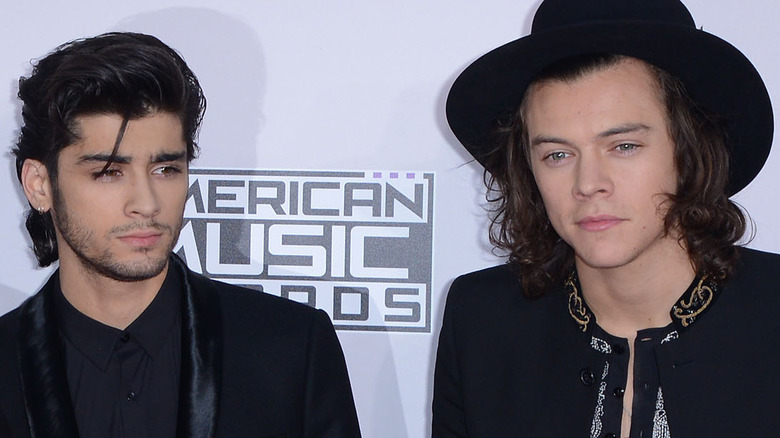 C Flanigan/Getty Images
Throughout their time as a five-piece band, One Direction captured endless headlines and millions of hearts around the world. The boys were formed into a group by Simon Cowell, after they had each individually auditioned and been eliminated from the British singing competition, "The X Factor." 
Following the release of their debut single "What Makes You Beautiful" in 2011, the boys began a years-long takeover of the global music scene. Together, they released four albums, with three making it onto the Rolling Stone Top 200 Albums chart. It wasn't long, however, before their immense fame and diverse talents would begin to pull the boys of One Direction into different directions. 
As Time recaps, Zayn Malik announced his departure from the band in March 2015, shortly after he stepped back from their world tour. One Direction would put out one more album as a foursome before announcing a (still ongoing) hiatus — leaving many fans to wonder if their favorite singing sensations remain friends. More specifically, where does Zayn stand with his fellow heartthrob, Harry Styles?
Zayn was distant from his bandmates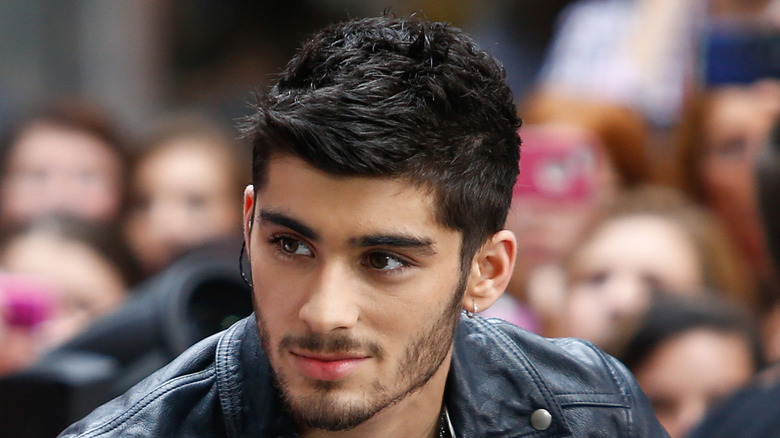 Debby Wong/Shutterstock
Despite the upbeat songs and energetic performances, One Direction seemed to have some drama behind the scenes ... drama that only became more scrutinized following Zayn Malik's departure.
In Malik's initial exit statement on the band's Facebook, he said, "I know I have four friends for life in Louis, Liam, Harry and Niall. I know they will continue to be the best band in the world." While he may have been correct about the band's continued success, later statements contradicted the claim about his friendships in the band. In his very first interview following his departure, Malik shocked fans by telling Fader that he considered One Direction's music to be "generic as f***." He also had public Twitter beef with bandmate Louis Tomlinson.
In 2018, Malik got super candid with British Vogue, sharing that he never truly developed friendships with his bandmates. "I have always been a bit like that, though — always a bit of an island," he explained. In reference to his current relationships with the boys, Malik shared, "I ain't spoke to any of them for a long time ... That's just the way it is. People move on, people grow apart, people grow up."
Zayn and Harry support each other from afar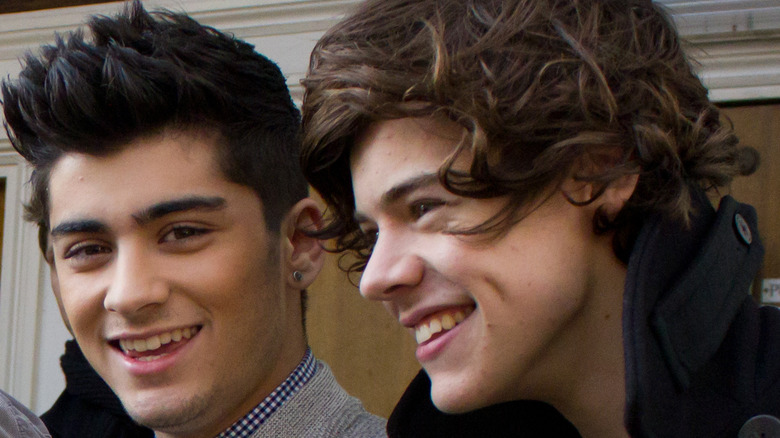 Mr Pics/Shutterstock
In 2021, fans began to worry that Harry Styles and Zayn Malik had fallen out, based on some social media activity from the latter. While Styles was up for three Grammy Awards, Malik took to Twitter to write, "F*** the grammys and everyone associated." When Directioners panicked, Malik clarified that his ire was directed at the lack of diversity and inclusion within the awards.
Other public statements by the bandmates support the theory that the men aren't close, but are supportive of each other. In an interview with Us Weekly, Malik revealed that he "never really spoke to Harry" even when he was in the band, and the two don't have much of a relationship now. However, in Styles' 2020 interview with Howard Stern, it was clear that Styles doesn't hold Malik's departure against him. "The last thing I would've wanted is for him to have stayed there if he didn't want to be there," he said. 
Needless to say, the men have had no trouble achieving global success on their own. And while the coveted 1D reunion is looking less and less likely by the day, Malik recently gave the boy band's fans a little treat. On June 11, he posted an eight-second video to his Instagram, singing part of the One Direction song, "You and I." He immediately broke the internet ... and a bit of our hearts.