The Truth About Emilia Clarke And Kit Harington's Friendship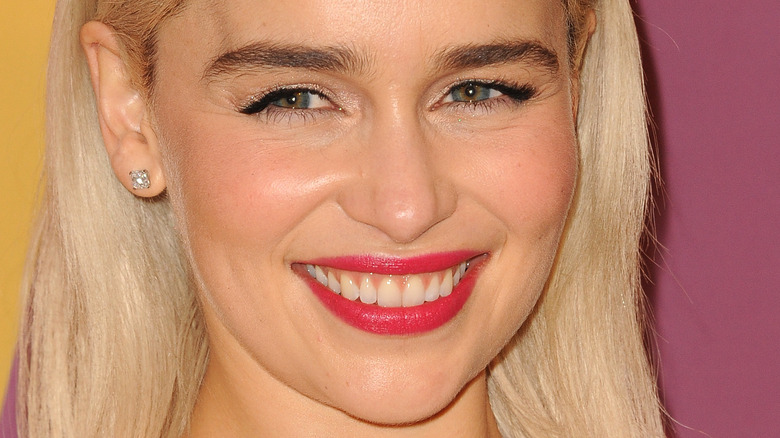 Tinseltown/Shutterstock
Emilia Clarke and Kit Harington gave us one of the most interesting relationships TV fans have witnessed in recent times. Playing Daenerys Targaryen and Jon Snow on the HBO phenomenon "Game of Thrones," Clarke and Harington took us on a wild eight-year ride that culminated with aunt and nephew falling in love before things turned murderous. Their journey on the network's most-watched show propelled both actors to fame, leaving a powerful mark on their careers
A few months before "Game of Thrones" ended in May 2018, Clark celebrated the show by paying a permanent homage to her character. "MOD [Mother of Dragons] 4 LYFE!!!! @_dr_woo_ made sure this mamma ain't NEVER forgetting her babies," Clarke captioned an Instagram post featuring a tattoo of three small dragon silhouettes on her wrist, a nod to one of Daenerys's many titles. In Harington's case, the show gave him a whole lot more than career opportunities and awards.
On the set of "Game of Thrones," Harington met and fell in love with Rose Leslie, who played his onscreen love interest Ygritte. Harington and Leslie tied the knot in June 2018. In early 2021, the couple welcomed a son, E! News noted. "More than anything else, I thank ['Game of Thrones'] for introducing me to her," he told GQ Australia in January 2019. The show also gave both Harington and Clarke a friend for life. Thankfully, their real-life relationship is a lot more straightforward — and endlessly cuter — than that of Daenerys and Jon's.
Emilia Clarke and Kit Harington have a similar sense of humor
Emilia Clarke and Kit Harington had undeniable chemistry onscreen — and Harington never hid that he found Clarke attractive. "She takes your breath away when she walks into a room, Emilia," he told Esquire in 2019. But that wasn't what drew Harington to Clarke. Above all, he loves his fellow actor's playfulness. It was as evident as her beauty the moment he met his co-star at a Belfast hotel bar ahead of Season 1. "I was sort of bowled over by this absolutely stunning, petite girl with this wicked sense of humor," he told Elle in 2017.
He immediately knew where things were headed. "We became very fast friends quite quickly ... Emilia is so sweet, so giving, but she also has a filthy, filthy mind when she wants to." Their offbeat interactions are evident on Clarke's Instagram snippets. (Harington is not on social media.) In April 2019, she uploaded a humorous snap of the pair posing behind a face-hole board featuring a viking couple. "The family portrait," she captioned it.
While Clarke's Daenerys Targaryen and Harington's Jon Snow share a massive storyline that defined the ending of "Game of Thrones," the co-stars didn't actually start sharing scenes until Season 7. By then, they already had a deep bond spanning years, which made the atmosphere a bit difficult. "I remember our first scene together was bizarre. We kind of looked at each other and tried not to laugh," he told Esquire. 
Emilia Clarke is also close with Kit Harington's wife
Kit Harington and Rose Leslie became a couple while filming Season 2 of "Game of Thrones" in 2011. The three weeks he spent in Iceland with Leslie mark his favorite memory of shooting the show. "Because the country is beautiful, because the Northern Lights are magical, and because it was there that I fell in love," he told Vogue Italia in 2016. That means his relationship with Leslie developed alongside Emilia Clarke.
Despite not sharing the "GoT" set for several seasons, Clarke and Harington stuck together during events. "Our friendship was based around doing press and meeting each other at Comic-Con or hanging out outside of 'Thrones,'" Harington told Esquire. Clarke and Leslie clicked just as easily as Clarke and Harington did. "Me, Rose, and Emilia have been best mates for years," he said. Maybe that's why Clark was so annoyed when the public insisted on rumors that she and Harington were dating. "[It] literally makes me want to cry, it's so far from the truth," she told Elle.
Clarke and Leslie don't even need Harington around. In August 2019, they jetted off across the world to decompress together. "Just two gals buzzed off our faces on India, peace, being robbed blind by monkeys, (we hardly put up a fight), the best two books I've read in years ... yoga, spice, mamma earth and figuring out that all you're ever looking for can be found within," Clarke wrote on Instagram.