Trisha Paytas Made An Appearance In An Eminem Music Video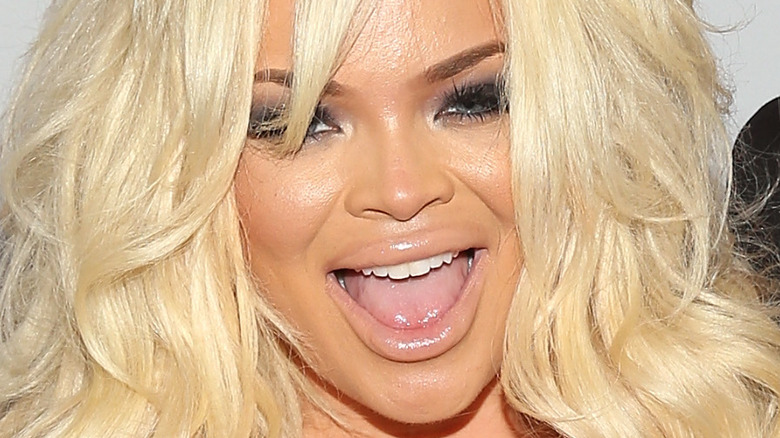 Jesse Grant/Getty Images
YouTube star Trisha Paytas is known for sparking controversy, but some might be surprised to learn that the internet personality was once featured in an Eminem music video. Paytas rose to fame on the video-streaming platform, producing lifestyle content, ASMR videos, and more. In addition to her journey on YouTube — which began in 2006 — Paytas was also a contestant on Season 20 of "Celebrity Big Brother." And she later joined fellow YouTuber Ethan Klein for the now-canceled "Frenemies" podcast.
However, in the midst of Paytas' rise to viral fame, she scored an acting role alongside Eminem. The Detroit rapper has had his fair share of celebrity feuds, and often rapped about those disputes in his music. From Snoop Dogg to Machine Gun Kelly, and even former president Donald Trump, the "Killshot" rapper makes no secret of his dismay toward anyone. For Paytas, that meant a chance to play a key role in a now-classic song.
Trisha Paytas starred as Jessica Simpson
Eminem's album "Relapse" was an instant success when it was released in 2009. It quickly shot to the top of the Billboard 200 chart, and spawned several successful singles. "We Made You," the first track released from the album, was released alongside a controversial music video. For the video, which now has over 230 million views, the rapper tapped Trisha Paytas to star as Jessica Simpson.
Dressed in daisy dukes and a red cropped blouse — seemingly mocking Simpson's character in "The Dukes of Hazzard" — Paytas dances and even eats a cheeseburger in the music video. The portrayal, which Eminem later defended, was a jab at Simpson's physical appearance at the time.
During a 2009 interview with the Detroit Metro Times, the rapper said he was "conflicted" about mocking Simpson in the video, but ultimately chose to anyway. "I felt kinda conflicted doing the Jessica thing. Because we were gonna have a Jessica in the video. When I say, 'Jessica Simpson, sing the chorus,' we were gonna have a chick who looked like Jessica Simpson come out and sing the chorus," he told the publication. Adding, "But then Jessica got fat ...  And we wanted to stay within the current of what's going on right now in pop culture."
Trisha Paytas later came to Eminem's defense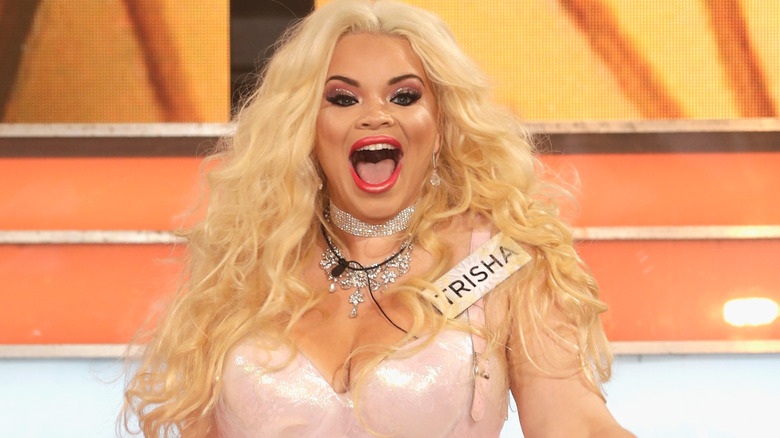 John Phillips/Getty Images
Trisha Paytas has credited her 2009 appearance in an Eminem music video as the gig that helped kickstart her career. Saying in 2014, "I totally owe Eminem for giving me my start. This video opened up so many doors for me at 20," per The Sun. The YouTube personality even came to Eminem's defense after internet sleuths called for the rapper to be canceled in 2021. In the midst of the controversy, Paytas shared a video detailing her experience on the set of "We Made You," and explained how great her time was with Eminem. 
"Behind the scenes, Eminem, he was very fun. And just like all over the place, and just like a ball of energy," Paytas said. "But once it turned off, like behind the scenes, he was like, 'Hi Marshall, thanks for doing this.'" Paytas goes on to explain that she was only 20 years old at that time and the rapper even gave her some words of encouragement during the shoot. "I remember Marshall, or Eminem, being like 'Oh my gosh, you look better than the real Jessica Simpson, don't be self-conscious,'" she recalled.