Who Is James Kennedy's Famous Godfather?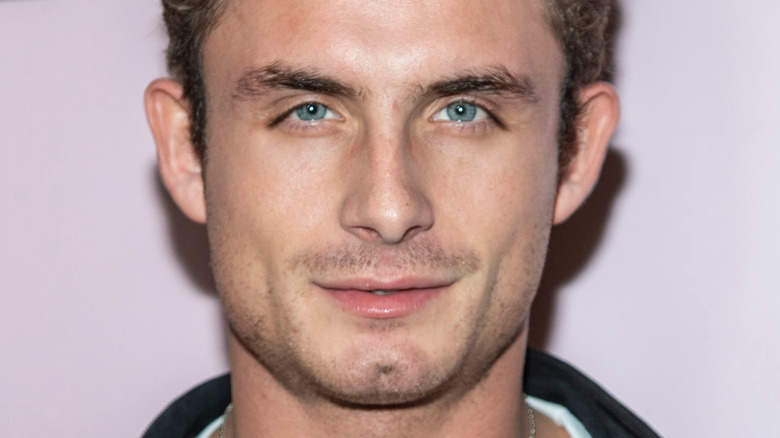 Eugene Powers/Shutterstock
James Kennedy is a longtime cast member on "Vanderpump Rules," and over the years, fans have seen a glimpse into his family dynamic. Kennedy's mom, Jacqueline Georgiou, has been seen on the Bravo reality show multiple times, most recently on the Season 9 finale that featured her son's disastrous engagement party at a California winery.
Kennedy's brother, Harry Georgiou, has also turned up on "Vanderpump Rules," logging multiple episodes after landing a job at Lisa Vanderpump's bar according to Bustle, and in 2018, younger brother Dylan also appeared in the episode "Lisa's Dilemma," per IMDb. Kennedy once told The Daily Dish that Harry and Dylan are his "best mates." "We still hang out all the time," Kennedy said. "We're all pretty creative and get along great. [They're] two pretty dope kids." Kennedy's dad, Andros Georgiou, also made cameos on two episodes of "Vanderpump Rules" in 2018, per IMDb, and his divorce from Jacqueline was heavily addressed on-camera as it played out.
With so much of Kennedy's family business out in the open on "Vanderpump Rules," it's no surprise that a little-known tidbit about a famous family tie was also addressed on the show.
James Kennedy's godfather was a superstar singer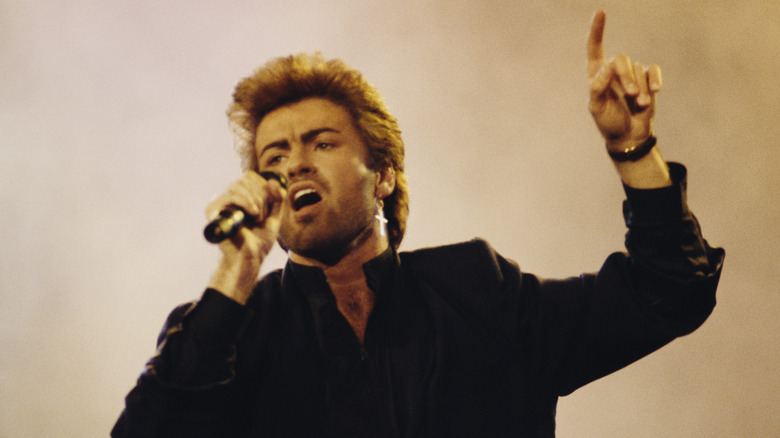 Michael Putland/Getty Images
James Kennedy had a very famous godfather, and he once talked about him on "Vanderpump Rules." Kennedy's father Andros Georgiou's childhood best friend was none other than future Wham! superstar George Michael, according to The Sun. Georgiou and Michael considered themselves "cousins," the outlet noted. Georgiou also became the managing director of Michael's record label Aegean Records, so perhaps it was a no-brainer for him to name the "Careless Whisper" singer as the godfather of his firstborn son, James, in 1992.
In an interview with The Daily Dish, Kennedy revealed that he referred to his famous godfather as an uncle. "He was just Uncle George and [he'd] pop me on his lap and stuff like that," Kennedy dished. "He was a family member and was there when we were growing up, so it was two sides, I guess. His music changed the world, but he also was just a normal, beautiful person at home."
In an interview with The Sun, Kennedy said his famous godfather, who was also the godfather of his brother Harry, brought him "the best presents," such as a rocking horse and an oversized stuffed Barney dinosaur toy. "He was like a second dad," Kennedy said of Michael. "It was always fun when George was there." Unfortunately, Michael died at his home on Christmas Day in 2016 at age 53 of natural causes, per BBC News.
James Kennedy addressed rumors about his inheritance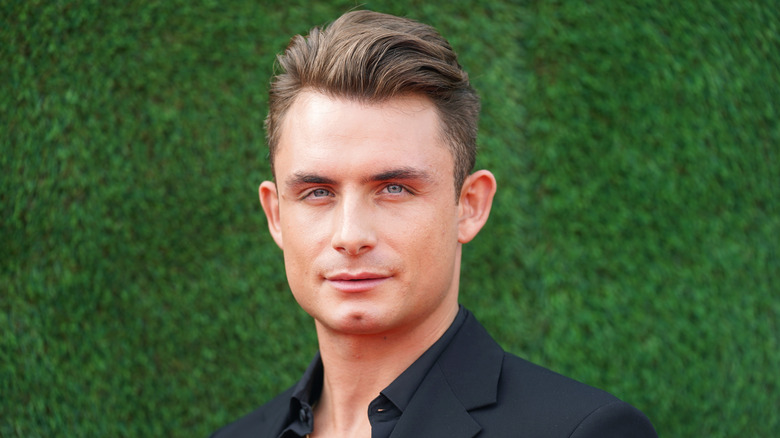 Presley Ann/Getty Images
Following George Michael's death, Kennedy revealed that his father had a falling out with the music legend and that he hadn't seen Michael himself since he was around 10 years old, per the Daily Mail. In an Instagram post in 2016, Kennedy shared a photo of him and Michael posing with the Barney toy. "Rest In Peace George," Kennedy captioned the pic. "I'm heartbroken we never got to speak again after so many years. ...I love you."
Kennedy told The Daily Dish that, when his dad had moved back to London in 2016, he had planned to make a trip there and "basically knock on George's door in the New Year" and surprise him. After the family got the heartbreaking news of Michael's death, Kennedy still flew to England and spent time with his grieving dad.
Kennedy was also one of several celebrity godchildren who were rumored to be in line for an inheritance from Michaels' multi-million dollar fortune. (Roman and Harley Kemp, the kids of Wham! backup singer Shirlie Holliman and Spandau Ballet bassist Martin Kemp, were also Michael's godchildren, per the Daily Mail.) During an appearance on "Watch What Happens Live" a year after Michael's death, Kennedy addressed rumors that he received an inheritance from his wealthy late "uncle." "Honestly I've been told nothing so far, so those are all just tabloids talking the usual stuff," Kennedy said in late 2017 (via The Daily Dish).
As of December 2021, Michael's estate had still not fully been settled amid disputes between his sisters, business partners, and former lovers, according to The Sun.