What Was The Last Music Video Juice WRLD Recorded Before He Died?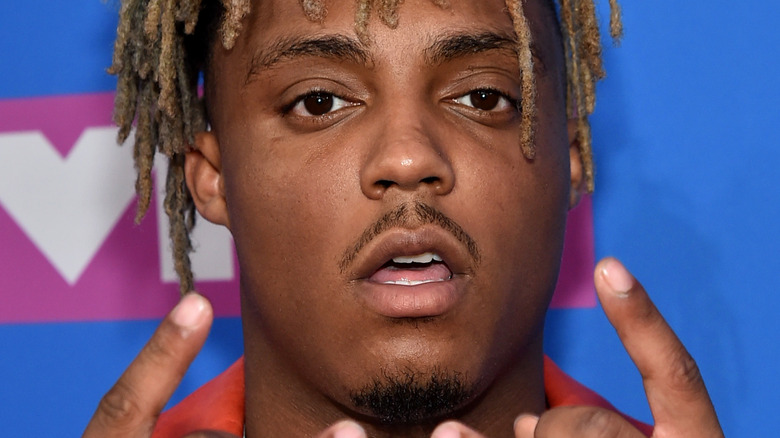 Mike Coppola/Getty Images
At the height of his career, the news of Juice WRLD's death in 2019 sent shockwaves within the music industry. At only 21 years old, Juice WRLD, whose real name is Jarad Anthony Higgins, died of a drug overdose on his plane after landing in Chicago for his upcoming birthday party, per GQ.
Juice WRLD's death was devastating to everyone, but to his own mother, it was sadly not completely shocking. Instead, Carmela Wallace knew her son was struggling with substance use and planned to enter rehab following his party — the party he would not end up making it to. "He just had access to so much. It was so readily available to him. That was hard to watch," Wallace said, per GQ.
Finding fame in 2017, Juice WRLD shot to stardom after releasing the song "Lucid Dreams." The song, which found itself at No. 2 on the Billboard Hot 100 chart in 2018, took Juice WRLD from SoundCloud rapper to overnight sensation. Following "Lucid Dreams," Juice WRLD continued to release hit after hit. But the songs were not just songs, because behind the ethereal raps, lay Juice WLRD's real life. Rapping about his dependency on drugs and relationship struggles made for immediately relatable messages for many fans. Following the rapper's untimely death in 2019, while his music company has continued to release posthumous albums, Juice WRLD's last music video he ever recorded holds a special place in fans' hearts.
Bad Boy was Juice WRLD's last music video
Following Juice WRLD's death, his music — which features around 3,000 unreleased songs — is now in the hands of his former music label, Grade A Productions. Since his death, the music label has released two posthumous albums to much fan and critical acclaim. But there was one release which has received the most: "Bad Boy ft. Young Thug."
While "Bad Boy" was a posthumous release, it was also the last music video Juice WRLD recorded before his death. Originally set to debut in November 2020, the release was pushed back for unknown reasons, whether that be because of Juice's death or the pandemic, per Genius Lyrics. Either way, the song nor video would be released until a year after Juice WLRD's death.
On January 15, 2021, fans finally got to see Juice WRLD in one last music video. Taking on the title of the song "Bad Boy," Juice and Young Thug become just that. Donning black and white tuxedos in the video, the two are seen speeding through the night, working alongside robbers and setting everything on fire. Characteristically taking after the title, the song raps about wrecking cars, shooting, smoking, and — like Juice did many times before — being sad. Yet despite the dark meaning of the song, when the video was released, it didn't take long for fans to comment on how good it felt to see Juice one last time.
Bad Boy isn't the last time fans will hear from Juice WRLD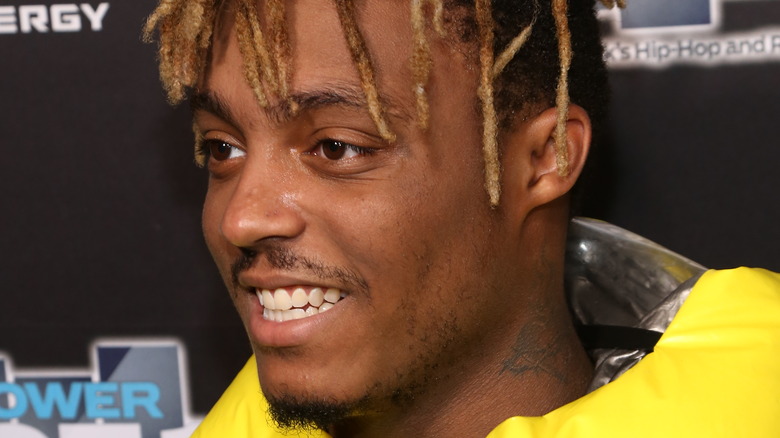 Manny Carabel/Getty Images
While "Bad Boy" is likely the last time fans will see a new music video featuring Juice WRLD, it won't be the last time fans will hear him. Following the rappers death, his management plans to continue releasing posthumous songs.
Following the recent success of posthumous album releases "Legends Never Die" and "Fighting Demons," Juice WRLD's production team wants to release more music that Juice made, including the upbeat and fun songs he created. "Juice wasn't always sad and in his feelings. Sometimes, he'd make happy music," Lil Bibby, an executive behind Grade A Productions, and someone who spent a lot of time with Juice said, per Forbes. 
But something even more important than the upcoming music releases from Juice's management was Juice WRLD Day, a celebration of Juice and a place for fans to gather, listen to Juice's music, and relate to one another. After seeing the struggles Juice endured, and how fans related, Bibby wanted to give fans a way to continue relating to their favorite singer. "Juice went through a lot with depression, anxiety, drug addiction. So, my goal is to help the kids that's going through that," Bibby told Forbes. "It's a big problem going on in the world that don't nobody know how to explain." But maybe at future events like Juice WRLD Day, fans don't have to explain it. They can all listen and relate to it through Juice's lyrics.