Did Any Of Lea Michele's Glee Castmates Attend Her Wedding?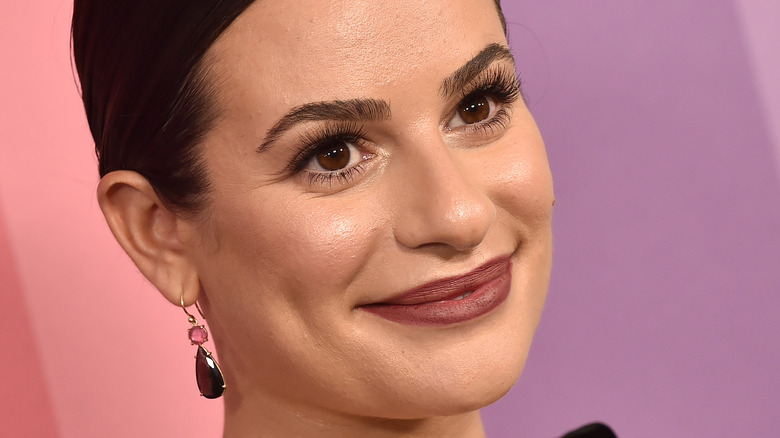 DFree/Shutterstock
Lea Michele tied the knot with clothing company president Zandy Reich after about two years of dating, per People. Before the 2019 ceremony, the "Glee" star was most probably notably linked to her late on-screen and off-screen boyfriend Cory Monteith, who died of a heroin overdose in July 2013. Michele still pays tribute to him on his death anniversaries.
The AYR president and Michele announced their engagement on social media in April 2018. An Instagram post from Michele shows her covering her face with an engagement ring-bearing hand, and was captioned "Yes" with a ring emoji. The following July, there was an engagement party that was planned by their close friends and was filled with even more famous friends like Jonathan Groff, Becca Tobin, Hillary Duff, and Ashley Tisdale. "The outpouring of love from our friends and family who showed up for us today and threw us the most epic and beautiful engagement party we could have ever asked for was truly so incredible," Michele posted to her Instagram stories, per E! News. "Z and I love you all and are forever grateful."
While Michele clearly had the support of some of her "Glee" castmates at her engagement party, how many of them actually attended the wedding itself?
A Glee kind of wedding
In 2019, Lea Michele and Zandy Reich had a wedding that was officiated by "Glee" creator Ryan Murphy, per W. "Glee" co-stars Darren Criss (Blaine Anderson), Becca Tobin (Kitty Wilde), Jonathan Groff (Jesse St. James), and "Scream Queens" co-star Emma Roberts all attended the wedding. Criss was asked to perform, as Michele performed at his wedding, and long-time best friend Jonathan Groff was the maid of honor.
Among the "Glee" co-stars who were not in attendance were Amber Riley (Mercedes Jones) and Naya Rivera (Santana Lopez). It was rumored that Michele's on-screen fight with the late Rivera was also happening outside of the show. Although Rivera cleared the air and said that there wasn't any "beef" between her and her fellow co-star personally, she had other things to say about Michele's general behavior on set in her memoir. Riley, meanwhile, seemed to have lost touch with no hard feelings. "Uhhhhhhh... no!" Riley told Us Weekly when she was asked if she was attending her co-star's wedding. "But I wish her the best though." The "Dancing with the Stars" winner went on to say that she still keeps up with many other members of the cast, however.
Lea Michele hasn't stayed on great terms with all her Glee costars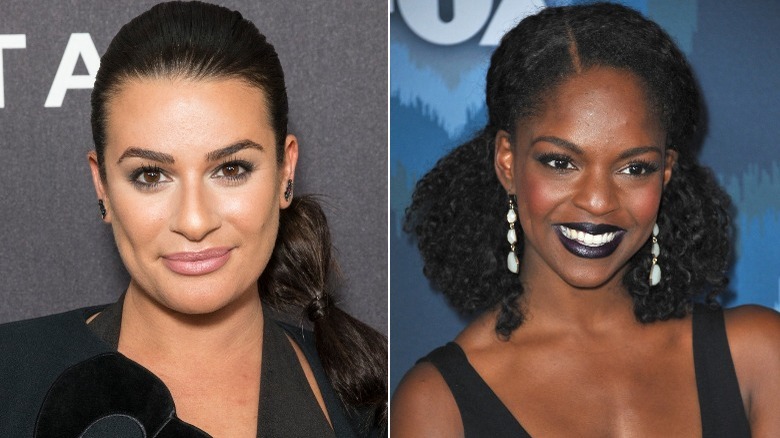 Lev Radin & Jaguar PS/Shutterstock & undefined
In 2020, Lea Michele and her husband had their first baby boy, naming him Leo, according to Hello! Magazine. While Michele was still pregnant, "Glee" co-star Samantha Ware alleged that she made the experience on the television show a "living hell" and accused her of "traumatic microaggressions," per E! News. This comment came shortly after Michele posted in support of the Black Lives Matter movement.
Soon thereafter, many of Michele's "Glee" co-stars, as well as other co-stars from different projects, came out to say that they had a problem with Michele's diva-like behavior. Michele was eventually dropped from her partnership with HelloFresh, per Variety. "I apologize for my behavior and for any pain which I have caused," the actor wrote on her Instagram page amid the controversy. "We can all grow and change and I have definitely used these past several months to reflect on my own shortcomings."
While some of Michele's "Glee" co-stars have had problems with her that may go past the point of a reconciliation, she apparently still remains good friends with Darren Criss, Becca Tobin, and Jonathan Groff. These three can be seen on Michele's social media pages, and she and Groff showed how close they still are while performing at the 2022 Tony Awards.