The Shady Comment Reese Witherspoon Once Made About Kim Kardashian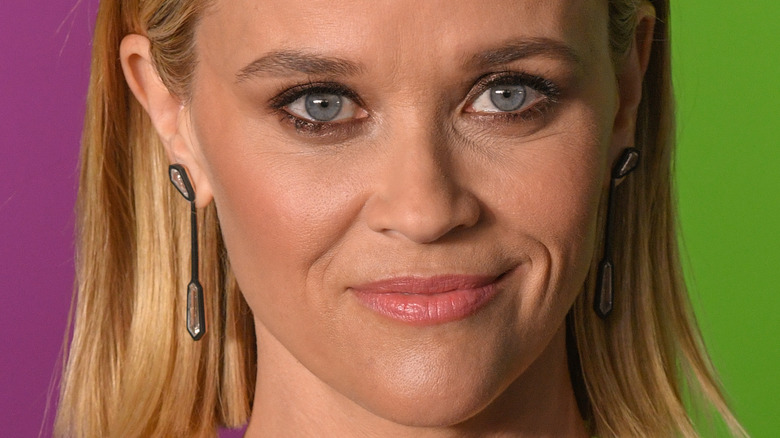 Ron Adar/Shutterstock
Shade probably isn't exactly the first thing you think of when it comes to Reese Witherspoon. The "Sweet Home Alabama" star is notoriously one of the sweetest people in Hollywood, seemingly having nothing but nice thing to say about everyone and vice versa. "She is exactly who you'd want her to be — kind, smart, professional, honest, unpretentious, kind, fun, funny, and of course, incredibly talented," actor Sarah Baker once wrote of the mom of three on Quora.
It may surprise you then that Witherspoon, despite having the moniker since she shot to fame in the movie world, doesn't actually consider herself to be America's Sweetheart or one of the sweetest people in the business. "I certainly didn't self-identify as anyone's sweetheart," she admitted to Glamour back in 2015. "I'm friendly, but I don't think I'm sweet. I'm honest."
With that said, then, it sounds like Witherspoon is admitting she knows she can throw a little shade when the moment warrants it and there's someone super famous who's felt her mild wrath before. Kim Kardashian. But why we hear you ask? Well, allow us to explain the time Witherspoon joined the ranks of the celebrities who haven't exactly gushed about the uber-famous reality star.
Reese Witherspoon shaded Kim Kardashian's sex tape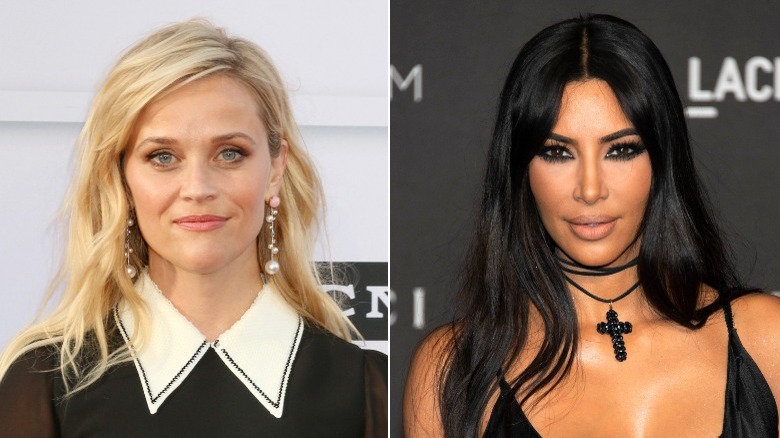 Kathy Hutchins & Eugene Powers/Shutterstock
It's June 2011. "Keeping Up with the Kardashians" has just debuted its sixth season and the world is still reeling from discovering a new kind of celebrity — the reality star. Kim Kardashian is rising through the ranks as one of the world's biggest stars and there's still plenty of gossip about her, erm, intimate video with Ray J — and, apparently, Reese Witherspoon is feeling a little shady.
Witherspoon took a subtle dig at Kardashian and, seemingly, other famous reality stars like Paris Hilton or Nicole Richie while accepting the Generation Award at the MTV Movie Awards. Witherspoon made her feelings about reality stars pretty clear, telling the audience (via Us Weekly), "I get it, girls, that it's cool to be a bad girl, but it is possible to make it in Hollywood without doing a reality show." She then seemingly referenced Kardashian's sex tape, noting, "When I came up in this business, if you made a sex tape, you were embarrassed and you hid it under your bed," before joking, "And if you took naked pictures of yourself on your cell phone, you hide your face, people! Hide your face!" Shade!
As for what Kardashian had to say about the whole thing? Well, TMZ paparazzi caught up with her that same night where she appeared to throw just a little subtle shade back by admitting she was blissfully unaware of Witherspoon's remarks.
Reese Witherspoon and Kim Kardashian made up
It seems like all the drama between Reese Witherspoon and Kim Kardashian didn't last too long though, as the latter seemed to forgive the former and even ended up playing homage to one of her most iconic movie characters ever. In 2019, Kardashian dressed up as Witherspoon's "Legally Blonde" character Elle Woods for Halloween, even recreating a scene from the movie which she shared to her YouTube channel. She also shared a slew of snaps rocking looks from the beloved rom-com on Instagram.
While that could have been a risky move seeing as Witherspoon has been just a little shady about the way Kardashian became famous in the past, it turns out the actor loved Kardashian's homage and even gave her permission to recreate her iconic movie look! "[Kardashian] called me and said, 'I'm going to do this thing.' I said, 'Go for it! It's so fun!' I thought she nailed it," Witherspoon admitted during a screening for "The Morning Show" shortly after (via Metro). Ahh! That's more like the super sweet star we know and love.