The Truth About Britney Spears' Relationship With Madonna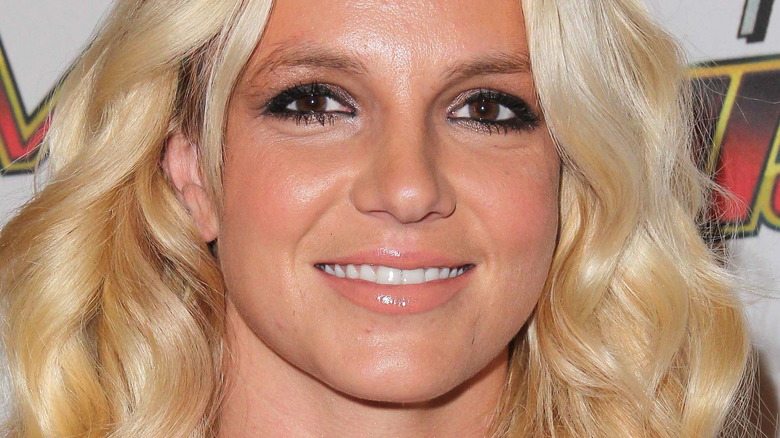 s_bukley/Shutterstock
If there are two blonde pop queens who have gone down in history, it's Madonna and Britney Spears. Separately, the legendary pair has topped the charts countless times, embarked on numerous world tours, and remained iconic pop culture figures decades after their breakthroughs. With Spears' back catalog boasting 13 top 10 hits on the US Hot 100 and Madonna securing herself nine No. 1 albums on the US Billboard 200, it's fair to say they have loyal fans.
As most will know, it was Madonna who burst onto the music scene first in the '80s. Being the bonafide superstar that she is, the "Express Yourself" hitmaker went on to influence a whole new generation of acts, including Spears herself. When talking about Madonna on "The Oprah Winfrey Show" in 2003, Spears opened up about how she was inspired to follow in Madonna's footsteps early on. "My first memories of Madonna I think when she did 'Like a Virgin.' Oh my goodness, honestly, I remember watching her videos and saying, 'I wanna do that one day,'" she explained. The singer shared she first met Madonna during one of her concerts on her "Drowned World Tour," admitting she was extremely nervous. "She was very sweet, very very cool," Spears said, adding, "She's a true artist. She is the pop icon. She's like the pioneer of all women."
Spears may have felt starstruck when meeting her idol, but she soon developed a friendship with Madonna that's had its fair share of attention.
Madonna and Britney Spears' kiss at the MTV VMAs remains legendary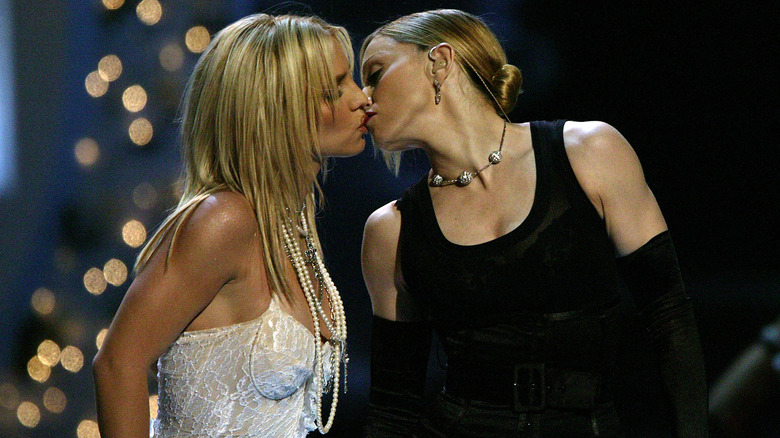 Dave Hogan/Getty Images
After meeting Madonna for the first time, it appeared their friendship blossomed really quickly. In 2003, Britney Spears and fellow pop star Christina Aguilera sang a rendition of Madonna's "Like A Virgin" in bridal dresses at the MTV Video Music Awards. Madonna served as their groom in a tux and performed her latest single at the time, "Hollywood." Mid-performance, Madonna kissed both Spears and Aguilera on the lips before final guest Missy Elliott came out. The unexpected, yet legendary, moment caught millions of people's attention around the world and was all anyone wanted to talk about for weeks. Shortly after, Madonna featured on Spears' single "Me Against the Music" and starred in the music video.
In 2006, it was reported their friendship had taken a hit when Spears revealed she was no longer interested in studying Kabbalah after Madonna introduced her to it. "Madonna spent months teaching Britney the Kabbalah system and splashed out thousands on the ancient scripture for her," an inside source said (via Today). As a result, it was rumored that Madonna ditched Spears. The following year, Madonna appeared on "The Late Show with David Letterman" and reminisced over the time she brought a pair of her underwear to their interview. After recently being photographed wearing no underwear, Madonna threw shade at Spears and suggested David Letterman should consider giving Spears a pair.
Madonna and Britney Spears are still friends after all these years
Regardless of what the headlines may have suggested in the past, Madonna and Britney Spears are still friends. In 2008, Madonna invited Spears to perform "Human Nature" onstage with her during the Los Angeles stop of her Sticky & Sweet tour. During Spears' conservatorship drama in 2021, Madonna was very vocal about supporting the singer on her Instagram Stories (via Los Angeles Times). "Give this woman her life back," she shared, adding, "This is a violation of human rights! Britney we coming to get you out of jail!" Later that year, at the premiere of her "Madame X" documentary, Madonna expressed her love for Spears to Entertainment Tonight and explained she had spoken to her on the phone that same day.
In May 2022, Spears and longtime partner Sam Asghari tied the knot. In attendance to celebrate their big day were a number of celebrities, including Madonna. As seen on her Instagram, the pair took several photos with one another and looked very happy to be in each other's company. "Britney you look so happy and in love. I wish you and Sam all the best," Madonna wrote. "Last night was fun and sweaty!!" In Drew Barrymore's upload, she attached a video clip of herself with Madonna, Spears, Paris Hilton, Selena Gomez, and Donatella Versace singing Madonna's iconic "Vogue" together. The squad goals we never knew we needed!