Does Johnny Depp Have Veneers?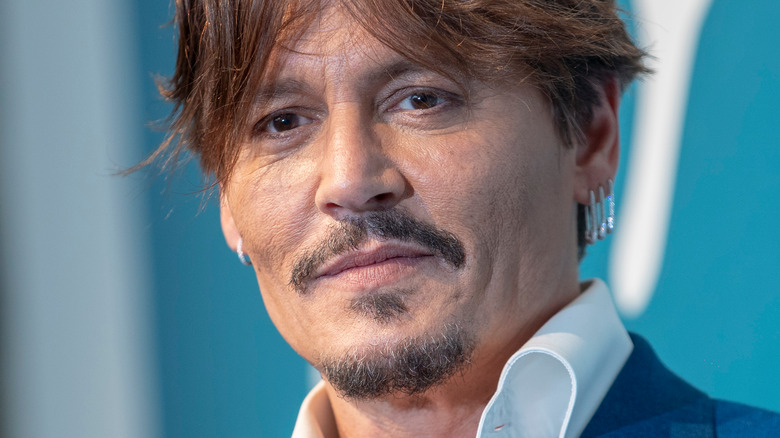 Denis Makarenko/Shutterstock
Johnny Depp is someone who rarely shows an open smile on the red carpet. As a matter of fact, a quick glance at his movie premiere photos suggest that the Hollywood star likes to keep a reserved posture and smile whenever there's a camera aimed at his direction. It almost seems as though Depp doesn't like to fixate too much on his looks or his appearance despite being one of the most recognizable Hollywood stars in the world. Back in 2016, he admitted that he is well aware of the fact that some people might think that he looks like a "hobo" (via Us Weekly): "When I met people they said, 'You do look like a hobo, but you smell really good.' And g*****n it, I smell really good!"
Seeing how Depp has modeled for campaigns such as Christian Dior's Sauvage cologne, that shouldn't surprise anyone at all. However, there has been some speculation about Depp's smile and whether or not he is the proud owner of some shiny white veneers.
Johnny Depp had veneers for certain roles
Tristan Fewings/Getty Images
According to the viral TikTok account Veneer Check, internet sensation Dr. Sara Hahn, DMD suggested that Johnny Depp only got veneers and perhaps gold crowns put in for his role as Captain Jack Sparrow in the "Pirates of the Caribbean" films.
For his role as Willy Wonka in the remake of the "Willy Wonka and the Chocolate Family," Dr. Sara says that Depp has on what looks like a Snap-On Smile, which is a custom make but also features a removable dental arch that is supposed to help cover stains and chips. It also helps make a smile look as natural as possible. In her video, Dr. Sara says that Snap-On smiles "look good but they're not meant for long term use," as "food and saliva get underneath." In other words, it sounds as though Depp only uses his Snap-On teeth for his roles. That said, Dr. Sara also added that it looked like Depp had his gold veneers removed, which could explain why he has a little discoloration in some of his front teeth. 
Either way, Dr. Sara ended her Depp edition of her "Veneer Check" by claiming that "I think we can all agree that courtroom Johnny is just so charming." Well, it seems like there are plenty of people out there who would agree to that statement, including some of Depp's exes.
Johnny Depp's looks took the breath of many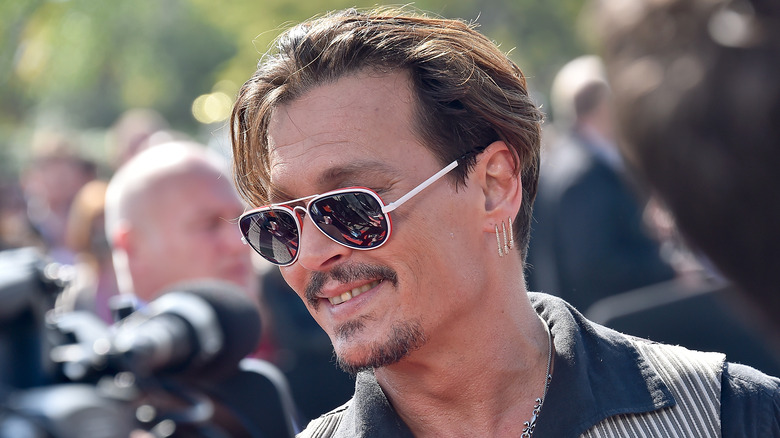 Kristy Sparow/Getty Images
That said, it still doesn't seem like Johnny Depp is all too bothered about what people say about his appearance, despite some headlines suggesting he's "turned ugly" (in a figurative sense, no less). But then again, even some of his exes can't get over his looks, too. 
Jennifer Grey said on "The Drew Barrymore Show" that Depp was "so beautiful," that "you've never seen a more beautiful ... it's almost inhuman" (via Page Six). If that weren't enough, his other ex Kate Moss admitted in an interview with Vanity Fair back in 2012 that it took years of non-stop tears for her to get over the actor. "There's nobody that's ever really been able to take care of me. Johnny did for a bit," she told the publication, while also adding, "I really lost that gauge of somebody I could trust. Nightmare. Years and years of crying. Oh, the tears!"
In other words, it really doesn't matter if Depp has veneers or not, as he is clearly a Hollywood star who is more than just his smile.