What Happened To Demi Moore's Missing Teeth?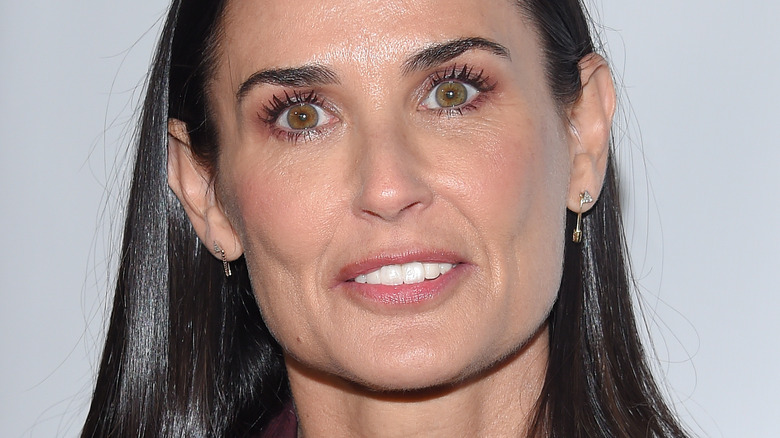 DFree/Shutterstock
Demi Moore is considered one of the most versatile actors in the entertainment industry. While many would say that her most talked-about role would have been in the 1995 film "Striptease," she's also starred in a lot of hits over the years, including "G.I. Jane," "A Few Good Men," "Indecent Proposal," and the unforgettable "Ghost." 
Moore also got a lot of attention for being the ultimate "comeback kid" in Hollywood when she appeared in "Charlie's Angels: Full Throttle" back in 2003. What got her the most attention in the film was when she appeared in a black bikini during a beach scene. However, Moore has also admitted that she hasn't always felt very comfortable in her own skin. In 2012, she told Harper's Bazaar, "I have had a love-hate relationship with my body ... I think I sit today in a place of greater acceptance of my body, and that includes not just my weight but all of the things that come with your changing body as you age to now experiencing my body as extremely thin." 
And while there certainly has been a lot of attention that's been focused on Moore's body — like during her "Striptease" days — it's her missing teeth that some people have been wondering about.
Demi Moore lost her front tooth back in 2009
When Demi Moore walks into a room, there's no doubt that all eyes are on her. After all, she's one of the most recognizable Hollywood stars in the industry. That, and she almost always looks picture-perfect on the red carpet (like when she rocked her 2016 LACMA Art and Film Gala appearance in all Gucci!). 
However, back in May 2009 Moore shared a collage of photos on Twitter and revealed that she lost a front tooth. She wrote at the time (via E! News), "I lost it and had to have it fixed! I personally thought this look went out after you were eight, didn't know I would be rocking it again!" She further added, "Happy to share and always appreciate the opportunity to find humility!!! Or at least be able to laugh at myself!"
Now, whether or not the tooth fairy had visited Moore that day no one knows, but that wasn't the first time that she had suffered a dental mishap. In fact, there seems to be a solid reason as to why she keeps having dental issues.
Demi Moore's dental issues won't stop her from smiling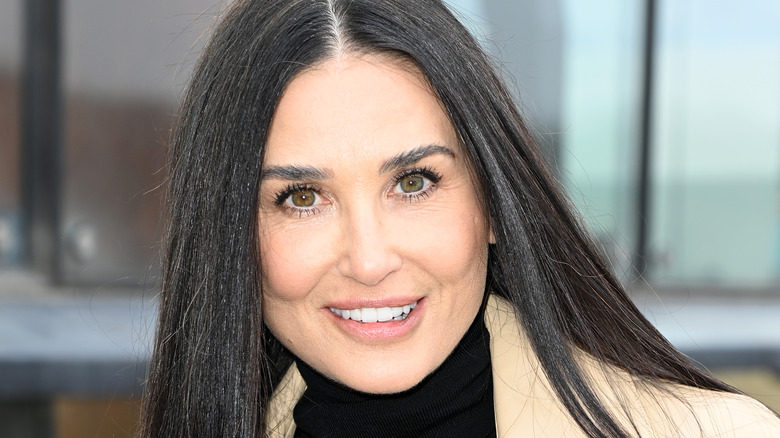 Pascal Le Segretain/Getty Images
Demi Moore might look like she has a perfect smile, but it didn't always seem this way. Back in 2017, the Hollywood star admitted on "The Tonight Show" that she lost not just one but both of her two front teeth. Explaining that she apparently had "sheared off" her teeth, Moore said, "I'd love to say it was skateboarding or something really cool, but I think it's really something that's important to share." In an interview with Page Six, Moore further explained that she didn't lose both of her teeth at the same time. She said, "They happened a year apart but the fact remains that I sheared off both my front teeth. Thank God for modern dentistry. Without it, I wouldn't be smiling on the red carpet."
Moore went on to say that she was dealing with a lot of stress at the time, which, according to WebMD, can cause problems for your teeth. While Moore did not specify exactly what led to her dental issues, teeth grinding can also cause your teeth to fall out, especially if you happen to be dealing with a lot of stress and anxiety. That said, it probably doesn't matter how many teeth Moore will lose in her lifetime because she's still got a million-dollar Hollywood smile, right?