What Is Harry Styles And Liam Payne's Friendship Like Today?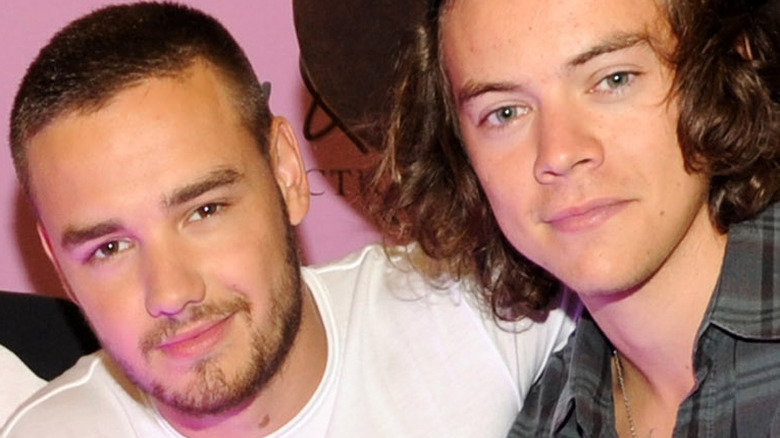 Kevin Mazur/Getty Images
We're over six years into the One Direction "hiatus," and a reunion is nowhere in sight. (Look, we wouldn't even demand coordinated outfits and dance moves this time around. But is a world tour too much to ask for?)
Fans were slightly teased when former band member Zayn Malik posted a short clip to his Instagram, singing the band's song "You and I." There's otherwise been very little One Direction hope to cling to, leaving some to speculate if the bandmates are even still friends.
With Harry Styles constantly making headlines and maintaining his worldwide acclaim, he seems like perhaps the only hope for orchestrating a One Direction reconciliation. In a recent interview with the Spout Podcast, Styles even said, "There's a lot of love there. So, yeah, I think if there's a moment for us to do it in the right way, I think it would be great." But, is there a chance One Direction will find "the right way?" Where does Styles even stand with his co-performers, especially the recently controversial Liam Payne?
Harry Styles and Liam Payne have previously supported each other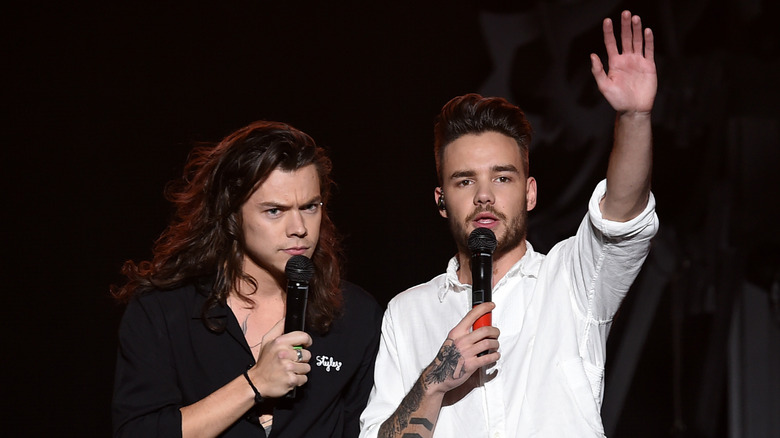 Kevin Winter/Getty Images
When it comes to interviews, the One Direction boys seem to have their answers about their relationships down. Sitting down with Zane Lowe at Apple Music, Harry Styles shared his feelings about his bandmates in the sweetest way. Styles said, "I feel like there's very much a respect between all of us. We did something together and that is something that you can't really undo. It's a very deep love for each other, I think." 
Even candidly, the stars have seemingly had each other's backs. During an Instagram Live (via Capital FM) Liam Payne praised Styles' Coachella performance and expressed interest in seeing him onstage. "Can everyone please send me the dates of Louis [Tomlinson] and Harry's concerts so my team see it to make sure that I can go? Because I definitely want to go and see [them]," he said. Niall Horan, meanwhile, was recently spotted in the stands of a Styles concert himself. 
Despite the public niceties, Payne seemed to get a bit more honest with his feelings recently on Logan Paul's "Impaulsive" podcast, leaving some to question his true feelings about Styles, in particular.
Liam Payne's 'Impaulsive' appearance had fans questioning the relationship
Tinseltown/Shutterstock
Having over an hour of Liam Payne content to watch may seem like a Directioner's dream, but Payne's appearance on Logan Paul's "Impaulsive" podcast ended up being a big miss among fans. In a rare move, the singer addressed some of the criticism on Twitter. "Listening back maybe I didn't articulate myself as well as I could have," he wrote in reference to a comment about Zayn Malik's family. 
This wasn't the only portion fans took issue with, however. Payne talked about drama within the band, citing an incident in which "one member in particular" threw him against a wall. "I said to him, 'If you don't remove those hands there's a high likelihood you won't use them again,'" Payne said. Paper documented fans' speculation that this "member" was Harry Styles, given that Payne has previously called the man scary and unfollowed him on Twitter. 
Directioners — and celebrities! — also took issue with Payne's assertion that Simon Cowell formed the band around him. "He started with my face and then worked around the rest," he spilled. But even Lizzo had objections. In a TikTok posted the week of the interview, the singer cryptically said, "I don't know who lied to that poor boy but we all know he was not the frontma—." She cut herself off, but the comments caught her drift. Shade!