Why Hoda Kotb Isn't A Fan Of Megyn Kelly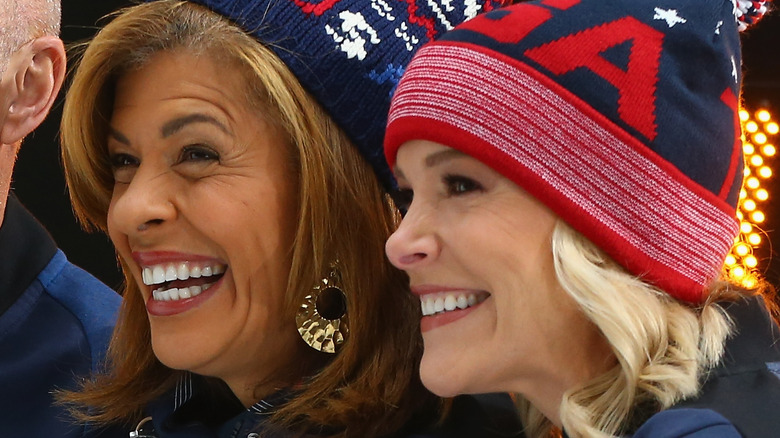 Mike Stobe/Getty Images
Hoda Kotb reportedly is not the biggest fan of Megyn Kelly. The two anchors are some of the biggest names on NBC, with Kelly in particular getting plenty of attention for her work life, including "The Megyn Kelly Show." That came after her other solo outing, "Megyn Kelly Today," was canceled back in 2018 after Kelly was accused of seemingly downplaying the seriousness of blackface. The controversial moment went viral on social media and caused quite the media firestorm, with an upload of the clip shared on Twitter being viewed more than 3.3 million times.
"'Megyn Kelly Today' is not returning. Next week, the 9am hour will be hosted by other 'Today' co-anchors," NBC News said in a statement (via The Guardian). Kelly's lawyer also issued a statement about her future with the network, saying at the time, "Megyn remains an employee of NBC News and discussions about next steps are continuing." Following that and the end of "The Megyn Kelly Show," Kelly took her journalism skills to the podcast world, hosting a new versin of "The Megyn Kelly Show."
But what actually went on between her and Kotb (who, as of June 2022 do not follow one another on Instagram), and how do they really feel about one another?
Inside the Hoda Kotb and Megyn Kelly feud rumors
Ben Gabbe/Getty Images
It's long been rumors that Hoda Kotb and Megyn Kelly don't exactly see eye to eye. Life & Style alleged in February 2018 that the two supposedly weren't exactly friends despite working so closely, noting, "Hoda's star has risen while Megyn's has fallen. She's ready to exercise her newfound power by telling [Megyn] to get with the program. The feud has turned nasty." As for why there's been no public mudslinging? A source claimed Hoda kept the peace with Kelly in public because she's not one to create drama, but noted she was pretty honest in 2018 when asked what she thought of Kelly's future with NBC.
A source claimed the higher ups at the network had asked staff for their thoughts, alleging, "Hoda was honest. She said it's a likability problem. Megyn's not relatable." They went on to add, "Hoda and Megyn remain cordial to each other on camera, but they barely speak to each other once they've stopped rolling," and claimed Savannah Guthrie had been supporting Kotb amid the supposed tension.
While neither have publicly confirmed the report, if there really is drama, it seems Kotb got the last laugh. She was on hand to take over Kelly's vacant third hour of "Today" in October 2018 following the end of "Megyn Kelly Today." "Today, as you know, we are starting a new chapter in the third hour of our show as it evolves," Kotb said.
Hoda Kotb and Megyn Kelly's on-air jabs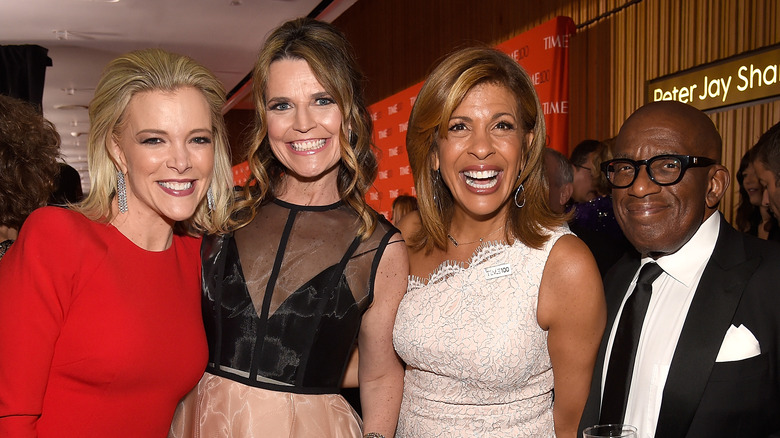 Kevin Mazur/Getty Images
Though Hoda Kotb and Megyn Kelly haven't publicly addressed any potential feuds, Kotb does appear to have hinted at the fact she's not exactly Kelly's BFF. Life & Style noted in February 2018 that Kotb couldn't help but laugh when Jane Fonda referenced her awkward previous "Today" interview with Kelly. "The atmosphere between [Kotb and Kelly] is beyond frosty. They are staying as far away as possible from each other," a source revealed of things between Kotb and Kelly on set at the time. "Hoda is not the kind of person who talks behind people's backs, but there is plenty of eye rolling and she's made comments about Megyn like, 'I get more warmth from an iceberg.'"
But it's not all one-sided. Kelly also appeared to get a jab in at Kotb on-air in 2018 while congratulating her on getting Mat Lauer's gig following his dramatic "Today" departure. "We talked recently about how, 10 years ago, your life was very different. You were going through a dark period," she said, which supposedly didn't go down too well. "Everybody in the control room gasped when Megyn brought up Hoda's 'dark period,' because many viewers likely won't know exactly what she was referring to," a source told Page Six, adding, "That comment was awkward, mean-spirited. It really stung." That moment came after Kelly seemingly forgot to say hello to Kotb while on air a year earlier, despite acknowledging her other co-stars (via Daily Mail).