Who Is Gwen Stefani's Brother, Eric Stefani?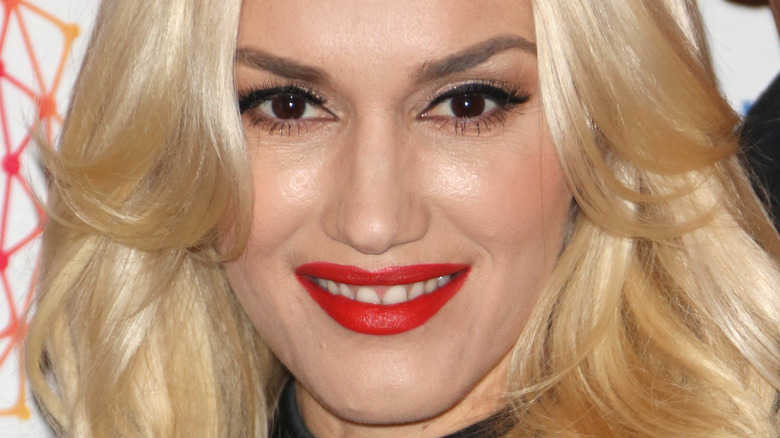 Featureflash Photo Agency/Shutterstock
Gwen Stefani's many occupations include being a singer, songwriter, fashion designer, judge on "The Voice," and a makeup mogul. While many will have been introduced to the "Rich Girl" hitmaker back in the 1990s as the frontwoman of No Doubt, there was once upon a time when Stefani wasn't the main focus in the band. In fact, she initially only provided backing vocals on the side of the stage.
During an interview with OC Weekly, Gwen Stefani's older brother, Eric Stefani, who is a founding member of No Doubt, told the outlet that Gwen stepped up as the lead singer after their frontman, John Spence, died by suicide within the first year of the band forming. "He was hurting so badly that he couldn't talk to anyone about it," he explained, adding, "There's a lot of pressure when you're up there in front of all of those people."
No Doubt is famously known for Gwen being the lead singer, Tony Kanal as bassist, Tom Dumont as a guitarist, and Adrian Young as the drummer. However, Gwen's brother Eric was involved in their biggest album to date, and the keyboard and piano player has stuck by Gwen throughout her entire music career.
Eric Stefani left No Doubt right before they blew up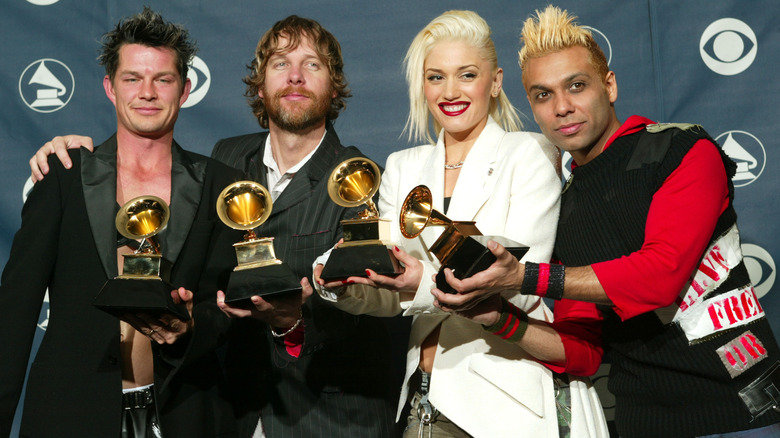 Scott Gries/Getty Images
Eric Stefani was a huge part of No Doubt. Before the band secured themselves a record deal, keys player Eric already had a job working on the cartoon shows, "The New Adventures of Mighty Mouse" and "Beany & Cecil," according to OC Weekly. Around the same time, he was creating logos, T-shirt designs, and flyers for No Doubt. His talent outside of music was recognized pretty early on as Eric was asked to work for "The Simpsons" before the show became a household name.
No Doubt would eventually get signed and would release their first two albums, "No Doubt" and "The Beacon Street Collection." However, they weren't met with commercial success. After completing their third album, "Tragic Kingdom," it was believed that the record was never going to get released due to issues with the label. In 1994, before the album dropped, Eric made the decision to leave the band to center his attention on "The Simpsons" after being unhappy with the demands being made from the label. "I like to create," he told OC Weekly, adding, "But [touring] is too loud, with too many people. It's too much. I'd rather be somewhere peaceful. It takes peace and quiet to write a good song." Ultimately, No Doubt blew up shortly after "Tragic Kingdom" got released in 1995, becoming one of 92 albums to achieve diamond status in the U.S., per Billboard, and Eric's contributions to the legendary record remain.
Eric Stefani is still super supportive of his sister
When Eric Stefani chose to work full-time as an animator, his younger sister, Gwen Stefani, became a major name on the entertainment scene. Over 25 years have passed since their iconic album "Tragic Kingdom" became a global success and it seems the sibling duo still has a tight relationship, despite their career paths going separate ways.
In December 2020, Gwen released the single "Let Me Reintroduce Myself." As noted by Genius, Eric chose to give his sis a helping hand on the production side by playing the organ and keyboard on the track. In November 2021, he paid Las Vegas a visit to watch Gwen headline in her own Las Vegas residency show, "Just A Girl." As seen in the snapshot above, Gwen documented the moment on her Instagram account by sharing a photo of the pair backstage. "My brother (hero) @ericstefanimation came to #Vegas #justagirl !! love u EMS gx," she wrote in her caption. Nothing better than an unbreakable sibling bond!