The El Chapo Interview That Caused Trouble For Sean Penn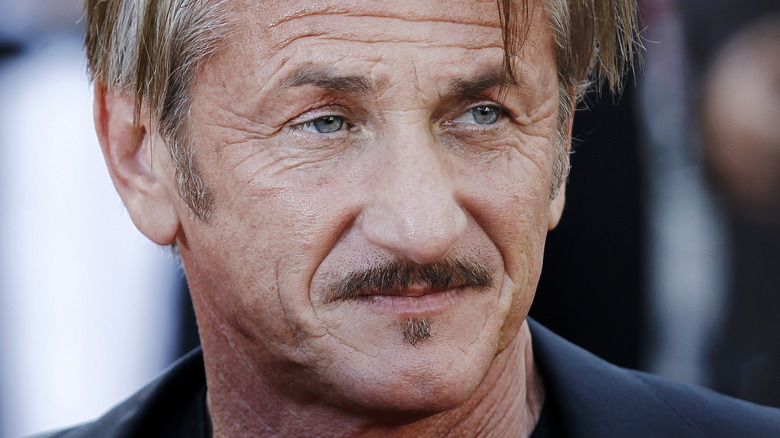 Andrea Raffin/Shutterstock
Sean Penn is no stranger to trouble. The Hollywood actor garnered a reputation in the entertainment industry for his explosive temper. There was that time Penn reportedly assaulted photographers, or an extra on one of his films, or a guy for just talking to then-wife Madonna. But it wasn't Penn's temper that almost landed him in the biggest trouble of his career.
Instead, in 2015, Penn tried to try his hand at journalism and interview El Chapo while negotiating a film about his life. For the uninitiated, this was the same El Chapo who was a wanted fugitive and Mexican kingpin. In Chapo's own words, via Rolling Stone, he said, "I supply more heroin, methamphetamine, cocaine and marijuana than anybody else in the world. I have a fleet of submarines, airplanes, trucks and boats." According to the New York Post, El Chapo, known by his birthname as Joaquín Guzmán, has killed multiple people in violent and brutal ways.
At the time, El Chapo was also the subject of a manhunt by both the Mexican and United States government when Penn agreed to meet the drug lord in Mexico. But what Penn didn't realize is that he came very close to dying.
A storm helped save Sean Penn's life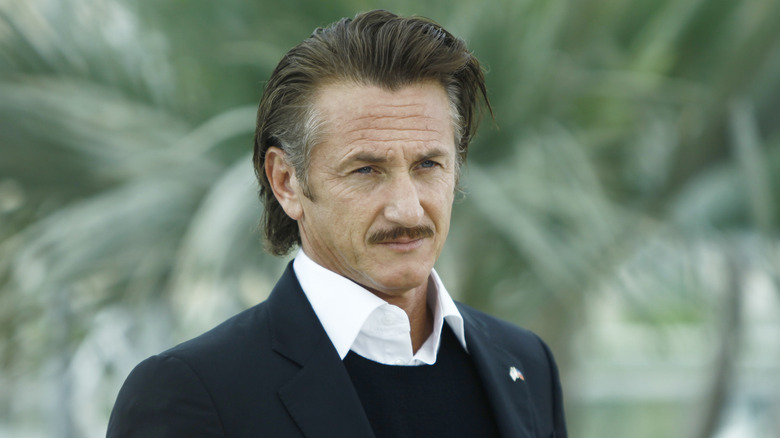 PAN Photo Agency/Shutterstock
After escaping from prison, according to the New York Post, El Chapo got the idea of creating a movie about his life. Similar to Pablo Escobar before him, his exploits were marred by both fact and fiction. The kingpin approached Mexican actor Kate del Castillo about the film. Castillo was in contact with Sean Penn and helped arrange a meeting between the three of them at Chapo's secret Mexican hideout.
According to Rolling Stone, Penn described his own paranoia at meeting the kingpin. "My speculation goes audio. I hear chain saws. I feel splatter. I am Sean's dubitable paranoia," he said. Chapo and his family greeted Penn and even shared a drink together after the actor traveled all day to meet him. Chapo agreed to an interview with Penn as well, but wanted Penn to return in eight days for a full sit-down. However, things got tense as Chapo and his men donned battle garb for an unknown reason to Penn. The two concluded their chat and Penn went to bed. 
What Penn didn't know was the U.S. Marines planned to raid the compound that weekend. The only thing to stop them? An approaching storm that stalled the operation. Journalist Alan Feuer told the Post, "It removed the possibility of Sean Penn's name being splashed across front pages everywhere as a casualty of a drug-war capture operation."
Sean Penn's interview garnered controversy afterward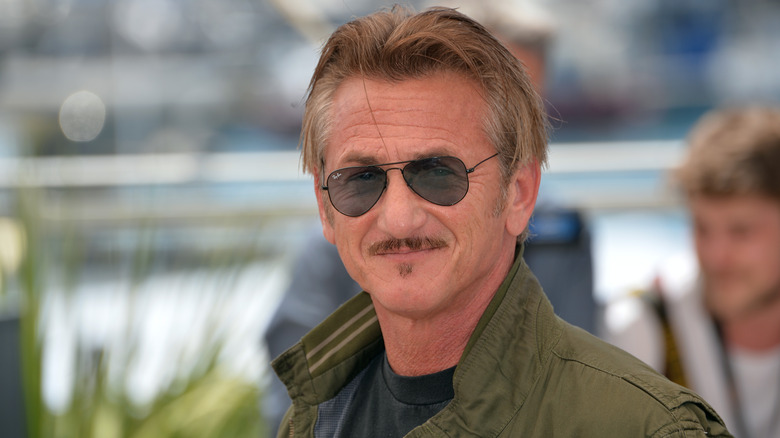 Featureflash Photo Agency/Shutterstock
After El Chapo's arrest, the Mexican government thanked Sean Penn, per CNBC, for helping to catch the drug lord. But the actor denied having played a role in Chapo's capture, who ended up caught by Mexican marines in 2016. In fact, Penn felt terrible regret for the article amid controversy after it released. A photo of the actor shaking El Chapo's hand garnered criticism.
"Let me be clear. My article has failed," he told Charlie Rose on "60 Minutes," per CNN. "I have a terrible regret," Penn told Rose. "I have a regret that the entire discussion about this article ignores its purpose, which was to contribute to this conversation on the war on drugs." Likewise, Kate del Castillo believes Penn could have got them killed because he didn't mention to her he was going to ask El Chapo for an interview.
In a 2020 "Red Table Talk" episode, del Castillo criticized Penn for blindsiding her with his Rolling Stone interview request. Speaking of that moment, she recalled, "I cannot do a face because [El Chapo] was going to notice that something's wrong and this guy [Penn] is going to be dead in just a blink of my eye." Despite the criticisms, Penn has continued his journalistic efforts, more recently trying to cover the situation in Ukraine. He told Fox News, "I just heard from [Former National Security Adviser] Robert O'Brien and he said to get the f**k out."