Here's What Katie Couric Looks Like Without Makeup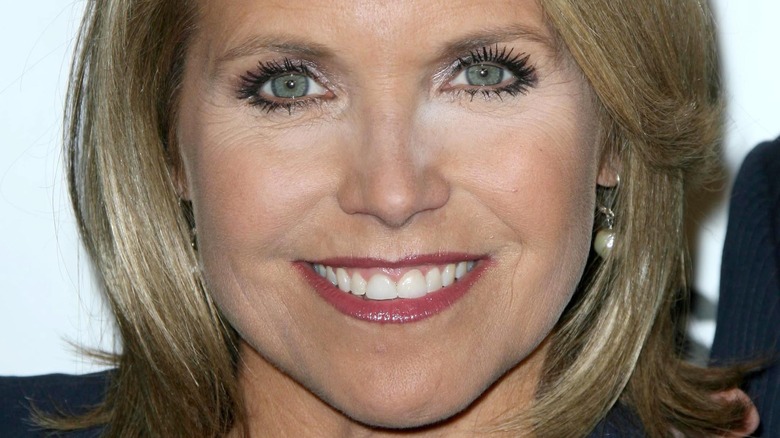 s_bukley/Shutterstock
For years, Katie Couric has drawn in viewers with her age-defying beauty and down-to-earth personality. A past host at NBC, CBS, and ABC, Couric has certainly had her share of professional success. Many people recognize this prominent TV personality from the "Today" show, which she co-hosted throughout the '90s and early 2000s.
She's also the founder of Katie Couric Media, a media company that covers news and lifestyle topics. Throughout her career, the accomplished journalist has broken barriers. In 2021, Couric made history as the first female guest host of "Jeopardy." Despite some controversial moments, such as her Jerry Cipriano scandal, Couric has used her platform to spark important conversations about political and social issues.
How else has Couric influenced the public? Well, she's certainly made herself relatable in the discussion about traditional beauty standards. Couric has openly shared her thoughts about aging and inspired fans to embrace their natural selves. But does she practice what she preaches? Let's break down Couric's journey going makeup-free. 
Katie Couric's makeup-free shoot made her feel 'liberated and vulnerable'
Though initially hesitant, Katie Couric went makeup-free for People's 2021 annual Beautiful Issue. The news anchor took the term "real" to a whole new level. She said, "Doing a shoot without makeup makes you feel both liberated and vulnerable. You feel great because you're being true to who you are and how you look." Her message to women? Don't be afraid to show the real you. And don't be ashamed of your wrinkles; they show a "lifetime of laughing and smiling," she told People. But that isn't to say Couric is anti-makeup. "If you wear too much, it's really aging. If you wear none, it's terrifying. You just have to wear the right amount to enhance yourself but not to cover up who you are," she explained.
Her "People" shoot isn't the only instance Couric went makeup-free. In 2013, Couric tweeted two side-by-side photos; with and without makeup. She wrote, "I go makeup-free for today's show!! Who's with me? Here's my before & after – Tweet me yours!!" In 2018, she kept the "less is more" train going by posting an Instagram photo of her laying in bed with glasses and minimal makeup. The most significant part of the post was the caption, which serves to challenge unrealistic beauty standards. She described "snapchat dysmorphia," which apparently causes people to compare themselves to their highly edited selfies. "Clearly I am bucking that trend. I also have a terrible sore throat."
Katie Couric demonstrated her makeup routine
On yet another occasion, Katie Couric decided to strip off her makeup. But the purpose was different this time around. In a YouTube video titled, "Inside Katie Couric's Makeup Room," the journalist teamed up with her makeup artist to demonstrate a tutorial of her go-to look. She opened the video saying, "Hi everybody. I know. Can you believe how courageous I am to let you see me without makeup? Scary, right?" Then, her makeup artist applied products like eyeshadow, foundation, and eyeliner. But leave it to Couric to apply her own mascara. After completing the makeup tutorial, Couric turned around to the camera, saying "So you saw the before ... here's the after. Much better, right? Well, a little better?"
Though Couric isn't afraid to go au naturel, she also clearly enjoys her makeup routine. In 2021, Couric teamed up with good friend and makeup founder Bobbi Brown to create a limited edition of the "Katie Kit" for Brown's makeup line Jones Road. The collection included mascara, eyeliner, balm, and gloss.
And what's Couric's makeup product of choice? The journalist told People, "Mascara makes a world of difference. My eyelashes are pretty light and my eyes kind of disappear when I don't have mascara on. L'Oréal mascara from CVS is my go-to." The theme for Couric? When it comes to makeup, it's clear that balance is key.