Rose McGowan Slams James Corden For Harvey Weinstein Jokes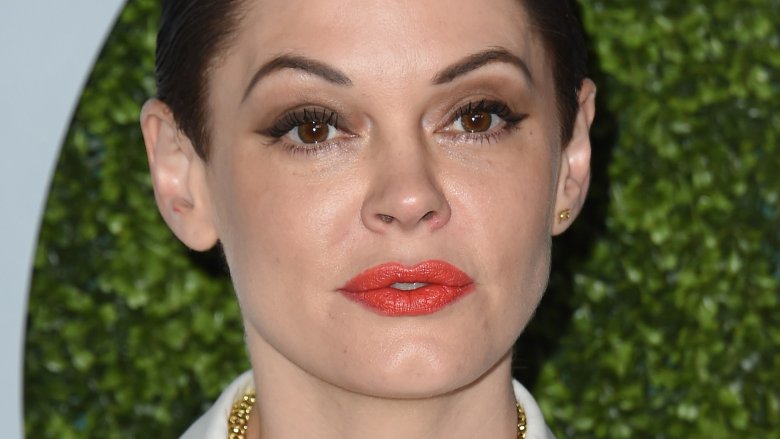 Getty Images
The Charmed actress is doing everything she can to bring attention to sexual harassment issues in Hollywood—including taking down late night host James Corden.
On Sunday, Oct. 15, 2017, Rose McGowan took to Twitter to respond to Corden's recent jokes at the AmfAR gala, calling him a "motherf***ing piglet."
According to Us Weekly, Corden, who hosted the gala on Friday, Oct. 13, reportedly made a few jokes about disgraced Hollywood exec Harvey Weinstein, who's made headlines after his alleged history of sexual misconduct was exposed. "This is a beautiful room. It's a beautiful night here in L.A.," Corden told gala guests. "So beautiful, Harvey Weinstein has already asked tonight up to his hotel to give him a massage."
Corden also joked, "It has been weird this week though, watching Harvey Weinstein in hot water. Ask any of the women who watched him take a bath."
As Nicki Swift previously reported, actress Ashley Judd told the The New York Times that Weinstein had once invited her up to his hotel room, where he allegedly asked her to watch him shower and to give him a massage. Similar claims have since been echoed by multiple women in the entertainment industry.
After sharing a clip of Corden at the gala, McGowan, who was allegedly raped by Weinstein in 1997, wrote, "Hearing the audience's vile roars & laughs show EXACTLY what kind of HOLLYWOOD you really are."
McGowan also called upon CBS, the network behind The Late Late Show with James Corden, to donate to the East Los Angeles Women's Center, stating, "or you too support rape culture."
Italian actress Asia Argento, who has also claimed that Weinstein raped her, spoke out against Corden's jokes as well, tweeting, "Shame on this pig and everyone who grunted with him."
Corden has since responded to the backlash, apologizing to those offended. "To be clear, sexual assault is no laughing matter. I was not trying to make light of Harvey's inexcusable behavior," Corden tweeted, "but to shame him, the abuser, not his victims. I am truly sorry for anyone offended, that was never my intention."