Why Was Bret Michaels Just Hospitalized?
Jaguar PS/Shutterstock
Bret Michaels is no doubt still at the top of his game after all these years, still selling out shows across the globe with his rock band, Poison. In fact, the rocker is still riding so high that it was announced back in 2019 that Poison would be joining Joan Jett & The Blackhearts on tour with headliners Mötley Crüe and Def Leppard as they visited stadiums around the country. The string of shows was then delayed due to the Coronavirus pandemic, but it was revealed in February that the gigs would finally be going ahead between June and September. "It's on! We don't think we've ever looked forward more to kicking off a tour than this one. We can't wait to finally see all the fans across North America again. Get ready for a wild ride this summer!" Mötley Crüe said in a statement, per Pitchfork.
Michaels was clearly thrilled to be back on the road and has been keeping fans updated with their tour shenanigans on social media, including sharing a snap from an empty stadium on Instagram on June 29. "The #StadiumTour keeps rocking and the fans are awesome," he captioned the upload. But, sadly, shortly after that, the stadium tour did temporarily stop rocking for Michaels after he was rushed to hospital right before he was set to perform a show.
Bret Michaels was rushed to hospital right before a show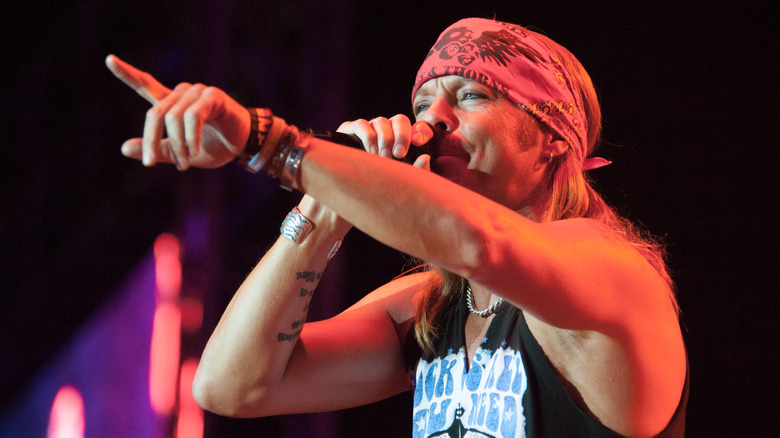 Randy Miramontez/Shutterstock
Bret Michaels had to be hospitalized in Nashville on June 30 shortly before he was set to hit the stage with Poison. The band reportedly still appeared in front of crowd without him — but not to perform. Instead, TMZ reported that they told the audience that Michaels had been rushed to the hospital following a bad reaction to medicine, which sources claimed may be related to COVID-19 and Michaels' diabetes.
The rock star took to his Instagram to issue a statement about his absence, writing, "I was truly fired up to get on stage in the Music City and perform, but due to an unforeseen medical complication and following hospitalization, it was not possible." He apologized for missing the show, but added, "I'm working on being back 100% very soon."
Though Michaels didn't confirm his medical emergency was linked to COVID-19, if TMZ's report is accurate, this wouldn't be his first brush with the virus. In July 2020, he confirmed in an emotional Facebook post that his uncle, Denny Mazzanti, had died from the virus while sharing a photo of himself with his later father and Mazzanti. Prior to that, in March 2020, he confirmed in another Facebook upload that he had been urged by his doctor and diabetic specialist to be extra cautious amid the pandemic due to being at high risk of contracting Coronavirus because he is Type One Insulin-Dependent Diabetic.