The One Lie Chris Hemsworth Usually Tells To Get Movie Roles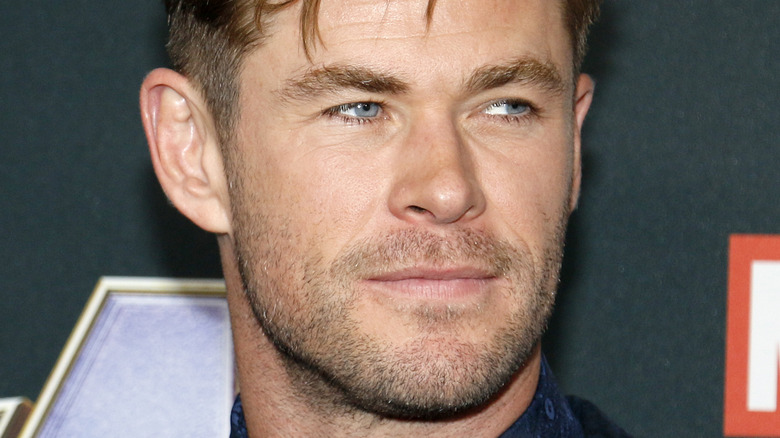 Tinseltown/Shutterstock
The Hemsworth brothers, as lovable as they are, can definitely charm their way into certain things. Jennifer Lawrence said the Hemsworths — which includes Liam, Chris, and Luke — are the "craziest family" she's ever been around, as she points out how physical the brothers can get, and recalling a time when Chris cut a friend's hair off in the shower.
Chris Hemsworth once took his daughter on a ride at Disneyland, but she wasn't tall enough. So, Chris, seeing his daughter was upset about not being able to go on the ride, thought it would be a good idea to cheat the system so that she could. "I grabbed a couple Snickers bars and things, and slammed them in the back of her shoe, under her heel, so it like propped her up," he said in a Jimmy Kimmel interview in 2019. "I walked up and was like, 'What about now?' and they're like, 'Okay, in you come.'"
The actor continued to describe how he was proud he was able to get his daughter on the ride, but regretted it when he realized that she was about to fall out of the seat as the ride was descending quickly. And that candy-in-the-sneaker incident isn't the only time he fudged the truth a bit.
Chris Hemsworth lies about his height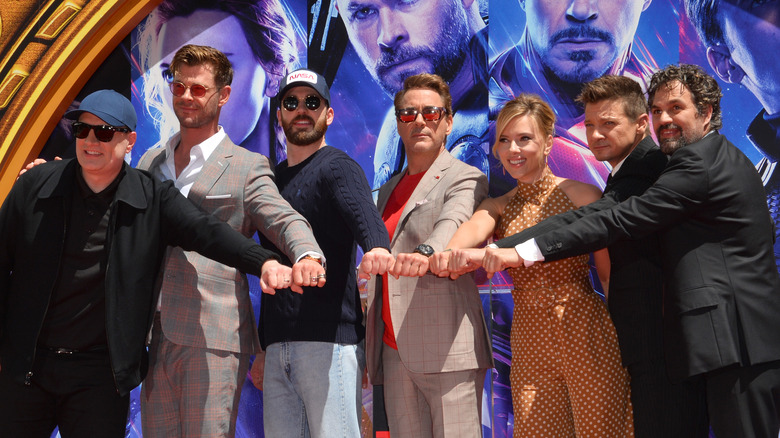 Featureflash Photo Agency/Shutterstock
It makes sense that Chris Hemsworth, who is 6 feet, 3 inches, helped his daughter lie about her height, as he has admitted to usually lying about his own height for roles. He ranked second in being the tallest Marvel actor, behind Paul Bettany, and fellow co-star Chris Pratt rolled his eyes when he was asked which of the Marvel Chrises was the tallest.
"There are certainly things I've wanted to go up for which I've been totally wrong for, physically," Chris told Radio Times in a 2016 interview. "And I normally lie about my height and say I'm shorter."
Chris mentioned that the height lie can go both ways, meaning that being tall can sometimes help him secure a role. For example, one of his first roles was in a kids television show called "The Saddle Club." Although he told Vanity Fair he thought he did a bad acting job in the episode, he also joked about how he was able to pull off portraying a veterinarian as an 18 or 19-year-old actor.
Chris Hemsworth's tallness helps him land an iconic role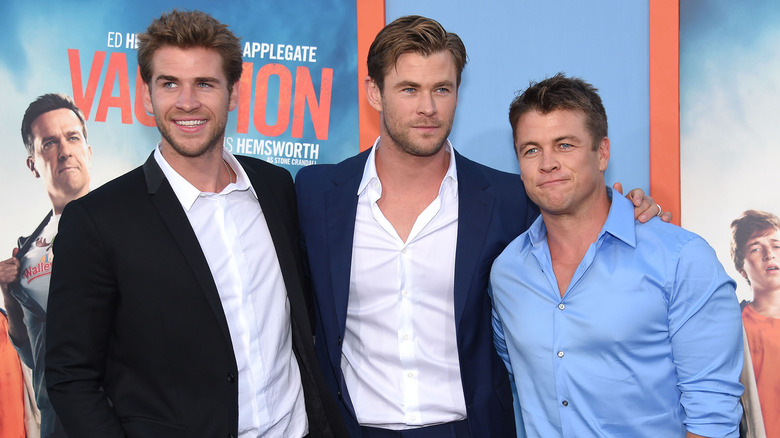 DFree/Shutterstock
Being tall actually helped Chris Hemsworth land his most famous role — Thor Odinson, God of Thunder. Although Chris' younger brother Liam Hemsworth nearly got the part, per Deadline, Chris' management team convinced Marvel Studios President Kevin Feige to reconsider the older brother.
"I remembered reading the breakdown for Thor and it said, 'Must be over 6'3" and 200 pounds,' and so on," Chris told W in 2017. "I thought, 'Oh cool. This is the one thing that sort of fits me.' I'd only get cast or auditioned for the football player or something. So I thought, 'Great. This is up my alley.'"
In a 2019 interview with GQ, Liam — who is also 6 feet, 3 inches — admitted that he was too young to be Thor, and that was the only time they were truly against each other for a role, as they aren't "looked at in the same age bracket." As Liam's older brother eventually got the part, the younger brother landed the role of Gale Hawthorne in "The Hunger Games." So in the end, it all worked out.